The Battle of Rafa, Sinai, 9 January 1917, 1st Light Horse Field Ambulance Transport Subdivision, War Diary Account
Topic: AIF - 1B - 1 LHFA
The Battle of Rafa
Sinai, 9 January 1917
1st Light Horse Field Ambulance Transport Subdivision, War Diary Account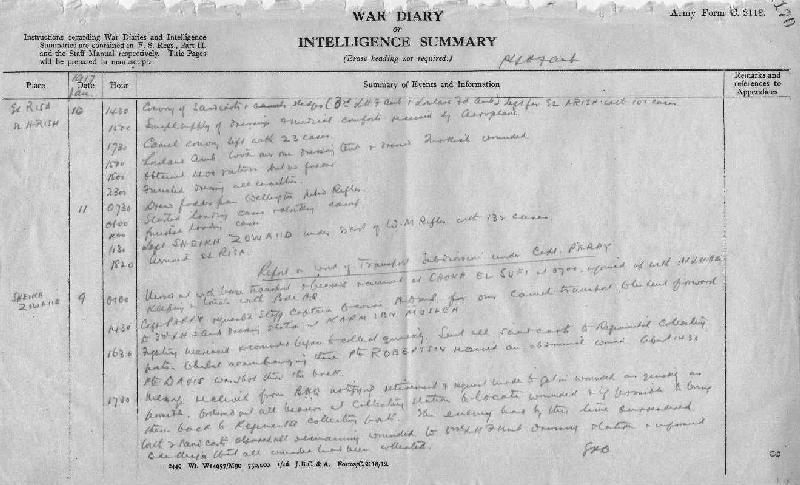 1st Light Horse Field Ambulance Transport Subdivision, War Diary Account
The following is a transcription of the 1st Light Horse Field Ambulance Transport Subdivision, War Diary Account detailing their role at the Battle of Rafa, Sinai, 9 January 1917.
Report on work of Transport Subdivision under Captain Parry

Sheikh Zowaiid 9 January 1917

0100 Moved out with horse transport and bearers and arrived at Shokh el Sufi at 0700 and joined up with 1st Light Horse Brigade keeping in touch with Brigade Headquarters.

1430 Captain Parry requested Staff Captain to wire Assistant Director Medical Services for our camel transport to be sent forward to 3rd Light Horse Field Ambulance Dressing Station at Karm ibn Musleh.

1630 Fighting increased and wounded began to collect quickly. Sent all sandcarts to Regimental Collecting posts. While accompanying these Private Robertson receive an abdominal wound. About 1430 Private Davis was shot in the back.

1730 Message received from Brigade Headquarters notifying retirement and request made to get in wounded as quickly as possible. Ordered all bearers at Collecting Station to locate wounded and if possible to bring them back to Regimental Collecting Posts. the enemy by this time had surrendered. With w sandcarts cleared all remaining wounded to 3rd Light Horse Field Ambulance Dressing Station and informed Brigade that all wounded had been collected. With last sand cart absent under Lieutenant Blackett, Captain Parry returned to 3rd Light Horse Field Ambulance Dressing Station and then with 2 sand carts collected wounded from other Brigades and enemy wounded until 0145.


Sheikh Zowaiid 10 January 1917

0145 Left Karm ibn Musleh and returned to Receiving Station with convoy of wounded.

0730 Arrived Sheikh Zowaiid.
War Diaries
All War Diaries cited on this site should be read in conjunction with the Australian Light Horse Studies Centre, AIF War Diaries of the Great War, Site Transcription Policy which may be accessed at:
Australian Light Horse Studies Centre, AIF War Diaries of the Great War, Site Transcription Policy
Further Reading:
1st Australian Light Horse Field Ambulance, AIF
1st Australian Light Horse Field Ambulance, Roll of Honour
The Battle of Rafa, Sinai, 9 January 1917
The Battle of Rafa, Sinai, 9 January 1917, Roll of Honour
The Palestine Campaign, 1917 - 1918
Battles where Australians fought, 1899-1920
---
Citation: The Battle of Rafa, Sinai, 9 January 1917, 1st Light Horse Field Ambulance Transport Subdivision, War Diary Account
Posted by Project Leader at 12:01 AM EAST
Updated: Friday, 28 January 2011 11:31 AM EAST