The Battle of Rafa, Sinai, 9 January 1917, New Zealand Mounted Field Ambulance Bearer and Transport Division, War Diary Account
Topic: AIF - NZMRB - NZMFA
The Battle of Rafa
Sinai, 9 January 1917
New Zealand Mounted Field Ambulance Bearer and Transport Division, War Diary Account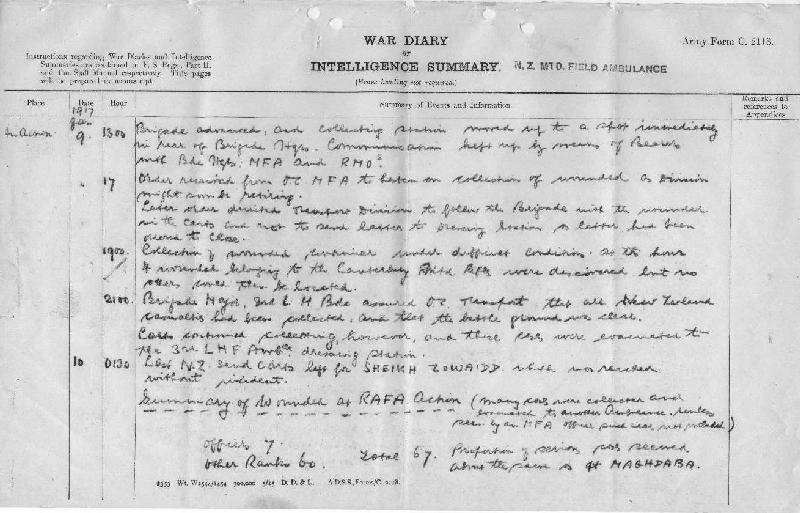 New Zealand Mounted Field Ambulance Bearer and Transport Division, War Diary Account
The following is a transcription of the New Zealand Mounted Field Ambulance Bearer and Transport Division, War Diary Account detailing their role at the Battle of Rafa, Sinai, 9 January 1917.
Summary of work of Bearer and Transport Division

Rafa 9 January 1917

1000 Transport Division consisting of 8 sand carts and 4 sledges, together with the Bearer Division, moved off with the New Zealand Mounted Rifles Brigade.

1030 Collecting Station established on road near Brigade Headquarters and cases evacuated to Dressing Station.

1300 Brigade advanced and Collecting Station moved up to a spot immediately in rear of Brigade Headquarters. Communication kept up bey means of Bearers with Brigade Headquarters, New Zealand Mounted Field Ambulance and Regimental Medical Officers.

1700 Order received from Officer Commanding New Zealand Mounted Field Ambulance to hasten on collection of wounded as Division might soon be retiring.

Later order directed Transport Division to follow the Brigade with the wounded in the carts and not to send latter to Dressing Station as latter had been ordered to close.

1900 Collection of wounded continued under difficult conditions. At the hour 4 wounded belonging to the Canterbury Mounted Rifles Regiment were discovered but no carts could then be located.

2100 Brigade Major, 3rd Light Horse Regiment assured Officer Commanding Transport that all New Zealand casualties had been collected and that the battleground was clear.

Carts continued proceeding, however and these cases were evacuated to the 3rd Light Horse Field Ambulance Dressing Station.


Rafa 10 January 1917

Rest New Zealand sand carts left for Sheikh Zowaiid which was reached without incident.
War Diaries
All War Diaries cited on this site should be read in conjunction with the Australian Light Horse Studies Centre, AIF War Diaries of the Great War, Site Transcription Policy which may be accessed at:
Australian Light Horse Studies Centre, AIF War Diaries of the Great War, Site Transcription Policy
Further Reading:
New Zealand Mounted Field Ambulance
New Zealand Mounted Field Ambulance, Roll of Honour
The Battle of Rafa, Sinai, 9 January 1917
The Battle of Rafa, Sinai, 9 January 1917, Roll of Honour
The Palestine Campaign, 1917 - 1918
Battles where Australians fought, 1899-1920
---
Citation: The Battle of Rafa, Sinai, 9 January 1917, New Zealand Mounted Field Ambulance Bearer and Transport Division, War Diary Account
Posted by Project Leader at 12:01 AM EAST
Updated: Friday, 28 January 2011 3:55 PM EAST