New South Wales Lancers, Roll of Honour, Frederick Isaac Kilpatrick
Topic: BW - NSW - Lancers
New South Wales Lancers
Roll of Honour
Frederick Isaac Kilpatrick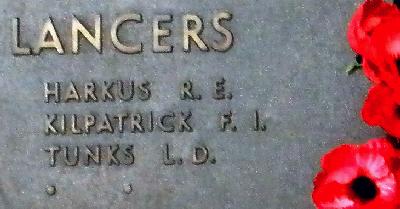 Frederick Isaac Kilpatrick's name on the Roll of Honour, Australian War Memorial
Frederick Isaac Kilpatrick
Service number: 755
Rank: Corporal [Cpl]
Unit: NSW Lancers
Service: Colonial Military Forces
Conflict: South Africa, 1899-1902
Place of death: Slingersfontein, South Africa
Cause of death: Died of wounds
Source: AWM142 Roll of Honour cards, War in South Africa, 1899-1902.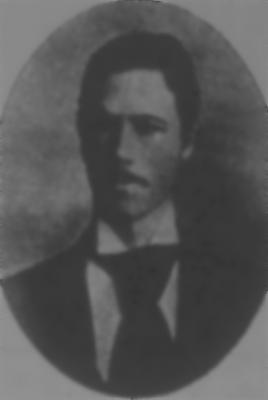 Frederick Isaac Kilpatrick
A brief military biography of Frederick Isaac Kilpatrick:
Regimental number
755
Date of birth
1875
Place of birth
Carlingford, New South Wales
Religion
Occupation
School Teacher
Address
Leichardt, NSW
Marital status
Single
Previous Service
Parramatta High School
Jubilee 1897
Aldershot 1899

Age at embarkation
25
Next of kin
Father: Mr Kilpatrick, Leichardt, NSW
Enlistment date


Date of enlistment from Nominal Roll


Rank on enlistment
Private
Unit name
NSW Lancers
Embarkation details
Unit embarked from London, UK, on board Nineveh on 10 October 1899
Rank from Nominal Roll
Private
Unit from Nominal Roll
NSW Lancers
Fate
Died of Wounds, 15 January 1900
Place of burial
Colesberg Garden of Rememberance
Panel number, Roll of Honour,
Australian War Memorial
1
From - Lieutenant-Colonel P. L. Murray, Official Records of the Australian Military Contingents to the War in South Africa, p. 8:
Extract from Report of Major GL Lee, New South Wales Lancers

Monday, 15th January:
About 5.15 p.m I saw Colonel Porter with Warrant Officer Duncan and Private Buckhotz, 1st Australian Horse. The latter reported that Lieutenant Dowling's patrol had been surrounded and cut up, and that he was the only one who had escaped. Warrant-Officer Duncan and two others had been detached by Lieutenant Dowling to examine Foster's farm, and so escaped.

The patrol had reconnoitred, according to instructions and was about returning to camp when Warrant-Officer Duncan with two men was detached to examine Mr Foster's farm at Kleinfontein. After doing so, he went in search of Lieutenant Dowling's party, failing to find them, he concluded they had reed to camp. At 4:30 p.m. I was informed that a Now South males Lancer patrol had, been cut up.

Upon examination it was found that Sqdn. Sergeant-Major Griffin, 1st Australian Horse, had been killed, and Corporal Kilpatrick, New South Wales Lancers; was found severely wounded through the lungs, and lower jaw smashed.

Corporal Kilpatrick expired at 11 a.m.

One officer (Lieutenant Dowling) and 13 men are still missing.

Lest we forget
Further Reading:
New South Wales Lancers, Roll of Honour
Battles where Australians fought, 1899-1920
---
Citation: New South Wales Lancers, Roll of Honour, Frederick Isaac Kilpatrick
Posted by Project Leader at 12:01 AM EAST
Updated: Saturday, 8 May 2010 9:34 PM EADT