The Battle of Magdhaba, Sinai, December 23, 1916, 8th LHR, AIF, War Diary Account
Topic: AIF - 3B - 8 LHR
The Battle of Magdhaba
Sinai, 23 December 1916
8th LHR, AIF, War Diary Account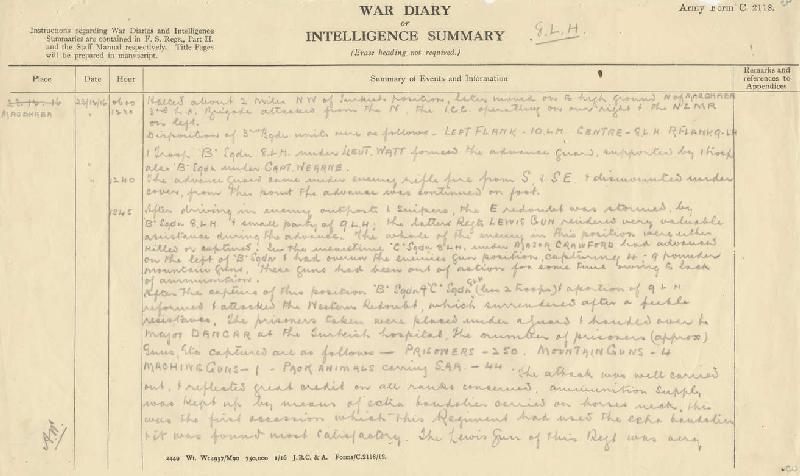 War Diary account of the 8th LHR, AIF.
The transcription:
0600 hrs.

Halted about 2 miles N W of Turkish position, later moved on a high ground N of Magdhaba.

1230 hrs, 3rd L. H. Brigade attacked from the N. The I.C.C. operating on our right & the N.Z.M.R. on left.

Disposition of 3rd Bgde units were as follows – LEFT FLANK – 10th L.H. CENTRE – 8TH L.H. R FLANK – 9TH L.H.

1 Troop "B" Sqdn 8 L.H. under Lieut WATT formed the advance guard, supported by 1 Troop also "B" Sqdn under Capt WEARNE.

1240 hrs, the advance guard came under enemy rifle fire from S & SE, dismounted under cover, from this point the advance was continued on foot.

1345 hrs, After driving in enemy outposts and snipers, the E Redoubt was stormed by "B" Sqdn 8th L.H. & small party of 9th L.H. the latter's Regt LEWIS GUN rendered very valuable assistance during the advance. The whole of the enemy in this position were either killed or captured. In the meantime "C" Sqdn. 8th L.H. under MAJOR CRAWFORD had manoeuvred on the left of "B" Sqdn & had overrun the enemies gun position, capturing 4 – 9 pounder Mountain Guns. These guns had been out of action for some time owing to a lack of ammunition.

After the capture of this position "B" Sqdn & "C" Sqdn 8th L.H. (less 2 troops) & a portion of 9th L.H. reformed & attacked the Western Redoubt, which surrendered after a feeble resistance. The prisoners taken were placed under a guard 7 handed over to Major DANCAR at the Turkish Hospital. The number of prisoners (approx), guns, etc captured are as follows – PRISONERS – 250. MOUNTAIN GUNS – 4. MACHINE GUNS – 1. PACK ANIMALS carrying S.A.A. – 44.

The attack was well carried out 7 reflects great credit on all ranks concerned. Ammunition Supply was kept up by means of extra bandoliers carried on horses necks, this was the first occasion which this Regiment had used the extra bandolier 7 it was found most satisfactory. The Lewis gun of this Regt was very active during the advance & rendered excellent service in driving out nests of snipers & afterwards against the enemies Western redoubt.

The casualties of the 8th L.H. were as follows – Capt & Adjt M. A. HIGGINS, LIEUT'S E. Mack & E.G. DOWN – KILLED. 2nd LIEUT J. T. CURRIE – WOUNDED & 10 other ranks killed & wounded.

1800 hrs, After watering horses left MAGDHABA, marched to a point on telegraph line 2 miles N.W. of MAGDHABA, where horses were fed & water drawn for men.

2100 hrs, Marched to LA FAIN arrived 0200, halted for 2 hours, drew rations & continued our march to MASAID arriving at 1000.
Roll of Honour
Edgar Gordon DOWN
William Ewen Robert ELLIOTT
Ernest Harold MACK
Alexander NAIRN
William PERKINS
Richard WATSON
Lest We Forget
Further Reading:
8th Australian Light Horse Regiment, Roll of Honour
The Battle of Magdhaba, Sinai, December 23, 1916, Roll of Honour, Australia and New Zealand
Battles where Australians fought, 1899-1920
---
Citation:
The Battle of Magdhaba, Sinai, December 23, 1916, 8th LHR, AIF, War Diary Account
Posted by Project Leader at 12:01 AM EAST
Updated: Sunday, 22 November 2009 8:49 AM EAST