Cotter and the Gezireh Sports Club
Topic: AIF - 4B - 12 LHR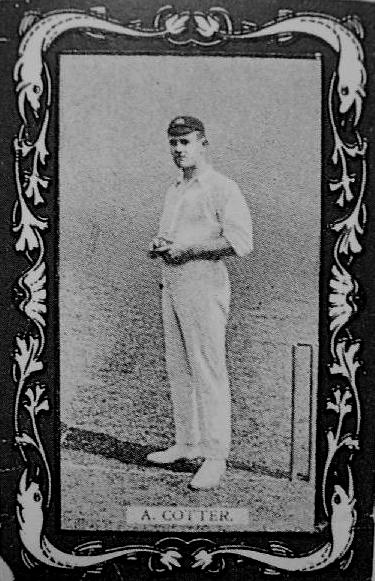 Albert (Tibby) Cotter, the Sydney Express, 1912

Much has been written about Albert (Tibby) Cotter. He was an extra-ordinary bowler with a pace that reached at least 160kmph. Cotter was feared by all who faced him in the international arena of test cricket. During the Great War, Cotter enlisted with the 12th Light Horse Regiment as 924 Tpr Albert Cotter. He saw service at Gallipoli until his death at Beersheba on 31 October 1917.
There are a number legends that surround Cotter. The most commonly known legend related to his bowling performance at the Gezireh Sports Club. Harold "Lol" Larwood, the nemisis of the Australian batsmen during the infamous "Bodyline" Series relates this anecdote.
The Larwood Story by Harold Larwood, Sydney [1982] pp 53-54.
When I first went to Trent Bridge they were still talking about the terrifying speed of Albert (Tibby) Cotter, the human catapult who was reputedly a menace with the ball even when a boy in short pants playing for Forest Lodge public school in Sydney.

When he came into the game in Australia, Trumper, Noble, Duff, Hopkins, Syd and Charles Gregory were all in their prime, with colts like Bardsley, McCartney and Kelleway looming up behind.

Cotter was picked for Australia against England in the Fourth Test in Sydney in 1904 at the age of twenty-one, the youngest fast bowler to win Australian colours since Sammy Woods in 1888. Ernie Jones had finished his career by riding his bicycle into a water-cart and breaking his arm.

Although the returning Englishmen reported that Australia had un-earthed a new pace bowler nobody was prepared for the Cotter who demoralized English players in 1905 (he took 8 for 65 in the last Test). At Worcester he so unnerved the County team that he took 12 wickets for 34 in one day. He bagged 124 wickets on the tour, leaving behind many a set of bruised ribs. The Sydney Express, as they called him, was described on all sides as terrifying, his deliveries frequently playing about the ears.

Cotter won several Tests with his bowling and big hitting. And in a club game in Sydney he once hit 121 for Glebe in 64 minutes and for New South Wales against Victoria scored 68 in 20 minutes.

No cricket enthusiasts were surprised when Tibby was mentioned in despatches for gallantry in the First World War in bringing wounded out under heavy Turkish fire.

In March, 1916, when the war was at its height, a cluster of troops on leave renewed memories of more peaceful days when they gathered at the Gezireh Sports Club, Cairo, to watch a cricket match. The game was between a team of English troops and A.I.F. members. Some of the Australians were from the small headquarters staff left in Egypt after the Gallipoli evacuation, the rest were light-horsemen training for the campaign which eventually was to beat the Turks in Palestine.

The odds were on the Tommies. Several had played for English counties and their captain. Colonel J. W. H. T. Douglas, was the celebrated "Johnny" Douglas who had led England to victory against Australia and South Africa.

Expecting an easy win the Englishmen weren't prepared for the shock they got from a big and powerfully built light-horseman who was brought in from the Suez Canal and dressed for the match simply by discarding hat, shirt and leggings.

Apologizing for being a bit out of practice the Australian skittled the Tommies with short-pitched bumpers, yorkers that knocked bats out of some hands, full tosses which broke a couple of stumps and occasional good-length balls. Most were out before scoring. He then pasted the bowling all over the field before retiring to catch a train back to Suez.

A bullet ended Tibby Cotter's life. About eighteen months later, on October 20, 1917, he was shot through the head at Beersheba by a Turkish soldier, and was the first Australian international cricketer to be killed in war.
Another version of this story will appear in a subsequent post.
---
Citation:
Cotter and the Gezireh Sports Club
Posted by Project Leader at 1:53 PM EADT
Updated: Saturday, 9 August 2008 2:17 PM EADT