Report on reconnaissance to Muksheib by Capt Wearne, Page 1
Topic: AIF - DMC - Anzac MD
Report on reconnaissance to Muksheib by Capt Wearne, Page 1
Captain Albert Ernest Wearne was a key Brigade Scout for the 3rd LH Bde after the move to Serapeum on 28 February 1916. He was a skillful scout and the right choice for this new project involving the untried abilities of the Light Horse.
The aim of the expedition was to mount a reconnaissance overland to Wadi um Muksheib where earlier on in the year, the Turks were reported employing work parties to improve the water cisterns in the wadi's catchment area. In addition they were ordered to inspect the water supply at Moiya Harab and El Hassif. Finally they were to report on their impressions of the land regarding distances and time required for travel, water supplies and other preparations necessary to move a large body of men across arid plains.

Two novelties were to be employed. The first was air support. An aircraft was allocated to fly in advance of the column. The pilot was given specific instructions to report on the countryside ahead of the column with a careful eye out for Turkish troops. This reduced the need for the column to send out advanced guards which then allowed the column greater speed and flexibility. The other novelty was the use of wireless. A radio transmitter was to be carried for the specific purposes of maintaining constant communication with the Anzac Mounted Division at the Canal.

By use of both technologies, it was hoped that mounted men could move rapidly because their need for supplies would be kept to a minimum. Such long-range reconnaissances then would have the ability to strike the Turks hard and disappear before the Turks were able to respond in any effective manner. Since they would have speed on their side, they could make their getaway in relative safety, always knowing the location of any pursuing enemy. If this could be achieved, a long-range raid could sever communication link over the Darb el Maghaza, the new route the Turks were developing, which ran through Bir el Jifjafa. Cutting off this route would restrict any further Turkish advances to the more established Darb el Sultani that followed the coast by way of Katia. The impact on British strategy would be huge, allowing the British to concentrate their defence of Egypt on a confined front.
---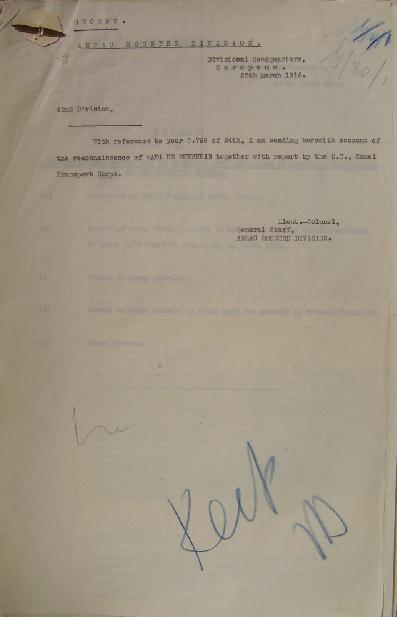 Report on reconnaissance to Muksheib, Page 1
[Click on page for a larger print version.]
---
Posted by Project Leader at 5:04 PM EADT
Updated: Thursday, 14 August 2008 8:25 AM EADT