Ataturk Memorial Garden, Canberra, Part 1
Topic: Gen - Ataturk Pk, CNB
Ataturk Memorial Garden, Canberra
Part 1

About the Ataturk Memorial Garden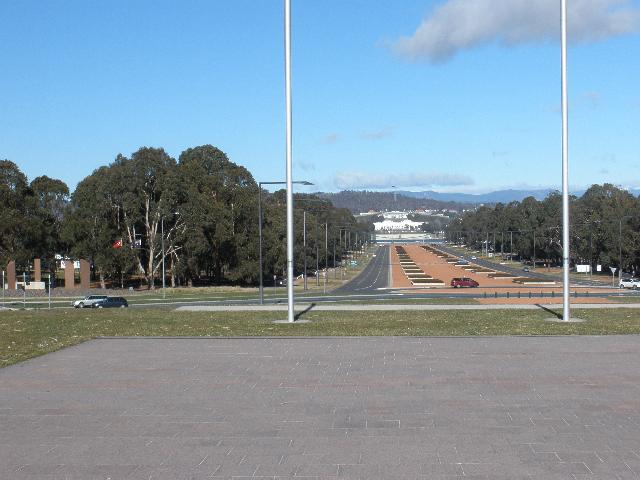 Ataturk Memorial Garden (left) seen from the steps of the Australian War Memorial
[Click on picture for larger version.]
In a remarkable tribute to forge a reconciliation between two peoples, who quite by accident, fought against each other. Neither knew about the other in any sense of the term. To the Australians, Turkey could have been on another planet. Few had heard of the place and even fewer had visited. The same was true for the Turks in relation to Australia.
Now some 90 years later, without this conflict, it is doubtful that Turkey would have forged the links to Australia through a shared history and more importantly, a shared people, there being many Australians now of Turkish origin. One thing that became clear to all people of various generations, we also share many community values.
To celebrate our shared position in the world and to put any residual enmity to rest, in 1985, 70 years after the Gallipoli expedition, Ataturk Park was opened. It was not put in a tiny or hidden spot but takes pride of place in the central celebration of Australian nationhood. It is located just below the Australian War Memorial and looks down Anzac Parade towards Lake Burley Griffith and Parliament.
The above picture demonstrates the location of Ataturk Park as seen from the steps of the Australian War Memorial. Facing onto Anzac Parade, it looks over all the civic buildings of the nation's capital and onto the snow peaked mountains to the right of the picture.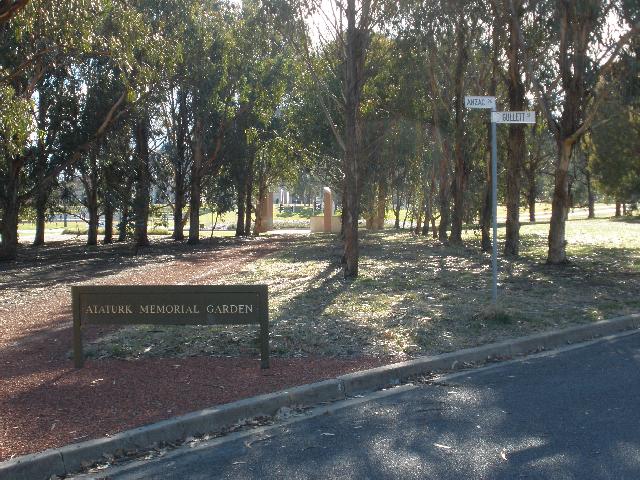 Ataturk Memorial Garden seen from the entrance on the corner of Anzac Park and Gullett Street.

[Click on picture for larger version.]
The above picture gives the actual entrance to the Ataturk Memorial Garden. While the name Anzac on the street is self explanatory, the other street name, "Gullett" is pregnant with meaning. Harry Gullett was the man who immortalised the light horsemen in describing their conflicts with the Turks during the Great War.
Gullett, HS, The Australian Imperial Force in Sinai and Palestine, 1914–1918.
The location of the Ataturk Memorial Garden has been well thought out to give maximum honour to all peoples who celebrate the close ties between two nations who once knowing each other, have wished to remain good friends.
Previous: Ataturk Memorial Garden, Canberra
Next: Ataturk Memorial Garden, Canberra, Part 2
Further Reading:
Ataturk Memorial Garden, Canberra
The Battle of Anzac Cove, Gallipoli, 25 April 1915
Battles where Australians fought, 1899-1920
---
Citation:
Ataturk Memorial Garden, Canberra, Part 1
Posted by Project Leader at 12:01 AM EAST
Updated: Sunday, 2 May 2010 9:57 AM EADT