The Battle of Beersheba Palestine, 31 October 1917, 6th LHR, AIF, War Diary Account
Topic: AIF - 2B - 6 LHR
The Battle of Beersheba
Palestine, 31 October 1917
6th LHR, AIF, War Diary Account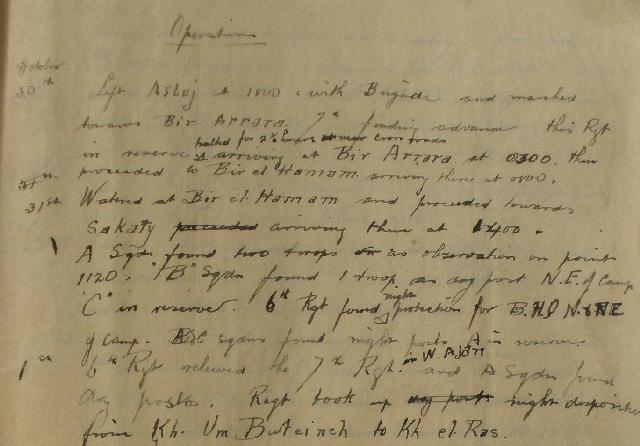 Original 6th LHR War Diary Entry


War Diary account of the 6th LHR, AIF.
The transcription:



Operations

October 30th

Left Asluj at 1800 with Brigade and marched towards Bir Arrara 7th finding advanced, this Regiment in reserve.

October 31st

Halted for 2 1/2 hours near cross roads arriving at Bir Arrara at 0300.

Then proceeded to Bir el Hamam arriving there at 0800.

Watered at Bir el Hamam and proceeded towards Tel el Sakaty arriving there at 1400.

"A" Squadron found two troops as observation on point 1120. "B" Squadron found 1 troop as day post north-east of camp "C" in reserve. 6th Regiment found night protection for Brigade Headquarters north and north-east of camp. "B" and "C" Squadrons found night posts. "A" in reserve.

1st November

6th Regiment relieved the 7th Regiment in W.A. Ja 11 and "A" Squadron found day posts. Regiment took up night dispositions from Khirbit Um Butein to Khirbit el Ras.
Roll of Honour
Lest We Forget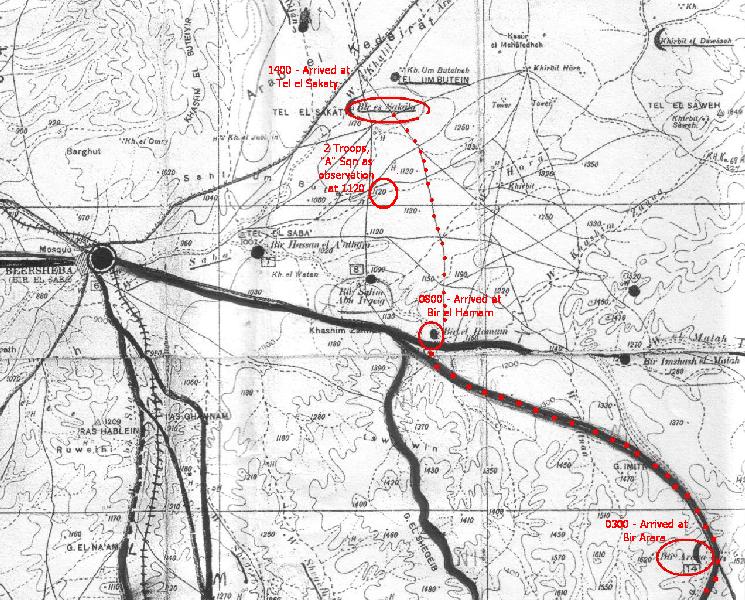 Map detailing the movement of the 6th LHR as per the War Diary, 31 October 1917
[Click on map for larger version.]
Further Reading:
---
Citation:
The Battle of Beersheba Palestine, 31 October 1917, 6th LHR, AIF, War Diary Account
Posted by Project Leader at 10:13 AM EADT
Updated: Monday, 5 October 2009 8:28 AM EADT