The Battle of Beersheba, Palestine, 31 October 1917, 8th ALHR, AIF, War Diary Account
Topic: AIF - 3B - 8 LHR
The Battle of Beersheba
Palestine, 31 October 1917
8th LHR, AIF, War Diary Account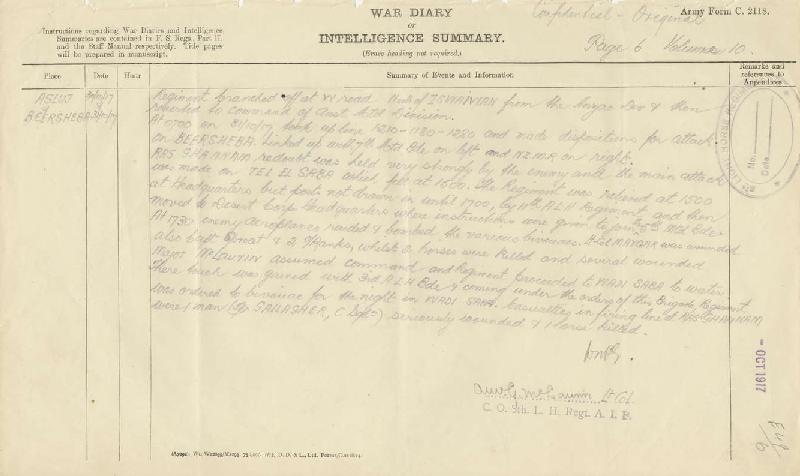 War Diary account of the 8th LHR, AIF.
The transcription:



Operations


31 October 1917

0700 Took up line 1210-1180-1280 and made dispositions for attack on Beersheba. Linked with 7th Mounted Brigade on left and New Zealand Mounted Rifles on right.

Ras Ghannam redoubt was held very strongly by enemy and the main attack was made on Tel el Saba which fell at 1500.

The Regiment was relieved at 1500 moved to Desert Corps Headquarters wherein instructions were given to join the 5th Mounted Brigade.

At 1730 enemy aeroplanes raided and bombed various bivouacs. Lieutenant Colonel Leslie Cecil Maygar VC was wounded also Captain James Sproat and 2 Other Ranks, whilst 2 horses were killed and several wounded.

Major Archibald McGibbon McLaurin assumed command and Regiment proceed to Wadi Saba to water. There touch was gained with 3rd LH Bde and coming under the orders of this Brigade, Regiment was ordered to bivouac for the night in Wadi Saba.

Casualties in firing line at Ras Ghannam were 1 man (1571 Tpr John Henry Gallagher, "C" Squadron) seriously wounded and one horse killed.



Roll of Honour
Lest We Forget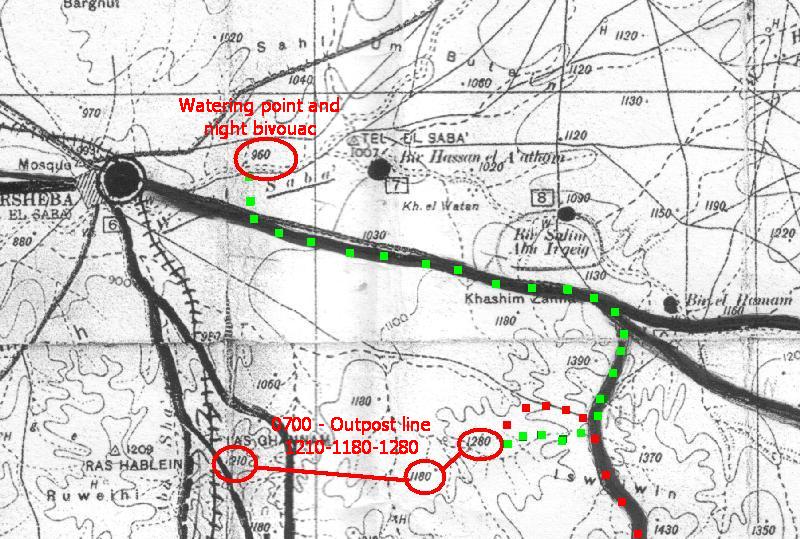 Map detailing the movement of the 8th LHR as per the War Diary, 31 October 1917
Further Reading:
---
Posted by Project Leader at 9:54 PM EADT
Updated: Monday, 5 October 2009 9:10 AM EADT