The Battle of Beersheba, Palestine, 31 October 1917, 5th ALHR, AIF, War Diary Account
Topic: AIF - 2B - 5 LHR
The Battle of Beersheba
Palestine, 31 October 1917
5th LHR, AIF, War Diary Account

War Diary account of the 3rd LHR, AIF.
The transcription:
31 October 1917

Day Patrols found. Regiment moved out with rest of Brigade for advance to rear of Beersheba to Point on Hebron Road near Sakaty.

Arrived at Hanam in Wadi el Saba at 0700 on morning of 31st.

After watering horses in this Wadi, the Regiment was ordered forward to support the 7th LH Regiment which had crossed the Hebron Road under very heavy shell fire and occupied a position in Wadi Itmy. The Regiment was heavily shelled crossing the Wadi Khalil and Hebron Road. High ground to the north and north-west was held by enemy with guns and machine guns.

This Regiment and 7th LH Regiment engaged enemy during the remainder of day and held outpost line covering Beersheba-Hebron Road and approaches from the north-east during night 31st October/1st November.
Roll of Honour
Lest We Forget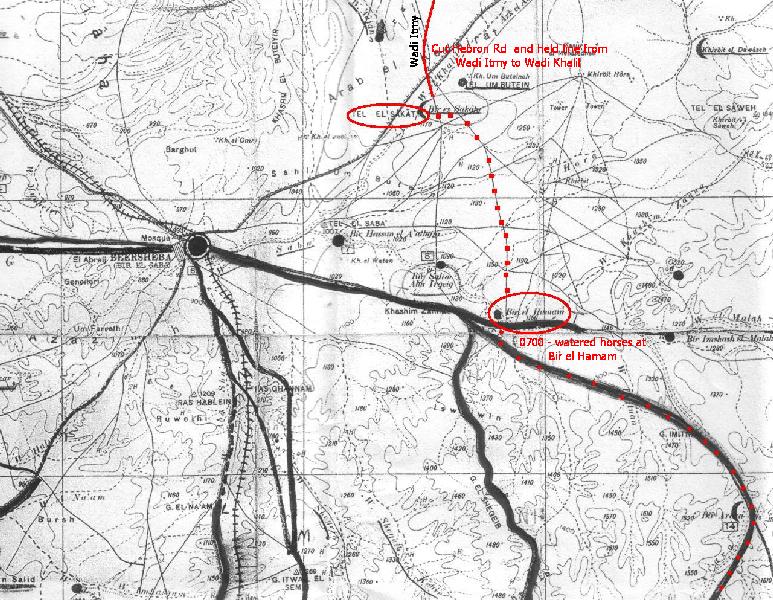 Map detailing the movement of the 5th LHR as per the War Diary, 31 October 1917
[Click on map for larger version]
Further Reading:
---
Posted by Project Leader at 9:33 AM EADT
Updated: Thursday, 8 October 2009 9:14 AM EADT