Battle of Romani, Sinai, August 4 to 5, 1916, 8th LHR, AIF, War Diary Account
Topic: AIF - 3B - 8 LHR
Battle of Romani
Sinai, August 4 to 5, 1916
8th LHR, AIF, War Diary Account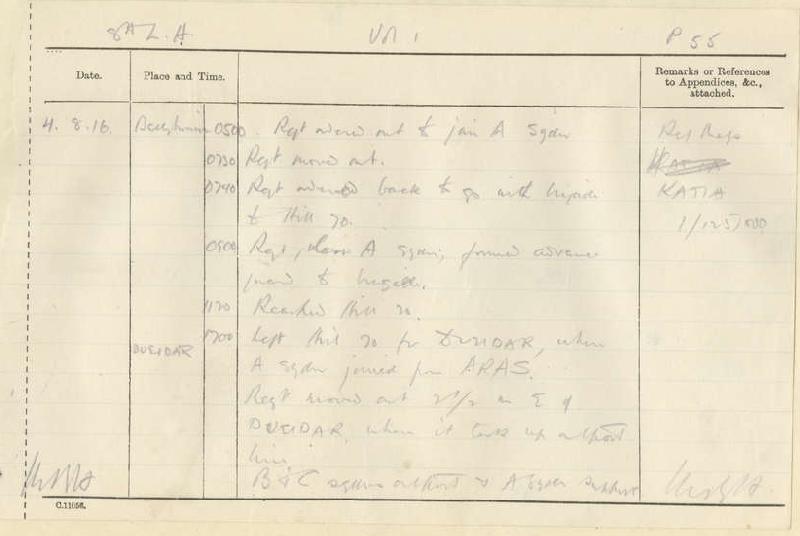 War Diary account of the 8th LHR, AIF.
The transcription:
Thursday, August 3, 1916 –
Ballybunion

"A" Squadron and 1 Section Machine Guns went to wells.

Friday, August 4, 1916 –
Ballybunion

0500 – Regiment ordered out to join "A" Squadron.

0730 – Regiment moved out.

0740 – Regiment moved back to go with Brigade to Hill 70.

0900 – Regiment, less "A" Squadron, formed advanced guard to the Brigade.

1120 – Reached Hill 70.

1200 – Left Hill 70 for Dueidar, when "A" Squadron joined from Aras.

Regiment moved out 2½ miles east of Dueidar when it took up an outpost line.

"B" and "C" Squadrons outpost and "A" Squadron support.

Saturday, August 5, 1916 –
Dueidar

0400 – Moved out as rear guard to Brigade in direction of Hod el Enna. Reached at 1015. Horses watered and fed. At 1230 Brigade moved out towards Hamisah. Enemy concentrated between Nagid and Hamisah at 1400. Heavy fighting on our left at Qatia. 9th and 10th Regiments drove enemy back to Hamisah. 422 Prisoners taken. As Brigades on our left returned from Qatia at dark, the Brigade returned a short distance west of Nagid and bivouacked for the night and "A" Squadron went on to Hod el Enna.
Sunday, August 6, 1916 –
Hamisah

0630 – Regiment less "A" Squadron, went forward at dawn and occupied Hamisah. No enemy though captured one wounded Turk and on unwounded in hod. Both sent back to Brigade under escort.

1120 – "A" Squadron marched in.

1500 – Regiment left Hamisah and joined Brigade column marching towards Sagia.

1800 – Arrived at Abu Dareh and bivouacked for night.
Monday, August 7, 1916 –
Sagia

Brigade moved forward toward Sagia at dawn, the Regiment forming the advanced guard.

Enemy encountered in strength on hills east of Sagia. Our advance was held up by their rifle and machine gun and artillery fire.

Our casualties were:

Killed – Lieutenant RN Urquhart and two Other Ranks.

Wounded – Lieutenant TS Austin and six Other Ranks.

1500 – Relieved by 9th and returned to hod until dawn when we moved back to Hod Ayish for the night.
Roll of Honour
Lest We Forget
Further Reading:
---
Citation:
Battle of Romani, Sinai, August 4 to 5, 1916, 8th LHR, AIF, War Diary Account
Posted by Project Leader at 12:01 AM EADT
Updated: Sunday, 18 October 2009 4:45 PM EADT