Bir el Abd, Sinai, 9 August 1916, 6th LHR, AIF, War Diary Account
Topic: AIF - 2B - 6 LHR
Bir el Abd
Sinai, 9 August 1916
6th LHR, AIF, War Diary Account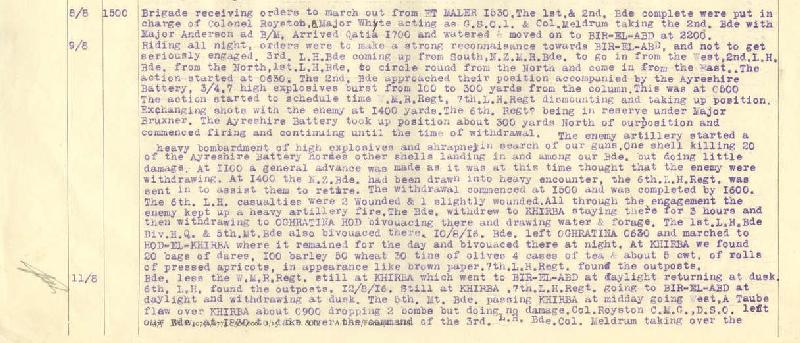 War Diary account of the 6th LHR, AIF.
The transcription:
8 August
1500 Brigade receiving orders to march out from Et Maler 1530. The 1st & 2nd Light Horse Brigades complete were put in charge of Colonel Royston. Major Whyte acting as GSO1 & Colonel Meldrum taking the 2nd Light Horse Brigade with Major Anderson as Brigade Major. Arrived Qatia 1700 and watered and moved on to BIR-EL-ABD at 2200.

9 August

Riding all night, orders were to make a strong reconnaissance towards BIR-EL-ABD, and not to get seriously engaged, 3rd Light Horse Brigade coming up from South, New Zealand Mounted Rifles Brigade to go in from the West, 2nd Light Horse Brigade, from the North, 1st Light Horse Brigade, to circle round from the North and come in from the East. The action started at 0630. The 2nd Light Horse Brigade approached their position accompanied by the Ayrshire Battery, 3/4.7 high explosives burst from 100 to 500 yards from the column. This was at 0500. The action started to schedule time. Wellington Mounted Rifles Regiment, 7th Light Horse Regiment dismounting and taking up position. Exchanging shots with the enemy at 1400 yards. The 6th Light Horse Regiment being in reserve under Major Bruxner. The Ayrshire Battery took up position about 300 yards North of our position and commenced firing and continuing until the time of withdrawal. The enemy artillery started a heavy bombardment of high explosives and shrapnel in search of our guns. One shell killing 20 of the Ayrshire Battery horses other shells landing in and among our Brigade but doing little damage. At 1100 a general advance was made as it was at that time thought that the enemy were Withdrawing. At 1400 the New Zealand Mounted Rifles Brigade, had been drawn into heavy encounter the 6th Light Horse Regiment was sent in to assist them to retire. The withdrawal commenced at 1540 and was completed by 1600. The 6th Light Horse Regiment casualties were 2 Wounded and 1 slightly wounded. All through the engagement the enemy kept up a heavy artillery fire. The Brigade withdrew to Khirba staying there for 3 hours and then withdrawing to Oghratina Hod bivouacking there and drawing water and forage. The 1st Light Horse Brigade, Division Headquarters and 5th Mounted Brigade also bivouacked there.

Roll of Honour


Further Reading:
6th Australian Light Horse Regiment, Roll of Honour
Battle of Romani, Sinai, August 4 to 5, 1916
Bir el Abd, Sinai, 9 August 1916
Battles where Australians fought, 1899-1920
---
Citation:
Bir el Abd, Sinai, 9 August 1916, 6th LHR, AIF, War Diary Account
Posted by Project Leader at 12:01 AM EADT
Updated: Friday, 18 December 2009 5:00 PM EAST