Bir el Abd, Sinai, 9 August 1916, 9th LHR, AIF, War Diary Account
Topic: AIF - 3B - 9 LHR
Bir el Abd
Sinai, 9 August 1916
9th LHR, AIF, War Diary Account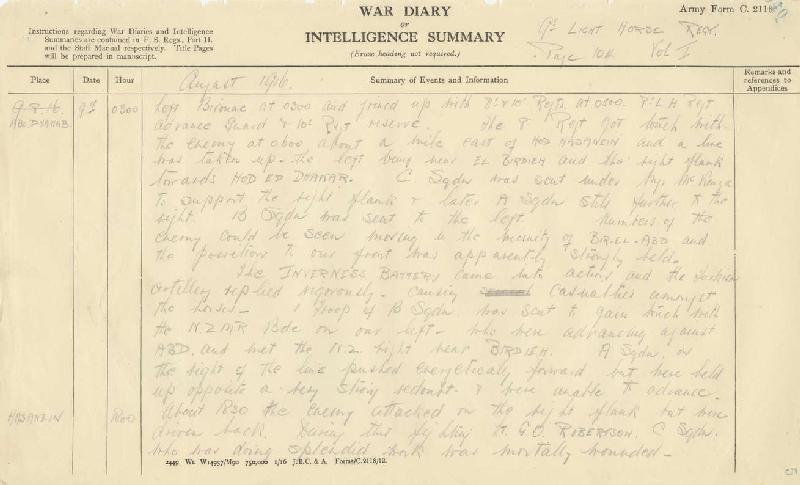 War Diary account of the 9th LHR, AIF.
The transcription:
9 August

Abu Dhahab

0300 Left bivouac and joined up with 8th and 10th Light Horse Regiment at 0500. 8th Light Horse Regiment advance guard and 10th Light Horse Regiment in reserve. The 8th Light Horse Regiment got touch with the enemy at 0600 about a mile east of Hod Hasanein and a line was taken up. The left being near El Birdieh and the right flank towards Hod ed Darkar. "C" Squadron was sent under Major McKenzie to support the right flank and later "A" Squadron still further to the right. "B" Squadron was sent to the left. Numbers of the enemy could be seen moving in the vicinity of Bir el Abd and the position to our front was apparently strongly held. The Inverness Battery came into action and the Turkish artillery replied vigorously causing casualties amongst the horses. One troop of "B" Squadron was sent to gain touch with the New Zealand Mounted Rifles Brigade on our left - who were advancing against Bir el Abd and went to the right near El Birdieh. "A" Squadron on the right of the line pushed energetically forward but were held up opposite a very steep redoubt and were unable to advance. About 1800 the enemy attacked on the right flank but were driven back. During this fighting Lieutenant GO Robertson, "C" Squadron who was doing splendid work, was mortally wounded. Regiment relieved by the 10th Light Horse Regiment and returned to Hasanein for water and rations.
Our casualties for the day were Lieutenant GO Robertson mortally wounded, three Other Ranks killed, ten Other Ranks wounded and four Other Ranks taken prisoner.
Prisoner of War
Charles Daniel PATTEN, Died of Illness, 9 February 1917

Edwin Burman ROSE

Percy George SCROOP, Died of Illness, 28 December 1916

Harold SULLIVAN, Died of Illness, 6 March 1917
Wounded in Action
Gilbert James BIGGINS

James Albert BOTHWELL

Ercil FITZGERALD


Norman MacPherson FLEMING

Thomas John MCKAY

Edwin Burman ROSE

Walter SCOTT

Robert Cameron SHARP

Hubert Roy SMITH

Nigel Fletcher WASTELL

Roy Hedley WHITEHORN
Roll of Honour
Further Reading:
9th Australian Light Horse Regiment, Roll of Honour
Battle of Romani, Sinai, August 4 to 5, 1916
Bir el Abd, Sinai, 9 August 1916
Battles where Australians fought, 1899-1920
---
Citation:
Bir el Abd, Sinai, 9 August 1916, 9th LHR, AIF, War Diary Account
Posted by Project Leader at 12:01 AM EADT
Updated: Friday, 18 December 2009 5:01 PM EAST