Bir el Abd, Sinai, 9 August 1916, Anzac Mounted Division Artillery, AIF, War Diary Account
Topic: AIF - DMC - Anzac MD
Bir el Abd
Sinai, 9 August 1916
Anzac Mounted Division Artillery, AIF, War Diary Account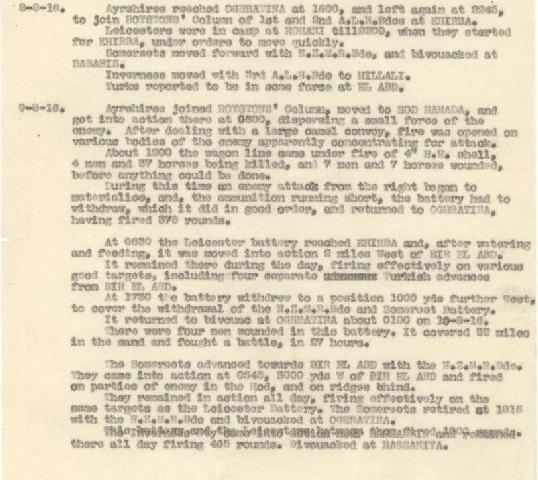 War Diary account of the Anzac Mounted Division Artillery, AIF.
The transcription:
8 August

Ayrshires reached Oghratina at 1600, and left again at 2245, to join Royston' Column of 1st and 2nd Australian Light Horse Brigades at Khirba.

Leicesters were in camp at Romani till 2200, when they started for Khirba, under orders to move quickly.

Somersets moved forward with New Zealand Mounted Rifles Brigade and bivouacked at Dababis.

Inverness moved with 3rd Australian Light Horse Brigade to Hillali.

Turks reported to be in some force at Bir el Abd.

9 August

Ayrshires joined Royston's Column, moved to Hod Hamada, and got into action there at 0600, dispersing a small force of the enemy. After dealing with a large camel convoy, fire was opened on various bodies of the enemy apparently concentrating for attack.

About 1200 the wagon line came under fire of 4 inch High Explosive shell, 4 men and 37 horses being killed, and 7 men and 7 horses wounded before anything could be done.

During this time an enemy attack from the right began to materialise, and, the ammunition running short, the battery had to withdraw, which it did in good order, and returned to Oghratina, having fires 375 rounds.

At 0630 the Leicester battery reached Khirba and, after watering and feeding, it was moved into action 2 miles west of Bir el Abd.

It remained there during the day, firing effectively on various good targets, including four separate Turkish advances from Bir el Abd.

At 1730 the battery withdrew to a position 1,000 yards further West, to cover the withdrawal of the New Zealand Mounted Rifles Brigade and Somerset Battery.

It returned to bivouac at Oghratina about 0100 on 10 August 1916.

There were four men wounded in this battery. It covered 32 miles in and sand and fought a battle, in 27 hours.

The Somersets advanced towards Bir el Abd with the New Zealand Mounted Rifles Brigade. they came into action at 0545, 3,000 yards west of Bir el Abd and fired on parties of enemy in the Hod, and on ridges behind.

They remained in action all day, firing effectively on the same targets as the Leicester Battery. The Somersets returned at 1815 with the New Zealand Mounted Rifles Brigade and bivouacked at Oghratina.

This battery and the Leicesters between them fired 1,200 rounds.

The Inverness Battery came into action near Bir el Abd and remained there all day firing 465 rounds. Bivouacked at Hassaniya.


Roll of Honour
William DALGARNO, Ayrshire Battery, Royal Horse Artillery, Killed in Action 9 August 1916.

John GRAHAM, Ayrshire Battery, Royal Horse Artillery, Killed in Action 9 August 1916.

David RITCHIE, Ayrshire Battery, Royal Horse Artillery, Killed in Action 9 August 1916.

John WHITE, Ayrshire Battery, Royal Horse Artillery, Killed in Action 9 August 1916.

Lest We Forget


Further Reading:
Bir el Abd, Sinai, 9 August 1916, Roll of Honour
Battle of Romani, Sinai, August 4 to 5, 1916
Bir el Abd, Sinai, 9 August 1916
Battles where Australians fought, 1899-1920
---
Citation:
Bir el Abd, Sinai, 9 August 1916, Anzac Mounted Division Artillery, AIF, War Diary Account
Posted by Project Leader at 12:01 AM EADT
Updated: Friday, 18 December 2009 5:04 PM EAST