Surafend, the massacre, Palestine, 10 December 1918, Spurious Claims
Topic: BatzP - Surafend
Surafend, the massacre
Palestine, 10 December 1918
Spurious Claims
As with all events that attract attention, many people make claims for participation that when are compared against the evidence, does not appear to be accurate. Most police departments have their list of confessors to sensational crimes. So too with Surafend. The only real tragedy in this situation is the deteriorating quality of journalism where information given by confessors is not checked against the facts available, and in this example, readily available on the internet.
The claim:
This article was published in the Sydney Morning Herald, 25 July 2009 called Anzacs' atrocity had to be done: digger, by Tim Elliott.
http://www.smh.com.au/national/anzacs-atrocity-had-to-be-done-digger-20090724-dw5x.html
The complete article is transcribed below.
The Article:
TO REGINALD MESSENGER, it was "just something that had to be done". He was a trooper in the 6th Light Horse Regiment at Beersheba in 1918 when he took part in what is emerging as one of the darkest, and and most overlooked, chapters of Australian military history.

Known as the Surafend massacre, it involved 200 Anzac troops, some from the famed Australian Light Horse, who retaliated for the murder of a New Zealand soldier by razing a Bedouin village in Palestine and murdering between 40 and 120 of its inhabitants.

"Dad told me about it numerous times," Reginald's son, Oliver, said. "He said that they were camped next to this Gyppo village and one day they woke up to find that some of their blokes had their throat cut and their things stolen. It had been going on for some time - the Gyppos would steal from them all the time - and so they decided to do something about it, because no one else would."

One night in December 1918 the soldiers surrounded the Bedouin village of Surafend, emptied it of woman and children, then fell upon the men with bayonets and heavy sticks.

"Dad never expressed any remorse about it," Mr Messenger said. "I gather that they had put up with it for too long. They were good soldiers, those blokes, but they didn't put up with any shit."

The incident occurred shortly after the end of World War I, and has been all but obliterated from the official record.

Just three pages of H.S. Gullet's 844-page official war history mention it, and neither the NSW Returned and Services League nor the Light Horse Association had heard of it.

A new book, called Beersheba, by the journalist Paul Daley, re-examines the Surafend massacre, and the long shadow it cast over the legend of the Light Horse, famed for their 1917 cavalry charge at Beersheba.

Daley says that, after the massacre the British commander-in-chief, General Sir Edmund Allenby, "wiped his hands" of the Light Horse, even maliciously withdrawing citations and decorations. "Dad said that after the incident, a general - perhaps it was Allenby - addressed the men and called them cowards," Mr Messenger said. "But the men just counted him out [counted loudly, in unison]. They just drowned him out, you know?"

A spokesman for the Australian War Memorial, said: "The Anzac legend is an uplifting one but, like all legends, there are some unfortunate aspects. But this doesn't detract from acts of heroism and bravery."

At the conclusion of the war, many returning members of the AIF told some stories that embellished their participation. It doesn't detract from their fine service within the AIF nor their courage in undertaking that service. However, it means that family legends need to be handled very cautiously. In the case of the story told by Oliver Messenger about his father, No. 3426 Trooper Reginald MESSENGER, 6th Light Horse Regiment, some cirucumspection was required, especially by Tim Elliott.
The complete service record of No. 3426 Trooper Reginald MESSENGER, 6th Light Horse Regiment is available online with the National Archives Site:
No. 3426 Trooper Reginald MESSENGER, 6th Light Horse Regiment
An examination of this service record brings to light a particular form known as the B103 which details a brief chronology of the AIF member's war service. The relevant page is reproduced below.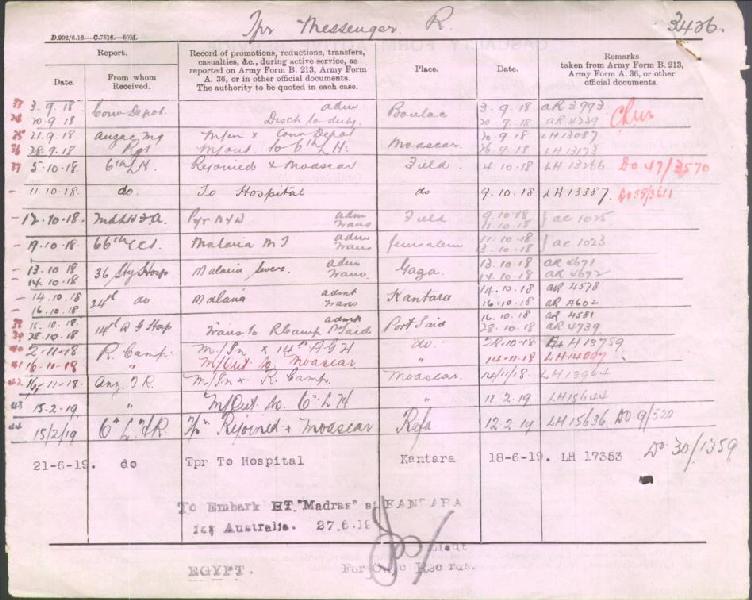 The B103 for No. 3426 Trooper Reginald MESSENGER, 6th Light Horse Regiment.
[Extracted from NAA Barcode 8012421.]
An examination of this document indicates that the last time Messenger was in the field with his regiment was on 11 October 1918 when he went to hospital with malaria. On 16 November 1918 he was sent to the Anzac Mounted Division Training Regiment located at Moascar, in Egypt near the Suez Canal. [For a simple locational map detailing the region, see: B103, Index to Common Terms] Messenger remained at Moascar from this date until 15 February 1919, some three months later. Since the Surafend Affair occurred on the evening of 10 December 1918, there is no physical evidence to suggest that he was anywhere near the site. Indeed he was many hundreds of kilometres from Surafend at that very time. The story told by Messenger was indeed heartfelt and aspirational but it was not factual. In this situation, Tim Elliott had an obligation to undertake this basic research rather than use it as a sensational article designed to promote a book.
The result is an embarrassment for the Messenger family and the Sydney Morning Herald let alone the research ability of Elliott himself. One would expect better than this piece from such a reputable newspaper.
Further Reading:
Battles where Australians fought, 1899-1920
---
Citation:
Surafend, the massacre, Palestine, 10 December 1918, Spurious Claims
Posted by Project Leader at 12:01 AM EADT
Updated: Sunday, 18 October 2009 11:21 AM EADT