Battle of Romani, Sinai, August 4 to 5, 1916, 3rd LH Bde, AIF, War Diary Account
Topic: AIF - 3B - 3 LHB
Battle of Romani
Sinai, August 4 to 5, 1916
3rd LH Bde, AIF, War Diary Account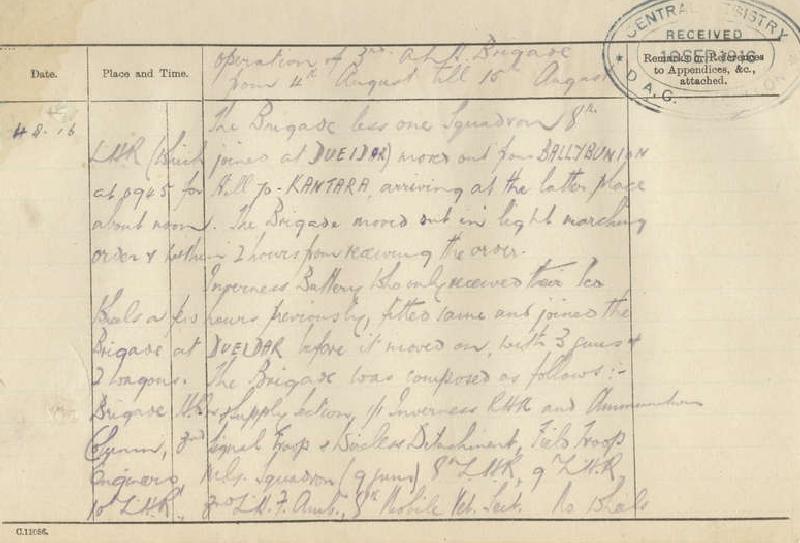 War Diary account of the 3rd LH Bde, AIF.
The transcription:
4 August

The Brigade less on Squadron 8th Light Horse Regiment (which joined at Dueidar) moved out from Ballybunion at 0945 for Hill 70 - Kantara, arriving at the latter place about noon. The Brigade moved out in light marching order and within two hours from receiving the order.

Inverness Battery who only received their ten ##### a few hours previously, fitted same and joined the Brigade at Dueidar before it moved on, with 3 guns and 2 wagons. The Brigade was composed as follows:



Brigade Headquarters and Supply Section;

1/1 Inverness Battery, Royal Horse Artillery, and Ammunition Column;

3rd Signal Troop and Wireless Detachment;

Field Troop Engineers;

3rd Light Horse Machine Gun Squadron (9 machine guns);

8th Light Horse Regiment;

9th Light Horse Regiment;

10th Light Horse Regiment;

3rd Light Horse Field Ambulance; and,

8th Mobile Veterinary Section.



No wagons were taken except Ambulance Carts. Camel Convoy with Ammunition and 24 hours rations and water left Ballybunion at 1000 and arrived Hill 70 at 1430. No first line transport accompanied Brigade but each man carried all his kit, 200 round small arms ammunition, unexpired portion of day's rations and one emergency ration. Brigade and convoy left Hill 70 for Dueidar at 1100, the former arriving at 2030 and the latter at 2200.

5 August

Supplies were drawn at 0300 and Brigade left Dueidar for Bir el Nuss at 0500 both the object of attacking Hod el Enna arriving at 0900, and there joined New Zealand Mounted Rifles Brigade. As enemy had retreated, Ammunition Column joined up and the whole Column moved on to Hamisah and general engagement took place through the afternoon. 9th, 10th Light Horse Regiments and Inverness Battery taking part with 8th Light Horse Regiment in reserve.

The 9th Light Horse Regiment attacked with 2 Squadrons and 2 Machine Guns, one Squadron in support. The 10th Light Horse Regiment and Brigade Scouts, 4 Machine Guns made a wide detour to encircle the enemy's left, which was accomplished resulting in the capture of some 439 prisoners, 3 Machine Guns with Camels and Field Cookery complete and a quantity of ammunition and rifles. At this stage an enemy howitzer battery brought heavy and effective fire to bear on our troops. At dusk the Brigade rationed and camped one mile west of Nagid for the night leaving out Officer's Patrol.


Roll of Honour
Roll of Honour, 3rd Australian Light Horse Brigade

Lest We Forget
Further Reading:
Battle of Romani, Sinai, August 4 to 5, 1916, Roll of Honour
Battle of Romani, Sinai, August 4 to 5, 1916
Bir el Abd, Sinai, 9 August 1916
Battles where Australians fought, 1899-1920
---
Citation:
Battle of Romani, Sinai, August 4 to 5, 1916, 3rd LH Bde, AIF, War Diary Account
Posted by Project Leader at 12:01 AM EADT
Updated: Sunday, 18 October 2009 9:25 AM EADT