Battle of Romani, Sinai, August 4 to 5, 1916, 2nd LHMGS, AIF, War Diary Account
Topic: AIF - 2B - 2 LHMGS
Battle of Romani
Sinai, August 4 to 5, 1916
2nd LHMGS, AIF, War Diary Account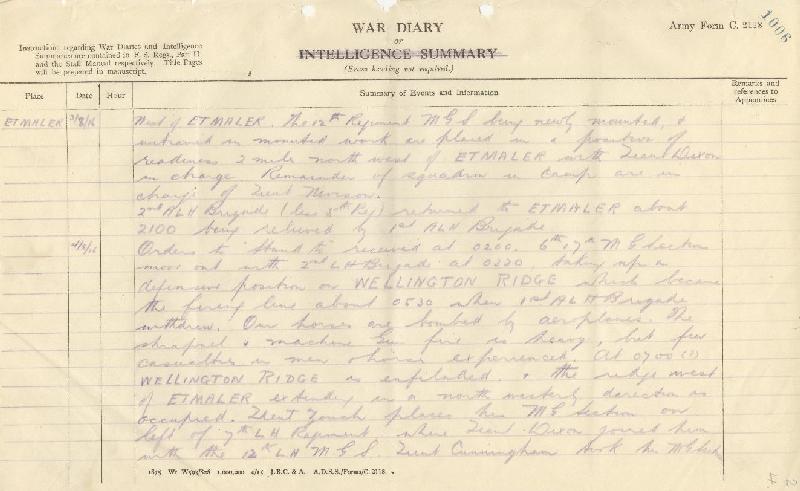 War Diary account of the 2nd LHMGS, AIF.
The transcription:
3 August

Turks move from Oghratina and occupy Qatia. The 2nd Light Horse Brigade with our 6th and 7th Machine Gun Sections occupy the ridge 1½ miles west of Qatia.

3 (three) Machine Guns being without transport, are manned by scratch crews from men in camp and placed on the Outpost Line, with the Royal Scottish Fusiliers, South and West of Et Maler. The 12th Regiment Machine Gun Squadron being newly mounted and untrained in any mounted work are placed in a position of readiness two miles north west of Et Maler with Lieutenant Dixon in charge. Remainder of Squadron in Camp are in charge of Lieutenant Nivison.

2nd Light Horse Brigade (less 5th Light Horse Regiment) returned to Et Maler about 2100 being relieved by 1st Light Horse Brigade.


4 August

Orders to "Stand to" received at 0200. 6th and 7th machine Gun Sections move out with 2nd Light Horse Brigade at 0330 taking up defensive position on Wellington Ridge which became the firing line about 0530 when 1st Light Horse Brigade withdrew. Our horses are bombed by aeroplanes. The shrapnel and machine gun fire is heavy but few casualties in men and horses experienced. At 0700 Wellington Ridge enfiladed and the ridge west of Et Maler extending in a north westerly direction occupied. Lieutenant Zouch placed his Machine Gun Section on left of 7th Light Horse Regiment where Lieutenant Dixon joined him with the 12th Light Horse Machine Gun Squadron. Lieutenant Cunningham took his Machine Gun Section to the right flank with the 6th Light Horse Regiment and advanced with them at 1700 where the New Zealand Mounted Rifles Brigade took Mount Royston. The Lewis Guns of the 6th and 7th Light Horse Regiments having no crews are detailed as follows: 2 to Lieutenant Nivison who aided by Trooper Wearne (a member of the No. 2 gun in the Outpost Line) together with an untrained crew - from members of this Squadron - took the Lewis Guns into action on the right of the 7th Light Horse Regiment. One Lewis Gun is given to "C" Squadron, 7th Light Horse Regiment and the fourth to the Scottish Fusiliers supporting the ridge two miles north west of Et Maler.


5 August

The Machine Gun Sections advance dismounted with the attack at 0430, Lieutenant Zouch with his Machine gun Section accompanied the 7th Light Horse Regiment mounted, wheeling south, then east then driving to Turks to Qatia. The 6th Light Horse Regiment and Wellington Mounted Rifles Regiment joined them. At 1330 Lieutenant Zouch and Dixon with their Machine Gun Sections advanced with the Wellington Mounted Rifles Regiment. Lieutenant Cunningham being with the 6th Light Horse Regiment until within about 1000 yards from the enemy's position and were held up until 1900 when the retirement was ordered, the 2nd Light Horse Brigade reaching Et Maler 2130.

Casualties to date:- Killed 2; Wounded 6.




Roll of Honour
Harold Reath OLVER

Lionel Francis Watson SMITH
Lest We Forget


Further Reading:
2nd Australian Light Horse Machine Gun Squadron, AIF
2nd Australian Light Horse Machine Gun Squadron, Roll of Honour
Battle of Romani, Sinai, August 4 to 5, 1916
Bir el Abd, Sinai, 9 August 1916
Battles where Australians fought, 1899-1920
---
Citation:
Battle of Romani, Sinai, August 4 to 5, 1916, 2nd LHMGS, AIF, War Diary Account
Posted by Project Leader at 12:01 AM EADT
Updated: Monday, 19 October 2009 8:35 PM EADT