Battle of Romani, Sinai, August 4 to 5, 1916, Canterbury Mounted Rifles Regiment, War Diary Account
Topic: AIF - NZMRB - CMR
Battle of Romani
Sinai, August 4 to 5, 1916
CMR, War Diary Account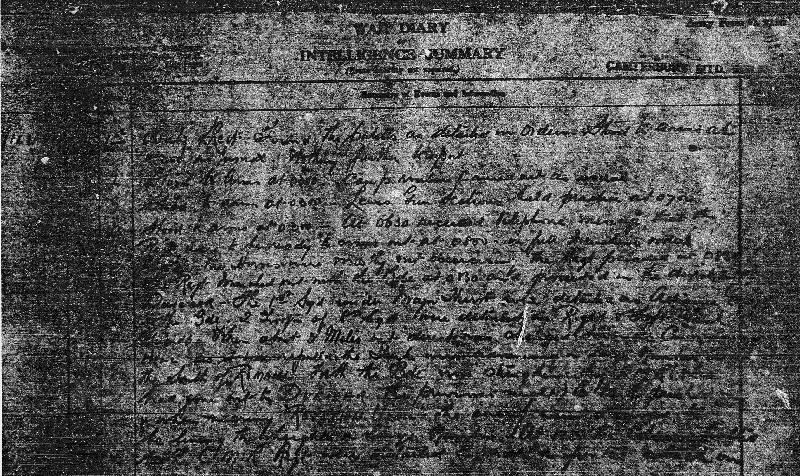 War Diary account of the CMR.
The transcription:


4 August

Stood to Arms at 0300 - at 0630 received telephone message that the Regiment was to be ready to move out at 0800 in full marching order although the horses were mostly out exercising. the Regiment paraded at 0830. The Regiment marched out with the Brigade at 0830 and proceeded in the direction of Dueidar - the 1st Squadron under Major Hurst were detached as Advanced Guard to the Brigade - two Troops of 8th Squadron were detached as Right and Left Flank Guard. When about 3 miles out direction was changed towards Crown Hill as it was reported the Turks advancing in large numbers in the south of Romani with the Brigade now strengthened by Auckland Mounted Rifles
regiment (who had gone out to Dueidar the previous night). CMR pushed on and when nearing Royston Hill - the enemy were lining the heights in large numbers. At 1500 the Brigade halted. The CMR Regiment were detached to make a frontal attack on Royston Hill - The 1st Light Horse Brigade being in the centre, 8th Squadron on the right and 10th Squadron on the left. Fire became very heavy from Turkish Machine Guns and the Turkish Battery also opened fire - our troops pushed on - the 5th Light Horse Regiment were supposed to come up in on right but failed to get a touch with us. The Yeomanry operated on left flank. After continuously fighting up till 1730 we drove the Turks off the heights taking a great number of prisoners. Our casualties were 1 killed and 15 wounded.

The Mounted were relieved at dusk by the infantry and we then marched back to Anzac Siding where after watering and feeding up, bivouacked for the night.


5 August

Reveille at 0230 - feed up and ready to move at 0330 - moved out to Canterbury Hill where we replenished our supply of ammunition. We then proceed over the sand drifts in direction of Bir en Nuss where we halted for one hour. Watered and feed up and joined up with the 3rd Light Horse Brigade. After a short spell the brigade moved out in direction of Katia and came up on the Southern side. The 3rd Light Horse Brigade, as support to us on the right but again did not get in touch with them. We were brought under extremely heavy fire with machine gun and artillery and our horses suffered from shrapnel fire. The Auckland Mounted Rifles Regiment were on the left - we advanced down to within 600 yards of the Katia Hod and held that position till orders were given to withdraw at dusk. We accordingly withdrew at 1900 and assembled and joined up with the Brigade and proceeded to Romani and did not arrive at camping ground till 0130 on morning of 6 August.


Roll of Honour
Alexander Harold GOOD
Lewis MANSON
Edward Charles MORTON
Joseph George Alfred PICKENS
Frederick Ormsby REES
Ralph SUTTON
John WALKER

Lest We Forget
Further Reading:
Canterbury Mounted Rifles Regiment
Canterbury Mounted Rifles Regiment, Roll of Honour
Battle of Romani, Sinai, August 4 to 5, 1916
Bir el Abd, Sinai, 9 August 1916
Battles where Australians fought, 1899-1920
---
Citation:
Battle of Romani, Sinai, August 4 to 5, 1916, Canterbury Mounted Rifles Regiment, War Diary Account
Posted by Project Leader at 12:01 AM EADT
Updated: Friday, 23 October 2009 9:07 AM EADT