Battle of Romani, Sinai, August 4 to 5, 1916, Wellington Mounted Rifles Regiment, War Diary Account
Topic: AIF - NZMRB - WMR
Battle of Romani
Sinai, August 4 to 5, 1916
WMR, War Diary Account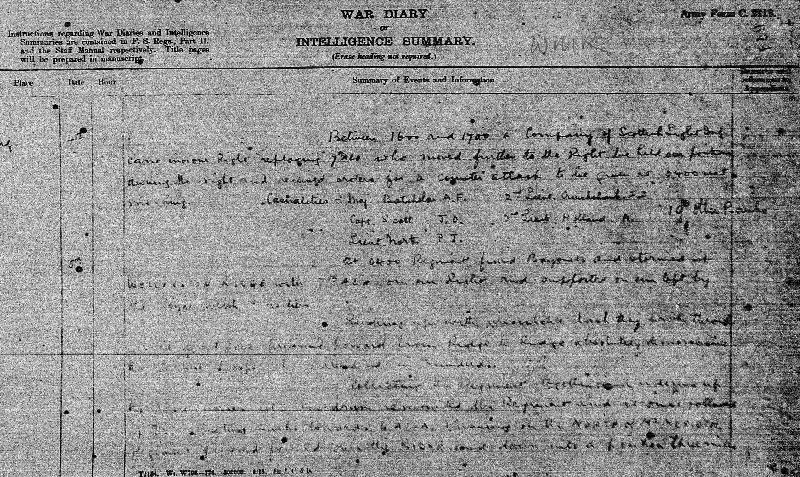 War Diary account of the WMR.
The transcription:


4 August

Between 1600 and 1700 a company of Scottish Light Infantry came in on our right replacing 7th Australian Light Horse Regiment who moved further to the right. We held our position during the night and received orders for a counter attack to be given at 0400 inst.


5 August

At 0400 Regiment fixed bayonets and stormed up Wellington Ridge with 7th Light Horse Regiment on the right and supported on our left by the Royal Welsh Fusiliers.

Rushing up with unmatched dash they broke through Turkish front line pressing forward from ridge to ridge absolutely demoralising the Turkish troops who surrendered in hundreds.

Collecting the Regiment together and ordering up the lead horses, Colonel Meldrum remounted the Regiment and at once followed up the retreating Turks towards Qatia. Pressing on the north of Mount Meredith, the Regiment pressed forward over the ridge and down into a position three miles east south east of Mount Meredith and six hundred yards north west of Bir Maraieh where we were held up by a Mountain Battery and heavy machine Gun and rifle fire.

As the Turkish read guard appeared to be in trenches at Bir Maraieh and to the south east of Qatia Oasis, we took up at 0400 a position for defence commanding Bir Maraieh positioned six machine guns and in position with the intention of watching the Turkish rear until sufficient supports came up for us to risk an attack. Here we remained until 0900 closely observing Turkish movements and communicating them back to Brigade Headquarters. In the meantime Patrols were sent out to our right to observe Turkish movements and pick up prisoners etc. One of these Patrols under Lieutenant Allison captured a Turkish Ambulance and eighty camels and their drivers, also an ammunition supply which was close by Ambulance. A quarter of an hour after capture had been affected a Troop of 7th Light Horse Regiment arrived on the scene and assisted in the round up of some camels which had broken away.

At 0900 I issued an urgent appeal for assistance from the Commander, Royal Artillery who reported that he was two miles east of Katib Gannit and was being attacked from the north east by Turks. Two squadrons at once moved to the assistance of the artillery.

At 1000 Colonel Meldrum assumed command of the Brigade in place of Colonel Royston wounded, and Major Spragg took over command of the Regiment.

Until 1400 the two squadrons were in position defending artillery. Remainder of Regiment remained support.

At 1330 orders were issued that the Brigade, in conjunction with remainder of Anzac Mounted Division were to attack Qatia.

Wellington Mounted Rifles Regiment during the advance on Qatia on the left of the advance with 6th Light Horse Regiment on their right and 7th Light Horse Regiment in support.

At 1415 advance began, the Wellington Mounted Rifles Regiment being allotted the northern end of Qatia Oasis as its objective. The whole line moved forward until the Regiment on the extreme left was within seven or eight hundred yards of the Oasis and on the right of the line lacking in cover that to west of southern end advance was hung up owing to machine gun and rifle fire of the Turks who had extended along the western edge of Oasis. A uniform fire was kept up by machine guns Lewis guns and rifles and much damage reported on Turks who could be seen moving about the Oasis.

The enemy was well supported by artillery at east, ten guns being used, ten shells often bursting simultaneously, but owning to skilful use made by men of cover for themselves and their horses, casualties were not serious.

A constant pressure was kept on the Turks until dusk when a withdrawal was affected, the wounded were all evacuated and the Regiment returned to camp for water and supplies.

Roll of Honour
Battle of Romani, Sinai, August 4 to 5, 1916, Roll of Honour, New Zealand Mounted Rifles Brigade

Lest We Forget
Further Reading:
Wellington Mounted Rifles Regiment
Wellington Mounted Rifles Regiment, Roll of Honour
New Zealand Mounted Rifles Brigade
Battle of Romani, Sinai, August 4 to 5, 1916
Bir el Abd, Sinai, 9 August 1916
Battles where Australians fought, 1899-1920
---
Citation:
Battle of Romani, Sinai, August 4 to 5, 1916, Wellington Mounted Rifles Regiment, War Diary Account
Posted by Project Leader at 12:01 AM EADT
Updated: Monday, 26 October 2009 11:41 AM EADT