The Battle of Magdhaba, Sinai, December 23, 1916, Roll of Honour, Imperial Camel Corps
Topic: AIF - 5B - ICC
The Battle of Magdhaba
Sinai, 23 December 1916
Roll of Honour
Imperial Camel Corps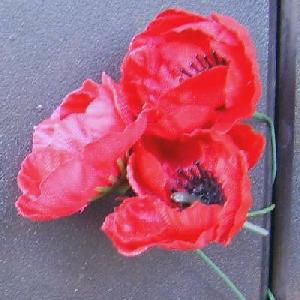 Poppies on the Roll of Honour, Australian War Memorial, Canberra
The Roll of Honour contains the names of all the men from the Imperial Camel Corps known to have served and lost their lives during the Battle of Magdhaba.
Roll of Honour
Percy BUTCHER, Imperial Camel Corps.

Norman Farquhar Bruce HUON, Imperial Camel Corps.

Lest We Forget
Acknowledgement
: Many thanks to Steve Becker who provided much of the raw material that appears in this item.
Further Reading:
Imperial Camel Corps, Roll of Honour
Battles where Australians fought, 1899-1920
---
Citation:
The Battle of Magdhaba, Sinai, December 23, 1916, Roll of Honour, Imperial Camel Corps
Posted by Project Leader at 12:01 AM EAST
Updated: Tuesday, 2 March 2010 10:12 AM EAST