The Battle of Magdhaba, Sinai, December 23, 1916, 1st LHR, AIF, Unit History Account
Topic: AIF - 1B - 1 LHR
The Battle of Magdhaba
Sinai, 23 December 1916
1st LHR, AIF, Unit History Account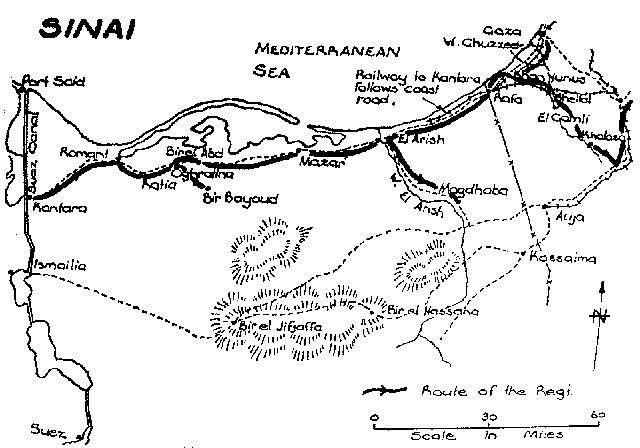 Map of the 1st LHR participation in the Sinai Campaign, 1916-17

[From: Vernon, The Royal New South Wales Lancers 1885-1985, p. 105.]
[Click on map for larger version.]
PV Vernon's 1985 centenary celebration of the Royal New South Wales Lancers included a section on the work performed by the 1st Light Horse Regiment during the Great War. The pages specifically related to the Battle of Magdhaba are extracted below.
Vernon, PV, editor, The Royal New South Wales Lancers 1885-1985, (Sydney 1986), pp. 115 - 116
On the evening of December 22 the regiment moved out for Magdhaba, a fortified military post 23 miles east of el Arish. Captain Weir was now adjutant again A Squadron was detached as escort to the Ayrshire Battery, B was in reserve and "C" in the main body, being used in the later part of the fight to reinforce the right flank. The position was attacked at 6.30 am. after a long night march, rations for horse and man being drawn on the march about four miles from the el Arish wady. The enemy held out nearly all day, being sited in a number of redoubts, but by a few minutes after 4 o'clock the last redoubt had fallen to Chauvel's force, which in this fight consisted of the 1st and 3rd Australian Light Horse Brigades, the New Zealand Mounted Rifles and Imperial Camel Brigades, Inverness and Somerset Batteries and the Hong Kong and Singapore Battery. The enemy surrendered four mountain guns, hundreds of rifles and much ammunition and other material.

Headquarters and "C" Squadron remained all night to clear the battlefield, bury the dead and destroy all material not transportable. Two of the Turkish doctors helped with the wounded, and before the squadron left the fire stick was put into all the buildings.

Christmas Day was spent in resting after the scrap, and the next day General Sir Philip Chetwode, commanding the Desert Column, paraded the Anzac Division and thanked all ranks for their work. It was bitterly cold at this time and rain fell nearly every day. The men had not yet been issued with bivvy sheets, so the Turks' bivvy sheets proved very useful. A patrol in Wady el Arish under Lieutenant Gray, sent to bring back a sand cart left by the medical corps, took six Turks, evidently stragglers from Magdhaba.

Further Reading:
1st Australian Light Horse Regiment, AIF
1st Australian Light Horse Regiment, Roll of Honour
The Battle of Magdhaba, Sinai, December 23, 1916, Roll of Honour, Australia and New Zealand
Battles where Australians fought, 1899-1920
---
Citation:
The Battle of Magdhaba, Sinai, December 23, 1916, 1st LHR, AIF, Unit History Account
Posted by Project Leader at 12:01 AM EAST
Updated: Sunday, 22 November 2009 12:42 PM EAST