The Battle of Magdhaba, Sinai, December 23, 1916, 156th Brigade, War Diary Account
Topic: AIF - DMC - British
The Battle of Magdhaba
Sinai, 23 December 1916
156th Brigade, War Diary Account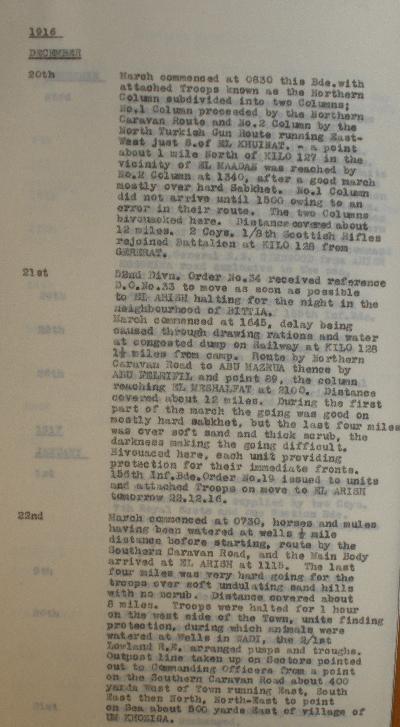 War Diary account of the 52nd (Lowland) Division.

The transcription:
22 December 1916

March commenced at 0730, horses and mules having been watered at wells 1/2 mile distance before starting, route by the Southern Caravan Road, and the Main Body arrived at El Arish at 1115. The last four miles was very hard going for the troops over soft undulating sand hills with no scrub. Distance covered about 8 miles. Troops were halted for 1 hour on the west side of the Town, units finding protection, during which animals were watered at Wells in Wadi, the 2/1st Lowland Royal Engineers arranged pumps and troughs. Outpost line taken up on Sectors pointed out to Commanding Officers from a point on the Southern Caravan Road about 400 yards west of Town running east then north, north east to point on sea about 500 yards east of village of Um Khoziga.


23 December 1916

Q. 61 received from Desert Column instructing this Brigade to send half the sand cats attached, towards Lahfan, to assist Anzac Mounted Division. Despatched at 0950 by Mobile and Ambulance Convoys 1/1st Lowland Field Ambulance. All empty fantis in possession of units filled with water from native wells and sent to join Convoy proceeding direction of Magdhaba for Anzac Mounted Division. GR No. 2/3/8 received from 52nd Division re 155th Infantry Brigade taking over the southern portion of El Arish defences called No. 1 Section, No. 2 Section, under command o Brigadier General ES Girdwood from Arieh Kosseima road exclusive to the sea, held by this Brigade and attached troops.


Further Reading:
Battles where Australians fought, 1899-1920
---
Citation:
The Battle of Magdhaba, Sinai, December 23, 1916, 156th Brigade, War Diary Account
Posted by Project Leader at 12:01 AM EAST
Updated: Sunday, 22 November 2009 1:15 PM EAST