The Battle of Anzac Cove, Gallipoli, 25 April 1915, 4th Infantry Battalion War Diary
Topic: BatzG - Anzac
The Battle of Anzac Cove
Gallipoli, 25 April 1915
4th Infantry Battalion War Diary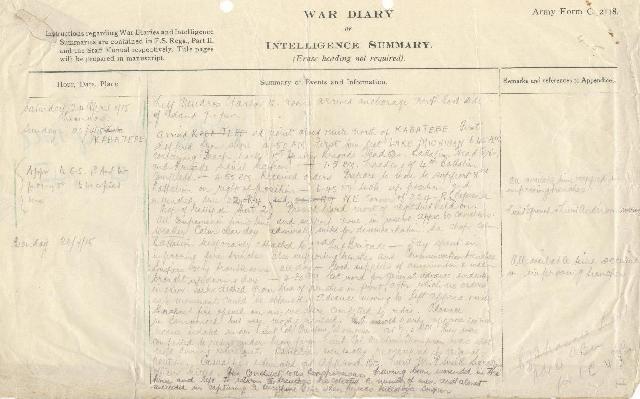 War Diary account of the 4th Infantry Battalion , AIF.
The following is a transcription of the War Diary of the 4th Infantry Battalion , AIF, of their role in the landings at Anzac on 25 April 1915.
24 April 1915

Lemnos

Left Mudros Harbour 12 noon, arrived anchorage north east side of Island, 7.0 pm.



25 April 1915

Kaba Tepe

Arrived at point about one mile north of Kaba Tepe. First shot fired from shore 4.50 am. First tow left Lake Michigan 6.45 am containing Beach Party, 1st Infantry Brigade Headquarters, Battalion Headquarters and Brigade Signal Section.

1.5 pm - Landing of 4th Battalion complete.

4.55 pm - Received orders. Prepare to move to support 8th Battalion on right of position.

6.45 pm - Took up position and extended line 224 R4 and north east corner of 224-R (Reference Map of Gallipoli, Sheet 2). Pressed hard most of night but held on. All companies in firing line and support and none in reserve. Approximately 60 casualties.

Weather - Calm clear day admirably suited for disembarkation. Sea chop calm.



26 April 1915

Battalion temporarily attached to 2nd Infantry Brigade.

Day spent in improving fire trenches also supporting trenches and communication trenches. Snipers very troublesome all day.

Good supplies of ammunition and water brought up during day.

4.30 pm - Got word for general advance evidently in error. Turks cleared from line of trenches in front, after which no orders as to movements could be obtained. Advance moving to left approximately one mile. Shrapnel fire opened on us, we were compelled to retire. Advance re-commenced but were mostly repulsed. A mixed party of approximately 200 men became isolated under Lieutenant Colonel Onslow Thompson at 7.0 pm. They were compelled to retire under heavy fire. Lieutenant Colonel Onslow Thompson was shot dead during retirement. Battalion eventually occupied its original position. Casualties estimated at approximately 150. Lieutenant MB Smith, Signalling Officer killed. His conduct was conspicuous having been wounded in the knee and left to return to trenches, he collected a number of men and almost succeeded in capturing a machine gun when he was killed by a sniper.

The following Officers were wounded severely. Major CS Macnaghten, Captain S Wilson. Seriously wounded Lieutenants PFV Turner and RJF Seldon.

Trenches kept under continuous fire from snipers the whole night. Defences assisted by Artillery on extreme right and HMS Bacchante, the latter illuminated the enemy's position by searchlight and gave considerable assistance with their guns.

Further Reading:
The Battle of Anzac Cove, Gallipoli, 25 April 1915
The Battle of Anzac Cove, Gallipoli, 25 April 1915, 4th Infantry Battalion, Roll of Honour
The Battle of Anzac Cove, Gallipoli, 25 April 1915, 1st Infantry Brigade, Roll of Honour
The Battle of Anzac Cove, Gallipoli, 25 April 1915, AIF, Roll of Honour
Battles where Australians fought, 1899-1920
---
Citation:
The Battle of Anzac Cove, Gallipoli, 25 April 1915, 4th Infantry Battalion War Diary
Posted by Project Leader at 12:01 AM EAST
Updated: Monday, 5 April 2010 10:41 AM EADT