The Battle of Anzac Cove, Gallipoli, 25 April 1915, 1st Field Ambulance War Diary
Topic: BatzG - Anzac
The Battle of Anzac Cove
Gallipoli, 25 April 1915
1st Field Ambulance War Diary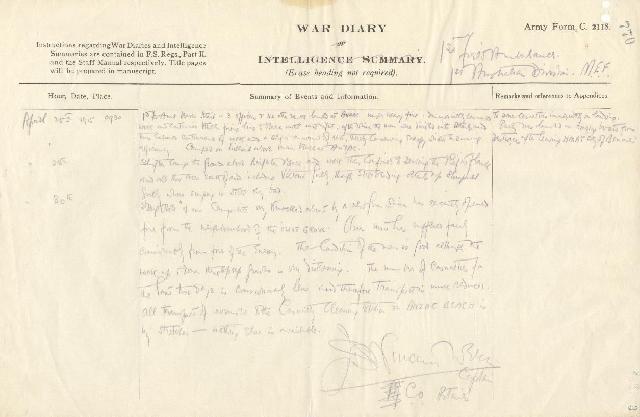 War Diary account of the 1st Field Ambulance, AIF.

The following is a transcription of the War Diary of the 1st Field Ambulance, AIF, of their role in the landings at Anzac on 25 April 1915.
25 April 1915

0930 - 1st Field Ambulance Nominal Detail - 3 Officers and 112 Other Ranks landed at Anzac under heavy fire. Immediately commenced work and continued to the firing line and back until midnight. After this the men were divided into details and thus ensuring a continuance of work and a slight amount of rest, thereby conserving energy while ensuring efficiency. Camped on hillside above main knoll at Anzac.


Further Reading:
The Battle of Anzac Cove, Gallipoli, 25 April 1915
The Battle of Anzac Cove, Gallipoli, 25 April 1915, 1st Infantry Brigade, Roll of Honour
The Battle of Anzac Cove, Gallipoli, 25 April 1915, AIF, Roll of Honour
Battles where Australians fought, 1899-1920
---
Citation:
The Battle of Anzac Cove, Gallipoli, 25 April 1915, 1st Field Ambulance War Diary
Posted by Project Leader at 12:01 AM EAST
Updated: Monday, 5 April 2010 9:19 PM EADT