The Battle of Anzac Cove, Gallipoli, 25 April 1915, 1st Field Company Engineers War Diary
Topic: BatzG - Anzac
The Battle of Anzac Cove
Gallipoli, 25 April 1915
1st Field Company Engineers War Diary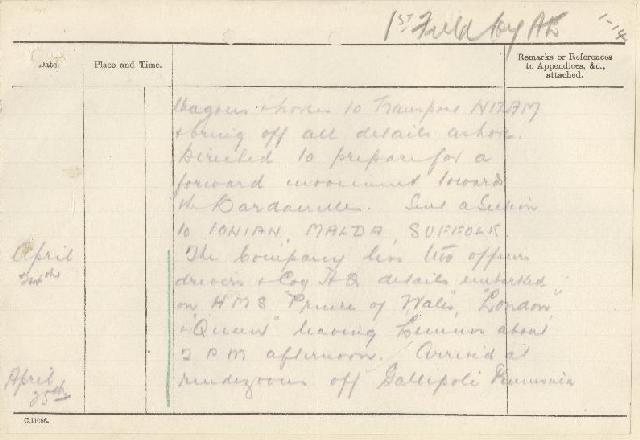 War Diary account of the 1st Field Company Engineers, AIF.

The following is a transcription of the War Diary of the 1st Field Company Engineers, AIF, of their role in the landings at Anzac on 25 April 1915.
24 April 1915

The Company less two Officers, drivers and Company Headquarters Details embarked on HMS "Prince of Wales", "London" and "Queen" leaving Lemnos about 2 pm afternoon.


25 April 1915

Arrived at rendezvous off Gallipoli Peninsular about 2 am, transferred to ships boats and taken in tow by pinnaces proceeded to land. The landing was hotly opposed, the enemy well posted used machine guns and rifle fire. Without hesitation all ranks pushed forward and as day broke the heights adjacent to the landing place were in our possession. The first shots noted were fired at 4.27 am and 4.30 about the landing had begun. The Company having landed in three different divisions and each division going on with the Infantry unit it came ashore with it was some hours before sufficient sappers could be collected to commence a road that it was noticed was necessary to get guns, water and ammunition to the troops higher up. At 11.45 am this was commenced and worked at through the night completed next morning.



26 April 1915

Ordered to report to Brigadier General Walker on what is now named Plugge's Plateau (worked up there during the operations of the 26th, 27th and 28th April. Relieved on morning of 29th. Casualties on landing and up to 29th, 4 killed 14 wounded.


Further Reading:
The Battle of Anzac Cove, Gallipoli, 25 April 1915
The Battle of Anzac Cove, Gallipoli, 25 April 1915, 1st Field Company Engineers, Roll of Honour
The Battle of Anzac Cove, Gallipoli, 25 April 1915, 1st Infantry Brigade, Roll of Honour
The Battle of Anzac Cove, Gallipoli, 25 April 1915, AIF, Roll of Honour
Battles where Australians fought, 1899-1920
---
Citation:
The Battle of Anzac Cove, Gallipoli, 25 April 1915, 1st Field Engineers War Diary
Posted by Project Leader at 12:01 AM EAST
Updated: Tuesday, 6 April 2010 9:17 AM EADT