The Battle of Anzac Cove, Gallipoli, 25 April 1915, 1st Field Artillery Brigade War Diary
Topic: BatzG - Anzac
The Battle of Anzac Cove
Gallipoli, 25 April 1915
1st Field Artillery Brigade War Diary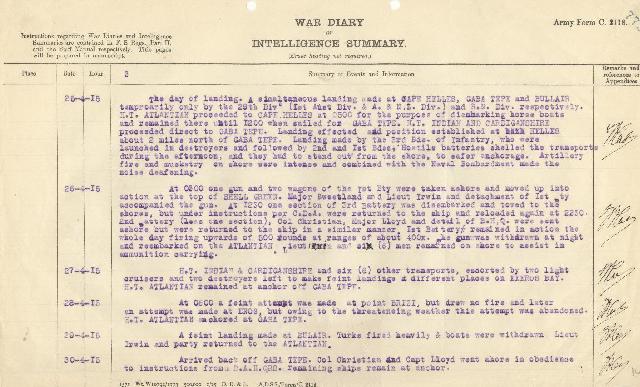 War Diary account of the 1st Field Artillery Brigade, AIF.
The following is a transcription of the War Diary of the 1st Field Artillery Brigade, AIF, of their role in the landings at Anzac on 25 April 1915.
25 April 1915

The day of landing. A simultaneous landing made at Cape Helles, Gaba Tepe and Bullair temporarily only by the 29th Division (1st Australian Division and Australian and New Zealand division) and Royal Naval Division respectively. HT Atlantian proceeded to Cape Helles at 0500 for the purpose of disembarking horse boats and remained their until 1200 when sailed for Gaba Tepe. HT Indian and Cardiganshire proceeded direct to Gaba Tepe. Landing effected and position established at Helles about 2 miles north of Gaba Tepe. landing made by the 3rd Infantry Brigade, who were launched in destroyers and followed by 2nd and 1st Infantry Brigades. Hostile batteries shelled the transports during the afternoon, and they had to stand out from the shore, to safer anchorage. Artillery fire and musketry on shore were intense and combined with the Naval Bombardment made the noise deafening.


26 April 1915

At 0300 on gun and two wagons of the 1st Battery were taken ashore and moved up into action at the top of Shell Green. Major Sweetland and Lieutenant Irwin and detachment of 1st Battery accompanied the gun. At 1230 on section of 3rd Battery was disembarked and towed to the shores but under instructions per CDA were returned to the ship and reloaded again at 2230. 2nd Battery (less one section), Colonel Christian, major Lloyd and detail of Brigade Headquarters were sent ashore but were returned to the ship in a similar manner. 1st Battery remained in action the whole day firing upwards of 500 rounds at ranges of about 400 yards. The gun was withdrawn at night and re-embarked on the Atlantian. Lieutenant Irwin and six (6) men remained on shore to assist in ammunition carrying.
Further Reading:
The Battle of Anzac Cove, Gallipoli, 25 April 1915
The Battle of Anzac Cove, Gallipoli, 25 April 1915, AIF, Roll of Honour
Battles where Australians fought, 1899-1920
---
Citation:
The Battle of Anzac Cove, Gallipoli, 25 April 1915, 1st Field Artillery Brigade War Diary
Posted by Project Leader at 12:01 AM EAST
Updated: Tuesday, 6 April 2010 9:16 PM EADT