The Battle of Anzac Cove, Gallipoli, 25 April 1915, 15th Infantry Battalion War Diary
Topic: BatzG - Anzac
The Battle of Anzac Cove
Gallipoli, 25 April 1915
15th Infantry Battalion War Diary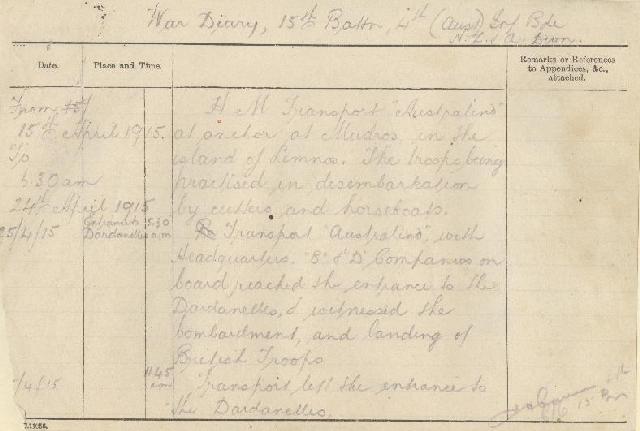 War Diary account of the 15th Infantry Battalion , AIF.
The following is a transcription of the War Diary of the 15th Infantry Battalion, AIF, of their role in the landings at Anzac on 25 April 1915.
25 April 1915

Embarked to Dardanelles 5.30 am.

Transport "Australind" with Headquarters, "B" and "D" Companies on board reached the entrance to the Dardanelles and witnessed the bombardment, and landing of British Troops.

11.45 am - Transport left the entrance to the Dardanelles. HMT Seang Bee anchored opposite disembarkation point at 4 pm and at 4.30 pm. Torpedo Boat Destroyer took off two Companies. These however, were not landed until about 10.30 pm. While waiting for disembarkation the Torpedo Boat Destroyer came under shrapnel fire from the shore and four of our men were hit. At 12.30 am 26th inst Lieutenant Colonel Cannon took command of all 15th Battalion which had disembarked to that time with the exception of a party under Captain Walsh, who had been ordered to report to Colonel Maclagan.


26 April 1915

At 9 am the balance of troops disembarked from the Seang Bee and Captain Quinn was ordered to support the right of 3rd Infantry Brigade.

The portion of the Battalion under the Commanding Officer took up a position at the head of gulch between the positions held by 1st and 2nd Infantry Brigades and remained there until 30th.



Further Reading:
The Battle of Anzac Cove, Gallipoli, 25 April 1915
The Battle of Anzac Cove, Gallipoli, 25 April 1915, 4th Infantry Brigade, Roll of Honour
The Battle of Anzac Cove, Gallipoli, 25 April 1915, AIF, Roll of Honour
Battles where Australians fought, 1899-1920
---
Citation:
The Battle of Anzac Cove, Gallipoli, 25 April 1915, 15th Infantry Battalion War Diary
Posted by Project Leader at 12:01 AM EAST
Updated: Monday, 12 April 2010 9:53 PM EADT