The Battle of Anzac Cove, Gallipoli, 25 April 1915, 4th Field Ambulance War Diary
Topic: BatzG - Anzac
The Battle of Anzac Cove
Gallipoli, 25 April 1915
4th Field Ambulance War Diary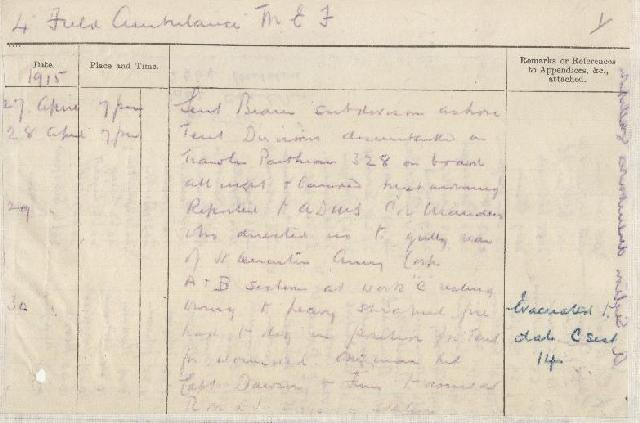 War Diary account of the 4th Field Ambulance, AIF.

The following is a transcription of the War Diary of the 4th Field Ambulance, AIF, of their role in the landings at Anzac during April 1915.
27 April 1915

Sent Bearer Subdivision ashore.


28 April 1915

Tent Division disembarked on Trawler Parthian 328 on boats all night and continued next morning. Reported to Assistant Directore Medical Services on Mandey who directed us to gully rear of ????? Army Corps.

"A" and "B" Section at work "C" resting.

???? to heavy shrapnel fire had today in positon for tent for wounded. One man hit.


Further Reading:
The Battle of Anzac Cove, Gallipoli, 25 April 1915
The Battle of Anzac Cove, Gallipoli, 25 April 1915, 4th Infantry Brigade, Roll of Honour
The Battle of Anzac Cove, Gallipoli, 25 April 1915, AIF, Roll of Honour
Battles where Australians fought, 1899-1920
---
Citation:
The Battle of Anzac Cove, Gallipoli, 25 April 1915, 4th Field Ambulance War Diary
Posted by Project Leader at 12:01 AM EAST
Updated: Tuesday, 13 April 2010 8:33 AM EADT