9th LHR AIF War Diary, 1 May
Topic: AIF - 3B - 9 LHR
9th LHR, AIF
9th Light Horse Regiment

War Diary, 1 May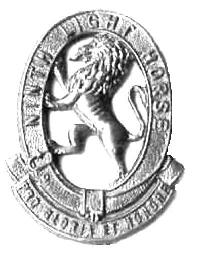 Pro Gloria et Honore - For Glory and Honour
Regimental March - Marching Through Georgia
The following entries are extracted and transcribed from the 9th Light Horse Regiment War Diary, the originals of which are held by the Australian War Memorial. There are 366 entries on this site. Each day has entries as they occurred from 1914 to 1919. In addition to the 9th Light Horse Regiment War Diary, when appropriate, entries from the 3rd Light Horse Brigade War Diary and other regiments with the Brigade will also appear. Entries from the unit history, Darley, TH,
With the Ninth Light Horse in the Great Wa
r, Adelaide, Hassell Press, 1924 will also appear from time to time. The aim is to give the broadest context to the story and allow the reader to follow the day to day activities of the regiment. If a relative happened to have served in the regiment during the Great War, then this provides a general framework in which the individual story may be told.
The Diary
1914
Friday, May 1, 1914

See 4th Military District, South Australia for militia activities.
1915
Saturday, May 1, 1915

9th Light Horse Regiment Location - Heliopolis Camp, Egypt.

9th Light Horse Regiment War Diary - No Entry.

Carew Reynell Diary - No Entry.
1916
Monday, May 1, 1916

9th Light Horse Regiment Location - Serapeum, Egypt.

9th Light Horse Regiment War Diary - Owing to weather becoming extremely hot, the routine changed as under -

Reveille 0500


Morning Tea 0510


Stables 0530 - 0615


Dismounted Parade 0630 - 0730


Breakfast 0800


Mounted Parade 0900 - 1015


Watering horses and unloading camels 1030


Stables 1130


Dinner 1230


Stables 1600


Tea 1715


Retreat and Guard Mounting 1800


A series of lectures also to be given during afternoons.
1917
Tuesday, May 1, 1917

9th Light Horse Regiment Location - El Khudri

9th Light Horse Regiment War Diary - Saddled up at 0200 and at 0300 RHQ and "A" Squadron moved to Gamli to command post being established on east bank of wadi.
By 0400 B and "C" Squadron were in position in forward line of trenches - "A" Squadron remaining in reserve in the wadi.
At 0415 an officer patrol left for Khirbit el Far and one Sergeant and 8 Other Ranks for Sharaq.
At 0530 the patrol reported all clear and at 0600 RHQ and "A" Squadron returned to El Khudri. Digging was continued by the three Squadrons at 0800.
At 1730 "A" Squadron took over outpost line and "C" Squadron returned to camp.
Carey, 1098 Corporal LH, drowned.
1918
Wednesday, May 1, 1918

Es Salt Raid.

9th Light Horse Regiment Location - Es Salt.

9th Light Horse Regiment War Diary - 0400 Stood to arms 0400 when verbal orders were received from 3rd Light Horse Brigade Headquarters to move immediately and occupy high ground to the north and north west of Es Salt and to gain touch with the 8th Light Horse Regiment. On our right who were holding a position astride the Es Salt - Amman Road.

0415 The Regiment with Hardy, Lieutenant; and, subsection of machine guns attached moved through Es Salt and occupied tactical features in Sqs 127J 19 d and b, J 13 b.5.2 J 13 a 2.9 H 12 a and d H 11 c by 0800 without opposition. Sharp, Lieutenant RC, with small patrol from "A" Squadron captured one Turkish Officer one Sergeant and one Corporal.

Regimental Headquarters was established near a large cave in J 19 a.9.2. One prisoner was taken here who was being roughly handled by the natives. The natives around Es Salt were of a very different type to those we had been used to. They were mostly armed with modern rifles of both English and Turkish pattern and were in the habit of firing suddenly into the air as a means of showing their pleasure. This was rather puzzling to us at the commencement of our occupation and at times we were inclined to look upon their actions as hostile. The country here was fairly thickly populated although very few native houses were to be seen actually outside Es Salt which was a well built town mostly stone buildings situated at the head of a valley. Nature of the country here very hilly and stony but well grassed and with good crops and vineyards everywhere. Several good wells were located in vicinity of 9th Light Horse Regiment Sector which supplied all needs during our term of occupation.

0800 Small parties of enemy were observed on ridges from 2,000 to 3,000 yards in advance of our line but no shots exchanged.

0900 Information received from natives that 20 Turks with 50 Camels and 40 Pack Mules and a dump of ammunition were hidden in vineyard two miles to the north. Smith, Lieutenant PT, with his troop was sent to reconnoitre with a view to our making an attempt to capture. He reported back to Regimental Headquarters at 1130 reporting that he had located the position and that it could be captured with two troops.
1145 Information was received that this party of enemy together with all pack animals had moved north.

1120 A patrol of ten Turkish cavalry approached under cover of thick mist to within 500 yards and between two posts of "A" Squadron east of Kefr Huda. "A" Squadron posts opened fire killing one horse, wounding one man and one horse. The patrol including the wounded man escaped being greatly assisted by the heavy mist which prevailed. Situation remained quiet during the day. Many natives together with their stock were sent back from our position on Es Salt.
2000 The following outpost line was taken up and held during the night. Night sector Sq 127 J19d.8.6 to J13b. Left sector "C" Squadron Sq J13b central to H 17d "A" Squadron in reserve in Sq J19a.9.9. Subsection of machine guns were mounted 500 yards south west Regimental Headquarters and with night lines set on roads in Sq 127 J13d and J13a. "B" Squadron was in touch with 8th Light Horse Regiment on right but "C" Squadron was unable to gain touch with 10th Light Horse Regiment on left. All roads leading into B and "C" Squadron sectors were picquetted with mounted patrols. At midnight a thick mist came up and continued for remainder of night and early morning. The atmosphere became bitterly cold and after the heat of the Plain of Jericho all ranks felt the sudden change severely. Objects were only visible at three to four yards in advance consequently sentries had to be particularly active. No enemy movement was observed during the night. McDonald, Lieutenant JM, joined from Cavalry School.

3rd Light Horse Brigade War Diary - The following day when the 2nd Light Horse Brigade arrived, the enemy were attacked by the 5th Light Horse Regiment and our two squadrons. The enemy retired and point 2000 was occupied by our forces. No further matters of interest developed until the afternoon of the next day, 1st May 1918, when information was received that the 4th Light Horse Brigade had been forced to withdraw about six miles from their position, north of the Wadi Es Sidr, to a line near to Wadi El Abyad, and that several columns of enemy had been observed entering the foothills by the Jisr ed Damieh - Es Salt track. Earlier in the day the Division had ordered me to support the 2nd Light Horse Brigade at point 2900. At the time that news of the Turkish advance from Jisr ed Damieh was received, the 8th Light Horse Regiment and four machine guns were moving to the point 2900 to support the 2nd Light Horse Brigade and the two squadrons of the 10th Light Horse Regiment and four machine guns there were moving back to Brigade Headquarters. Two troops of "C" Squadron of the 10th Light Horse Regiment were on escort and guard duly in Es Salt. I had thus only two troops of the 10th Light Horse Regiment available to despatch westwards to occupy a position on the Jisr ed Damieh track and to hold up the advance of the Turks from that direction these two troops were at once despatched. Shortly afterwards instructions were issued by Division that the 2nd Light Horse Brigade and the 8th Light Horse Regiment should retire from point 2900, the 8th Light Horse Regiment to rejoin this Brigade and one squadron to remain on the Amman road, four miles from Es Salt. One Squadrons of the 10th Light Horse Regiment under Hamlin, Major HB, was there.
At 2100 the first of the two squadrons sent to point 2900, rejoined the Brigade. It was immediately sent out to reinforce the two troops on the Jisr ed Damieh track. About 0200 on the 2nd May 1918 the 8th Light Horse Regiment, returned to Brigade Headquarters.
1919
Thursday, May 1, 1919

9th Light Horse Regiment Location - Zagazig

9th Light Horse Regiment War Diary - Usual camp routine. Driscoll, Lieutenant LS, evacuated to hospital.
Previous: 9th LHR AIF War Diary, 30 April
Next: 9th LHR AIF War Diary, 2 May
Sources:
See: 9th Australian Light Horse Regiment, Contents
Australian Light Horse Studies Centre, AIF War Diaries of the Great War, Site Transcription Policy

Further Reading:
9th Australian Light Horse Regiment, Roll of Honour
Battles where Australians fought, 1899-1920
---
Citation:
9th LHR AIF War Diary, 1 May
Posted by Project Leader at 12:01 AM EADT
Updated: Friday, 23 July 2010 11:31 AM EADT