New South Wales Infantry Contingent, Outline
Topic: BW - NSW - NSW Inf
NSW Inf
New South Wales Infantry Contingent

Outline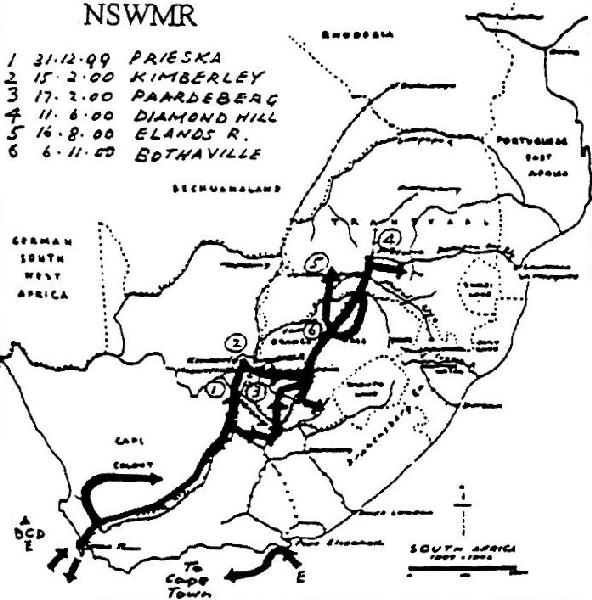 Map illustrating the activities of the New South Wales Mounted Rifles in South Africa, 1900.
[From: Chamberlain, M., The Australians in the South African War 1899-1902, Canberra, 1999.]
In 1911, Lieutenant-Colonel P. L. Murray, produced a marvellous Boer War reference detailing all the contingents sent from Australia to South Africa, giving a brief history of the formation and finally, listing all the soldiers who saw service in South Africa with that unit. The book was called, Official Records of the Australian Military Contingents to the War in South Africa. It is now the standard reference and starting place for any person interested in pursuing information about Australian involvement in the Boer War.
Murray, P. L., Official Records of the Australian Military Contingents to the War in South Africa, pp. 28 - 40A.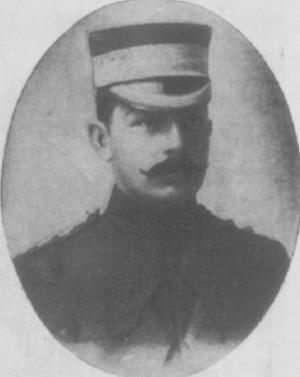 Captain Legge, Officer Commanding NSW Infantry
"A" Squadron Mounted Rifles.

This was originally a draft from the regiment of New South Wales Mounted Rifles, which had been in existence for some years before the war and served upon the partial-payment system. It still figures in the Army list as the 2nd Australian Light Horse, "New South Wales Mounted Rifles'' on the Militia establishment. (Allied with "King Edward's Horse"; the King's Oversea Dominions Regiment.) The squadron comprised a picked body of especially smart men; good shots and daring riders; excellently mounted; and it did exceptional service during the war.

The establishment authorized in the first instance was as for Lancers, omitting "Major" and substituting 98 privates for 97.

The squadron at first consisted of 4 officers and 100 others, with 104 horses and 3 carts. It was despatched on 3rd November; 1899, and was shortly afterwards followed by a draft of 25 sergeants and rank and file; with 25 horses. One medical officer joined in South Africa, and 6 men were enrolled there. Of these details, 8 were killed or died, 5 were struck off the strength in South Africa, l officer was commissioned in the Imperial Army, and 2 men were sent back respectively from Albany and Cape Town; 4 officers and 113 men returned to Australia.

Subsequent to the departure of the squadron, however, a second Contingent had been formed, comprising "B," "C;" and "D" Squadrons, "1st Regiment, New South Wales Mounted Rifles;" despatched on 17th January, 1900 (vide record). The first Contingent, consisting of the squadron now referred to, and a company of Infantry (vide record) which left in the same ship, became absorbed as "A" and "E" squadrons respectively of this regiment; the company being mounted at the seat of war.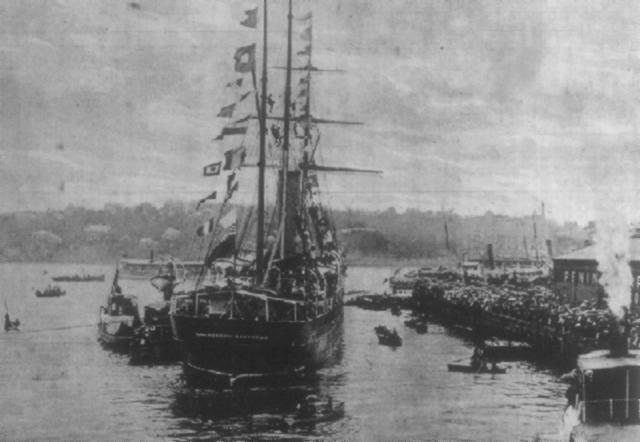 The SS Aberdeen embarking from Sydney, 3 November 1899

As already stated, the squadron embarked at Sydney on the transport Aberdeen, 3rd November, 1899; arrived at Cape Town on 6th December, disembarked on the following day. Embarked again at Cape Town on the Transport Orient. 13th December, 1900, called at Albany and Melbourne, arrived at Sydney, and disembarked, 8th January, 1901.


References to Orders
| | | | |
| --- | --- | --- | --- |
| Formation | GO | NSW | 107/99 |
| Pay and Allowances | GO | NSW | 107/99, 112/99, 88/00 |
| Command | GO | NSW | 116/99 |
| Conditions and Service | GO | NSW | 107/99 |
| Officers | GO | NSW | 110/99 |
| Establishment | GO | NSW | 108/99 |
| Embarkation | GO | NSW | 116/99, 123/99, 124/99. |


Clothing

Uniform consisted of brown F.S. jackets and pants, with puttees and hats.


Arms and equipment

M.E. rifles and long bayonet, bandolier and cartridge belt, with supporting braces.

Fully horsed and provided with saddles.

Regimental transport was also provided.


"E" Squadron Mounted Rifles.
The corps, under the command of Captain J. G. Legge, accompanied General Clements' column from Arundel via Colesberg to Norval's Pont, Orange River, thence through the south-western portion of the Orange Free State to Bloemfontein.

At Bloemfontein the corps, under the command of Captain W. Holmes, joined General Ian Hamilton's column as. portion of De Lisle's (II. M.I) corps, and proceeded thence to Pretoria, Diamond Hall, &c.

On 13th June, 1900, Captain F. A. Dove assumed command, vice Holmes (wounded and invalided). The corps returned to Pretoria and took part in the campaign against De Wet and De La Rey, under Generals Hunter, Broadwood, Lord Kitchener, and Clements respectively, operating in the Transvaal and northern part of Orange River Colony.

Returned to Kroonstadt, thence by rail to Cape Town; embarked December, 1900, on board SS Orient; called at Melbourne on 6th January, 1901, and arrived at Sydney on 8th January, 1901.

Detailed list of engagements attached hereto.

The casualties were as follows:
| | |
| --- | --- |
| Killed in action | 5 |
| Died of wounds | 2 |
| Wounded | 14 |
| Died of enteric | 4 |
| Total | 25 |
Principal Engagements in which Corps took part.With Major-General Clements' Column

Relief of Colesberg, 3rd February to 7th March, 1900. Actions at Slingersfontein, 10th February, 1900; The Kloof (Cole's Cop), 11th February; Mader's Aarm, 11th February; Vaal Kop, 12th February; Rensburg, 14th February; Frandel, 15th February; Plewman's Farm, 17th February; Kuilfontein, 17th February; Woolvefontein, 20th February; Norval's Pont, 7th March.
Advance on Bloemfontein, 15th March to 4th April, 1900. Capture of the following towns in the Orange Free State:- Phillipolis, 21st March; Jagersfontein, 27th March; Fauresmith, 27th March; Koffyfontein, 28th March; Petrusburg, 2ndApril.
With General Ian Hamilton's Column, Bloemfontein to Diamond Hill, 22nd April to 12th June.-Action at Boesman's Kop, 23rd April; Watervaal Drift, 24th April; Waterworks, 25th April; Israel's Poort, 25th April. Battle of Houtnek (Thaba 'Nchu), 30th April and 1st May. Action at Kaffir's Kraal, Roodepoort, 4th May - Capture of Winburg, 5th May. Battle of Zand River, 10th May. Capture of Ventersburg, 11th May. Advanced Guard action, Lindley, 20th May. Rearguard action, Rhenoster River, 21st May. Klipriversburg, Battle of Doornkop, 29th May. Johannesburg, 31st May. Capture of Pretoria, 4th June. Battle of Diamond Hill, 11th and 12th June.
Campaign against De Wet. Capture of Heidelberg.
June:- Capture of Villiersdorp, Frankfort, Reitz, and Bethlehem.
July:- Actions around Bethlehem. Actions at Palmietfontein, Vredefort, ainje, Lindeque Drift.
August:- Relief of Elands River Post. March to Pretoria, via Rustenburg.
September:- To Machadodorp. Operations against De La Rey in the Magaliesberg. Several actions and skirmishes with General Clements' column. Return to Pretoria. With De Lisle's force. Operations against De Wet in northern Orange River Colony. Skirmishes about Heilbron and (October) Vredefort. Two days' fight at Witkoppies and Reitzburg. Capture of Potchefstroom.
27th October:- Successful fight with De Wet at Rensburg Drift. Capture of Krupp gun and wagons.
November:- Action at Bothaville. Capture of seven guns.
Services and honours
Legge, Captain J. G. (promoted major and afterwards Lieut.-Colonel):-
Operations in Cape Colony, Orange Free State, and. Transvaal, December, 1899, to November, 1900. Actions at Colesberg. Advance on Kimberley. Actions at Johannesburg, Pretoria, Diamond Hill, Elands River, Venterskroon, Bethlehem, Wittebergen, and Bothaville. Subsequently Intelligence Officer to Col. De Lisle's column, 1901-2. Queen's Medal with four clasps. King's Medal with two clasps.

Holmes, W., Lieutenant (promoted captain):-
Operations in Cape Colony, Orange Free State, and Transvaal, 1899 to November, 1900. Actions at Colesberg. Advance on Kimberley, Houtnek, Vet River, Zand River, Johannesburg, Pretoria, and Diamond Hill, at which latter wounded 12th June, 1900. Despatches, London Gazette, 16th April, 1901. D.S.O. Queen's Medal with four clasps.

Dove, Lieutenant F. A.:-
Operations as above. Wounded at Mader's Farm, 26th February, 1900. Despatches, London Gazette, 16th April, 1901. D.S.O. Queen's Medal with five clasps. (Lieutenant Dove was promoted captain and served subsequently as adjutant 3rd Battalion A.C.H., and S.O. to Australian Brigade, Newcastle, Natal.)

Logan, Lieutenant M. W.-
Operations in Cape Colony and Orange Free State, December, 1899 to day, 1900. Actions at Colesberg. Advance on Kimberley. Actions at Vet River and Zand River. Queen's Medal with two clasps.

Edwards, Lieutenant (A.M.C.) E. A. -
Vide A.M.C.

The majority of the Contingent earned the following clasps:-
(1) Relief of Kimberley,

(2) Paardeberg,

(3) Driefontein,

(4) Johannesburg,

(5) Diamond Hill,

(6) Wittebergen.
Extracts from Report of Captain J. G. Legge.
February, 1900:- On 20th February we went out with a force to repel an attack upon our right rear. One division, under Lieutenant Dove, was escort to some of the guns, where, unfortunately, Private Atchison was killed by a shell, together with his horse; Private Southey was also wounded.

With the other three divisions, reinforced by the Victorian Mounted Rifles, we were sent to occupy some kopjes in front. After crossing with two divisions under fire, and taking two ridges, we received an order to retire, which it appears was never meant for us. The men retired under a very heavy fire and kept their heads well. Finding the order was never intended for us, we again went across, and by evening drove the Boers along 5 miles of ridges. We were assisted greatly by a cross-fire from our artillery.

At dusk we were, with 55 rifles and 20 in reserve, opposed to 200 Boers in a farm and on the opposite ridge. The rest of our men were holding the other part of the ridge already taken. Here we came to a stop, and had a furious rifle duel, which the Boers finished up by firing shrapnel from an invisible gun at about 1,000 yards. They also used explosive bullets. We had good cover, however, and had no other loss. The whole of the company fought well under a heavy fire, and it is really wonderful how we escaped without loss.

As my orders were to secure all the positions I took, I had to move from one point to another, and entrusted the firing line to Lieutenant Holmes, who acted with great dash and coolness. At night we received orders to return to the guns and went back to camp with them. The Boers retired from the vicinity during the night. Major Enthoven, R.A., was kind enough to send over a message saying "We could not have done better."

After a reinforcement of guns on the 22nd February, our force advanced west, and another force from the camp attacked the Boers on the south, and gave them a heavy shell fire. Lieutenant Dove did an excellent piece of scouting on the right with his division, and drove off the Boor patrols, thus rendering the advance of the guns possible.

About 3 p.m. the Boers retired in great haste, making north, and we returned to camp at night.

The last fortnight has been extremely trying on both men and horses; through broken rest, irregular and deficient food and water. The latter is not due to the A.S.C., but to the rapid moves we have to make as mounted men.

Extracts from report of Captain W. Holmes
28th April:- In camp, Israel's Poort: Detailed Lieutenant Dove and 25 men to scout in the vicinity of Thaba Mountain and Houtnek. Lieutenant Dove was instructed to locate the position of the Boor laager. In this duty he was eminently successful, and received the commendation of General Ian Hamilton and Colonel De Lisle. As a result of this reconnaissance, the battle of Houtnek was fought two days later.

30th April:- Marched at daylight, and came into collision with the enemy, who were strongly posted at Thaba Mountainn and Houtnek. Lieutenant Dove and 28 men were detached from my command for scouting work; with the remainder I was ordered to occupy an advanced kopje, which proved to be an important strategical point. Remained in possession all day under very heavy fun (shrapnel and rifle) from front and right flank. At night retired to a farm house. No casualties.

Re-occupied the position of the previous day before dawn. Remained there under an exceedingly heavy fire until about noon, when I was ordered to withdraw as best I could, as the Infantry was advancing to attack. As the best means of leaving the position, I determined to retire at the gallop by groups of four, widely extended, to another hill about ¾ mile in rear. In this retirement Private V. V. Smith was killed and Privates Lewis, Tweedie, and Maxwell, wounded, and two horses killed.
Further Reading:
New South Wales Infantry Contingent
New South Wales Infantry Contingent, Roll of Honour
Battles where Australians fought, 1899-1920
---
Citation:
New South Wales Infantry Contingent, Outline
Posted by Project Leader at 12:01 AM EAST
Updated: Monday, 4 April 2011 12:03 PM EADT