Report by Major Tunbridge about Elands River, 15 September 1900, page 6
Topic: BatzB - Elands
The Battle of Elands River, 4 August 1900
Report by Major Tunbridge, 15 September 1900, Page 6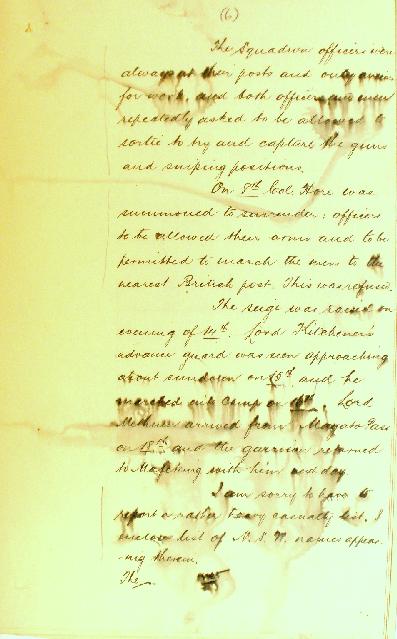 Report by Major Tunbridge about Elands River, 15 September 1900, page 6.
On 15 September 1900, Major Tunbridge wrote a report of the action at Elands River for the NSW General Staff of which page 6 is transcribed below.
6)

The Squadron officers were always at their posts and only anxious for work, and both officers and men repeatedly asked to be allowed to sortie to try and capture the guns and sniping positions.

On 8th Colonel Hore was summoned to surrender; officers to be allowed their arms and to be permitted to march the men to the nearest British post. This was refused.

The siege was raised on evening of 14th. Lord Kitchener's advance guard was seen approaching about sundown on 15th and he marched into camp on 16th. Lord Methuen arrived from Magato Pass on 18th and the garrison returned to Mafeking with him next day.

I am sorry to have to report a rather heavy casualty list. I enclose list of NSW names appearing therein.


Previous: Report page 5
Next: Report page 7
Further Reading:
Battles where Australians fought, 1899-1920
---
Citation:
Report by Major Tunbridge about Elands River, 15 September 1900, page 6
Posted by Project Leader at 12:01 AM EADT
Updated: Sunday, 26 July 2009 11:12 PM EADT