The Second Battle of Wassa, Egypt, 31 July 1915, Outline
Topic: BatzO - Wassa
The Second Battle of Wassa
Egypt, 31 July 1915
Outline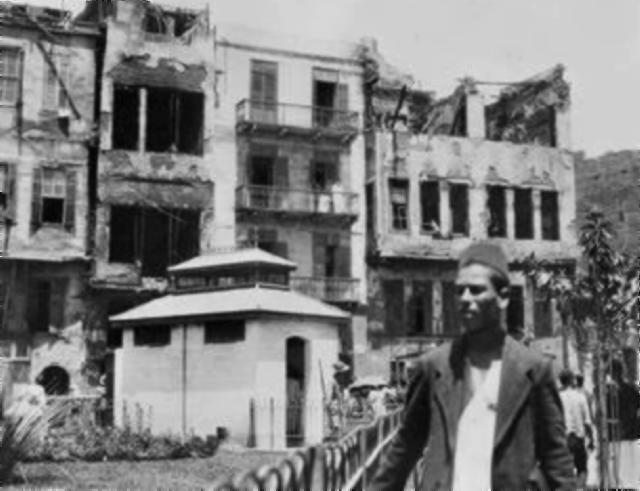 Wassa street with burnt out buildings

Second Wassa, the second riotous outbreak in the Haret el Wassa (the brothel quarter of Cairo, Egypt), occurred on 31 July 1915 before the departure of the AIF 2nd Division for the Gallipoli Peninsula. As with the The First Battle of Wassa, Egypt, 2 April 1915 (q.v.), this incident also involved several thousand troops, nearly all Australians although a few British and New Zealand soldiers were present, and again its origins apparently lay in disagreements with some of the Wassa's prostitutes. Here, too, matters were aggravated by the appearance of military police (MPs) and pickets, both British and Australian, and the fire brigade. MPs attempting to disperse the crowd were beaten back with rocks, bricks, bottles and other missiles, but eventually about 100 gained the upper hand by working their way along the street from both ends simultaneously. A special court of inquiry was convened on 3 August, and at least after this incident attempts were made to provide alternative recreational outlets for military personnel stationed in the Cairo area.

The significance of the two riots is open to varying interpretations. The official historian, Charles Bean, saw little difference from what at Oxford and Cambridge and in Australian universities is known as a "rag" but for others such as Bill Gammage both incidents 'betrayed some of the worst aspects of Australian character'.

Extracted from the book produced by Chris Coulthard-Clark, Where Australians Fought - The Encyclopaedia of Australia's Battles, Allen and Unwin, Sydney, 1998, p. 107.


Additional References cited by Chris Coulthard-Clark:

Bill Gammage, (1974), The Broken Years, Canberra: Australian National University Press.
Suzanne Brugger, (1980), Australians and Egypt 1914-1919, Carlton, Vic.: Melbourne University Press;
Kevin Fewster, 'The Wazza Riots, 1915', Journal of the Australian War Memorial, No. 4, April 1984.
Further Reading:
The Battles of Wassa, Egypt, 2 April 1915 & 31 July 1915
Battles where Australians fought, 1899-1920
---
Citation:
The Second Battle of Wassa, Egypt, 31 July 1915, Outline
Posted by Project Leader at 12:01 AM EADT
Updated: Friday, 1 April 2011 5:07 PM EADT