The Third Battle of Morlancourt, France, 10 June 1918, Outline
Topic: BatzWF - Westn Front
The Third Battle of Morlancourt
France, 10 June 1918
Outline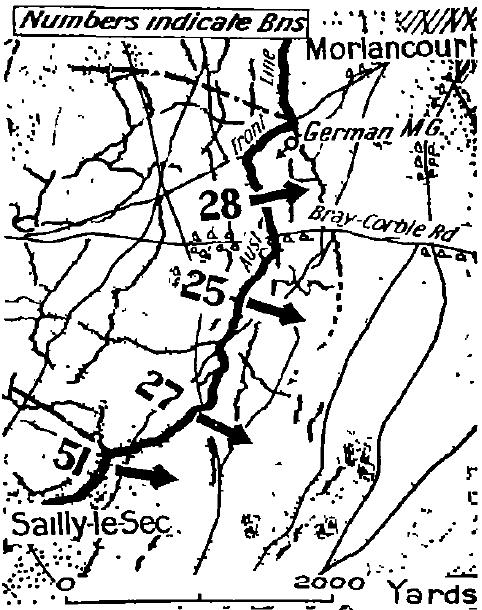 Map outlining the attack at Morlancourt.
[Extracted from Bean, Vol. VI, p. 234.]
Third Morlancourt, an attack carried out on 10 June 1918 by 7th Brigade of the 2nd Australian Division against the southern portion of the Morlancourt spur which overlooked the village of Sailly-Laurette on the Somme. Launched at dusk under cover of an accurate barrage, the operation was a complete success and resulted in the taking of 325 German prisoners at a cost of 400 Australian casualties.


Extracted from the book produced by Chris Coulthard-Clark, Where Australians Fought - The Encyclopaedia of Australia's Battles, Allen and Unwin, Sydney, 1998, p. 148.
Additional References cited by Chris Coulthard-Clark:

C.E.W. Bean (1937) The Australian Imperial Force in France during the Main German Offensive, 1918, Sydney: Angus & Robertson.

Further Reading:
The Third Battle of Morlancourt, France, 10 June 1918
The Third Battle of Morlancourt, France, 10 June 1918, Roll of Honour
Western Front Battles
Battles where Australians fought, 1899-1920
---
Citation:
The Third Battle of Morlancourt, France, 10 June 1918, Outline
Posted by Project Leader at 12:01 AM EADT
Updated: Thursday, 9 June 2011 6:52 PM EADT