8th LHR, AIF, Roll of Honour, George Fay
Topic: AIF - 3B - 8 LHR
8th LHR, AIF

8th Australian Light Horse Regiment
Roll of Honour
George Fay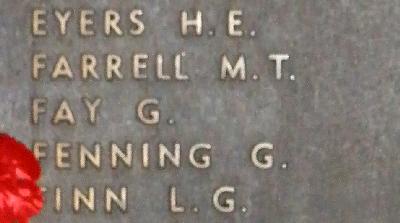 George Fay's name on the Roll of Honour, Australian War Memorial
George Fay
Rank: Captain [Capt]
Unit: 8th Australian Light Horse
Service: Army
Conflict: 1914-1918
Date of death: 1 December 1917
Cause of death: Killed in action
Cemetery or memorial details: PALESTINE 9 Ramleh War Cemetery
War Grave Register notes: FAY, Capt. George, 8th Australian Light Horse. Killed in action 1st Dec., 1917. Age 39. Son of George and Frances Fay; husband of E. J. Fay, of Binney St., Euroa, Victoria, Australia. M. 70.
Source: AWM145 Roll of Honour cards, 1914-1918 War, Army.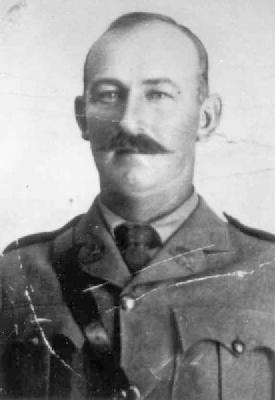 George Fay
A brief military biography of George Fay from The AIF Project:
Date of Birth
14 June 1877
School
State School, Victoria
Religion
Roman Catholic
Occupation
Farmer
Address
Creighton Creek, Victoria
Marital status
Married
Age at embarkation
38
Next of kin
Wife, Mrs Elizabeth ("Bab") Jane Fay (neé Sharpe), Creighton Creek, Victoria
Previous military service
Commissioned as a Second Lieutenant with the 8th (VMR) Australian Light Horse, 17 March 1908
Second Lieutenant with the 16th (Indi) Australian Light Horse, 1 July 1912
Lieutenant with the 16th (Indi) Australian Light Horse, 1 July 1915
Enlistment date
16 July 1915
Rank on enlistment
2nd Lieutenant
Unit name
8th Light Horse Regiment, 9th Reinforcement
AWM Embarkation Roll number
10/13/2
Embarkation details
Unit embarked from Melbourne, Victoria, on board HMAT A20 Hororata on 27 September 1915
Rank from Nominal Roll
Captain
Fate
Killed in Action 1 December 1917
Place of death or wounding
El Burj, Palestine
Age at death
39.6
Place of burial
Ramleh War Cemetery (Row M, Grave No. 70), Palestine
Panel number, Roll of Honour,
Australian War Memorial
6
Miscellaneous information from
cemetery records
Parents: George and Frances FAY; husband of E.J. FAY, Binney Street, Euroa, Victoria
Lest we forget
Photograph Album
The following photograph album celebrating the life of George Fay has been generously made available by relatives of the Fay family.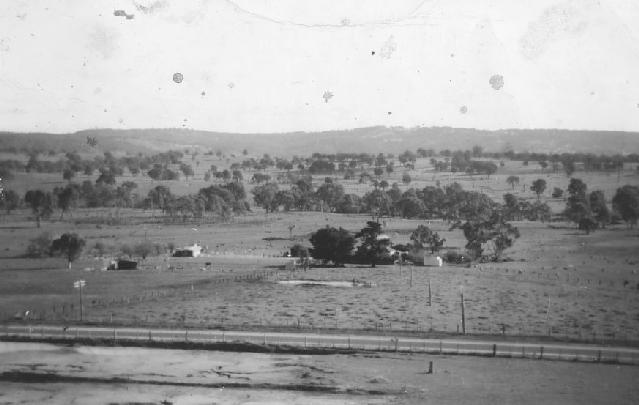 "Cluny Farm", Creightons Creek, Victoria, the home of the Fay family.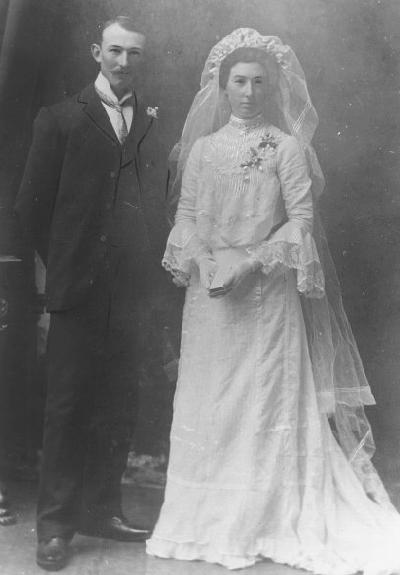 George Fay and Elizabeth Sharp on their wedding day, 13 May 1903.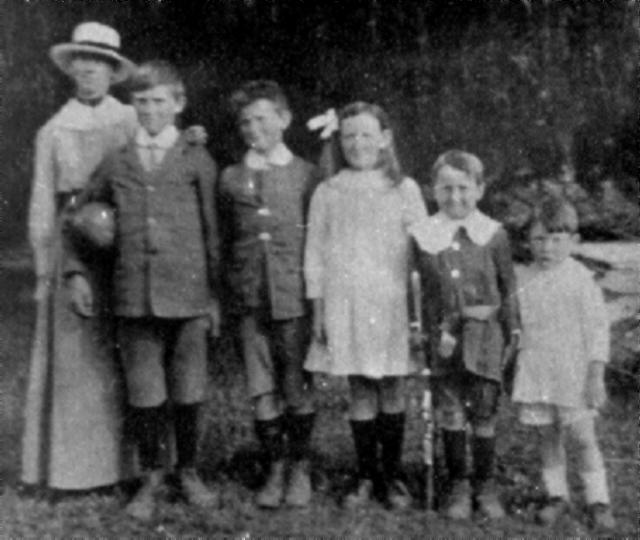 Elizabeth ("Bab") with five children, (left to right) Bernard, Harold, Laura, Edward, and George.

George Fay (seated, extreme right) consuming rations with the 8th (VMR) ALH.
Officers Mess, Broadford, 16th (Indi) Australian Light Horse, 1914.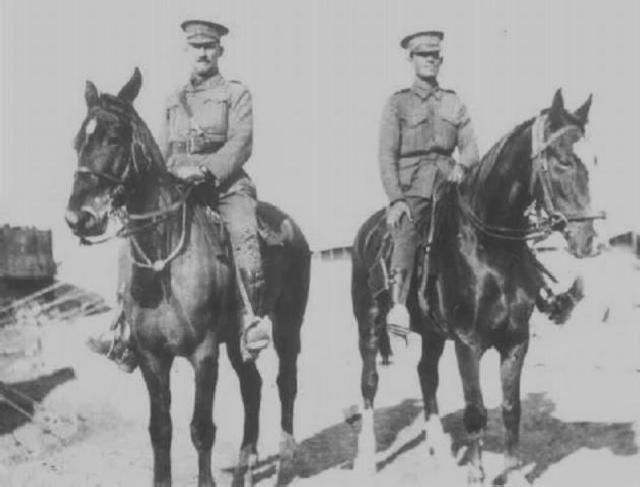 Captain George Fay (left) and Tom Sharp in Egypt.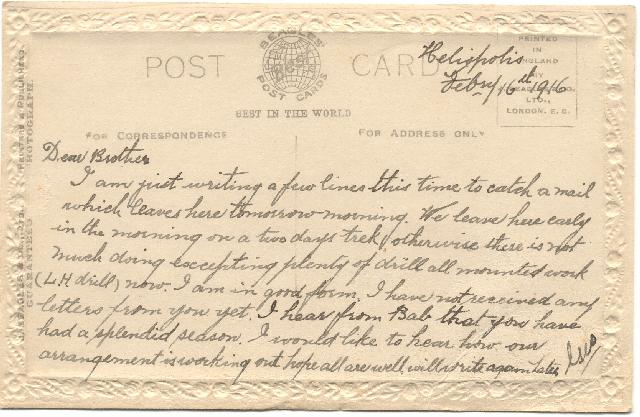 A post card from Egypt by George Fay to his brother, 16 February 1916.

The above note was written by Geoge Fay to his brother Jack. The arrangment referred to in the letter is in relation to George and Elizabeth farming "Cluny Farm" in partnership with Jack and Edith Fay. "Bab" is the diminunative by which George referred to his wife, Elizabeth.
The letter was written from the 3rd LHB (Light Horse Brigade) camp at the Heliopolis race track, the Hippodrome. The 3rd LHB used this camp to refit and rebuild after the Gallipoli Campaign during the previous year, 1915. Within two weeks after the letter, George Fay was deployed on the Canal Defences at Serapeum, a place where the 8th LHR would remain for another six months.
The transcript of the letter:
Heliopolis
February 16th, 1916

Dear Brother

I am just writing a few lines this time to catch a mail which leaves here tomorrow morning. We leave early in the morning on a two days trek otherwise it is not much doing excepting plenty of drill, all mounted work (L.H. Drill) now. I am in good form. I have not received any letters from you yet. I hear from Bab that you have had a splendid season. I would like to hear how our arrangement is working out hope all are well will write again later.

Geo

The Battle of El Burj, 1 December 1917
Sadly for the Fay family, during the Battle of El Burj, George Fay lost his life.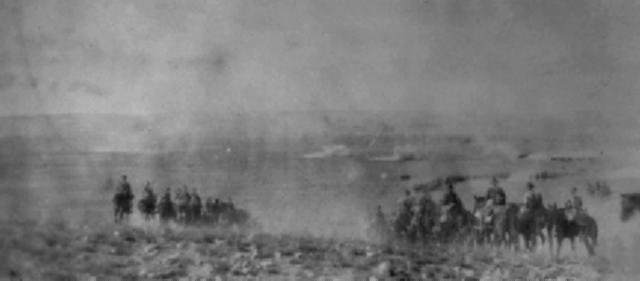 Captain Fay leading his squadron into action at El Burj, 1 December 1917.

This thrilling photograph demonstrates the dramatic circumstances of battle. In the distance two high explosive shells can be seen bursting. The dust of other shells can be clearly seen. The men and horses are marching towards the danger in column of troop.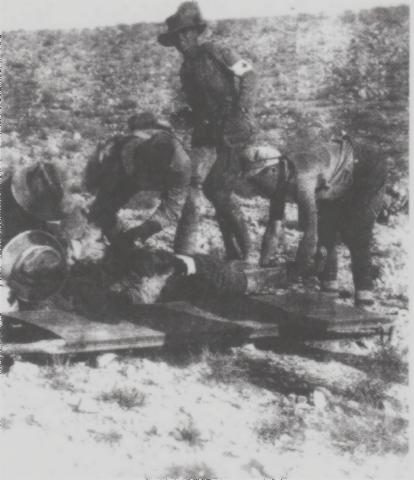 8th Light Horsemen prepare Captain George Fay's body for burial.

George Fay was a popular officer so his death caused much grief amongst the men in his squadron. This poignant picture demonstrates the care and respect the men showed for his body prior to burial.
The Tributes
Euroa Gazette
The following is a transcript from two undated articles extracted from the Euroa Gazette, the local newspaper in the district from whence George Fay came.
Gallant Office Killed

Quite a wave of sorrow swept over Euroa and district when the news was received last Thursday that Captain Fay had been killed in action. Only a couple of weeks back his wife was notified that he was wounded and remaining on duty then later that he was wounded again (slight), so it was an awful shock to get news of his death. Captain Fay, who was always much loved and admired by his brother officers and men, was a sterling fellow and a good soldier. He was a prominent member of the 8th ALH. He volunteered for service very early I this war, even though he was a married man with six children, perhaps feeling for that r4eason, that he had more to fight for. He had spent all the time in hot dreary Egypt and Sinai, in company with Lieut. Colonel. Maygar (who was recently killed). Captain Fay was wounded and was ill some months back, but had returned to the firing line long ago. It is assumed that there being a shortage of officers to take his place, he chose to remain and lead his men even though wounded, and by his unselfishness and devotion to duty, hastened his death. The sympathy of the whole community is extended to his widow and children.

[Undated.]
Capt. Geo. Fay Killed


A few days ago it was announced that Capt Geo Fay of Creighton's Creek one of the most popular and most capable of our local soldiers had been wounded during the fighting in Palestine but had refused t leave his men whole he was able to sit in the saddle. Yesterday the Rev WM Warry Longwood received the sad message that the gallant officer has now been killed. The local public has scarcely recovered from the shock occasioned by Lt Colonel Maygar's death in the same field of action and a worthy crusader comrade has now made the supreme sacrifice in the cause of the empire. He was a splendid fellow beloved by all his men a worthy son of Australia. Hats off, fellow citizens, the soul of a brave man passes!
[Undated.]
George Redding
After the death of Captain George Fay at the Battle of El Burj, Trooper George Redding wrote a poignant letter to Mrs Elizabeth J Fay, the wife of the late Captain George Fay.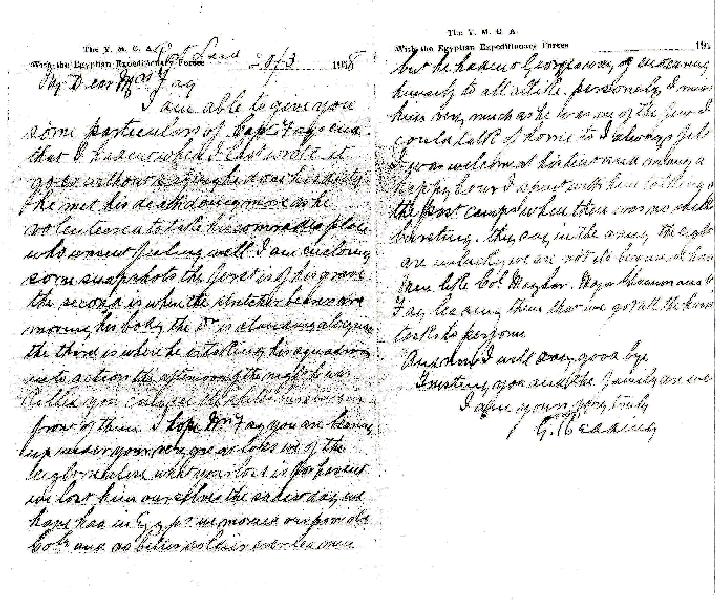 The letter sent by George Redding to Mrs Elizabeth J Fay about the death of Captain George Fay.
[Click on letter for larger version.]
Port Said, 20/3/1918

Dear Mrs Fay

I am able to give you some particulars of Capt Fay's end that I haven't when I last wrote - it goes without saying he done his duty he met his death doing more as he volunteered to take his comrade's place who wasn't feeling well. I am enclosing some snapshots. The first is of his grave; the second is when the stretcher bearers are moving his body, the Dr is standing alongside; the third is where he is taking his squadron into action the afternoon of the night he was killed. You can see the shells bursting in front of them. I hope Mrs Fay you are bearing up under your very great loss. We of the eighth realise what your loss is for however we lost him ourselves, the saddest day we have had in Egypt. We mourned our poor old Colonel and as better soldier ever led men but he haven't. George was of endearing himself to all alike. Personally I miss him very much as he was one of the few I could talk of home to. I always felt I was welcome at his tent and many a happy hour I spent with him talking of the past camps where there was no shell bursting. They say in the army the eighth are unlucky. We are not because we had men like Col. Maygar, Major Shannon and Capt Fay leaving them that we got all the horse tasks to perform.

And now I will say good bye.
Trusting that you and the family are well.

I am yours truly
G. Redding.
All that remains, the medals and mementos

The George Fay history is everyone's story.
It may give people a warm feeling to eulogise about the spirit of sacrifice and the Anzac legend, however, the reality in this story is about six children who lost their father and a wife's loss of her husband. All the family would have gladly swapped the hero status for their loved one to come home, or not to have left in the first place. In the end, as a single mother, Elizabeth Fay single handedly raised these children. One can only imagine the loneliness she felt, especially on Anzac Day or upon birthdays or major anniversaries like Christmas. A cold "Dead Man's Penny" and a listing at the AWM Roll of Honour is small change for the loss this family endured. Many other families also endured a similar fate. That is indeed the legacy from the Fay story, to reveal how the living dealt with life over the subsequent 90 years.
Acknowledgements:
Nicolette Caggiati-Shortell for generously making available the Fay family records, including letters, photographs and newspaper clippings, and through her kind permission, these are published on this site.
Kathryn White who has generously provided much of the material including letters, articles and photographs regarding the death of George Fay and through her kind permission, these are published on this site.
Further Reading:
The Fay Family of Creighton's Creek, Elizabeth Fay
The Battle of El Burj, 1 December 1917
---
Citation:
8th LHR, AIF, Roll of Honour, George Fay
Posted by Project Leader at 12:01 AM EAST
Updated: Wednesday, 15 July 2009 9:17 AM EADT