2601 Trooper George Redding, 8th Australian Light Horse Regiment
Topic: AIF - 3B - 8 LHR
George Redding Discovered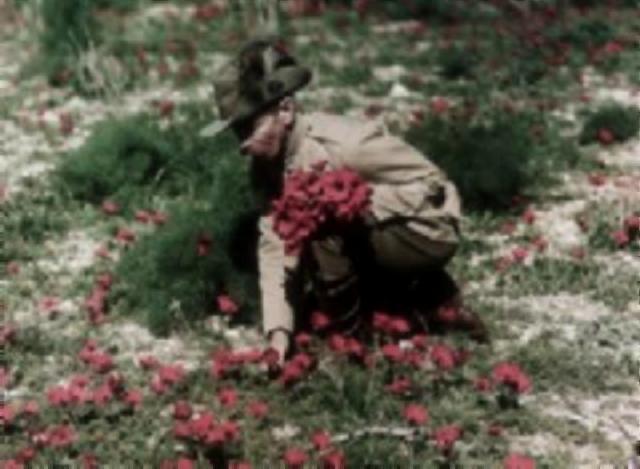 An Australian Light Horseman collecting anemones near Belah in Palestine.
[2601 Trooper George Redding, 8th Australian Light Horse Regiment in an iconic pose captured by Captain Frank Hurley, the Official Australian Photographer.]
The following article by Philip Redding called George Redding, WW1 Veteran recaptures lost information about an iconic pose of a Light Horseman during the Great War. Philip Redding details his journey in discovering his uncle.
George Redding, WW1 Veteran
by Philip Redding
In 1918 Frank Hurley took a photo of a veteran Light Horseman picking anemone flowers in Belah, Egypt after heavy rain. Kathryn WHITE, one of the readers of this magazine, saw a likeness to my father's brother, George Redding, who was the subject of an article published in 2000. The photo of him with his cousin, George BURKE, had been taken in Egypt in 1918. George Redding was 18 years over the limit for enlisting and his cousin was under the limit but went to the Queensland Premier and got his permission to enlist. The "two Georges" was a good case of under age and over the limit in enlisting policy. Kathryn thought there had to be a connection between the two photos as "the un-named veteran" and George seemed to have so many things in common that there must be a match.

While visiting the Australian War Memorial Research Room to research an article about my father who had been a prisoner of war in Germany, I saw the photo of the veteran Light Horseman in the Memorial's Captured in Colour exhibition. I immediately went to the Archives Section again and asked whether I could make a claim on the "veteran Light Horseman". The head of the photo section then went to town and checked George's war service. "Yes, he was definitely in the right place." He then looked at Frank Hurley'S diary to see if he was there at the time George was at Belah. By the time the photo was taken, George was all of 60, so a veteran indeed!

I was asked to put together all I knew of George's movements and his war history and send it to the archivist. Fortunately, there are many photos of George at that time. He did not die until 1935. He was managing the soldier settlements in the Victorian Mallee. The family had him at the Boer War but I could not find any records of this in Australia and will have to go to South Africa for these.

The upshot of all this was a letter saying that the Australian War Memorial is now happy to have a name for the Veteran soldier picking anemone flowers after the rain and it is George Redding. So, thanks to Kathryn White, our reader with very sharp eyes, and to the Archives section of the Australian War Memorial in Canberra who accepted all my arguments that such an epic photo deserved someone like my Uncle George.
From Philip Redding, George Redding, WW1 Veteran, Australian Family Tree Connections, April 2007, p.15.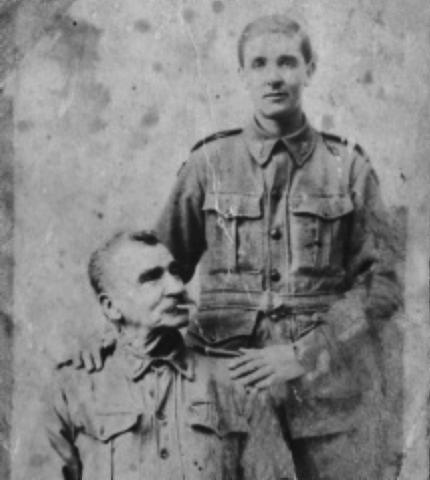 Photo of George Redding and George Burke taken in Syria, 1919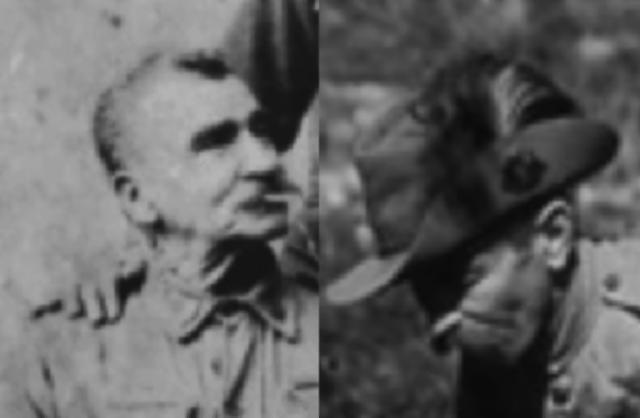 Photographic comparison.

Military Biography
2601 Tpr George Redding, a brief military biography from The AIF Project:
| | |
| --- | --- |
| Regimental number | 2601 |
| Religion | Church of England |
| Occupation | Farmer |
| Address | Samaria, Victoria |
| Marital status | Married |
| Age at embarkation | 45 |
| Next of kin | Wife, Mrs Isabella Redding, Keilor PO, Keilor, Victoria |
| Enlistment date | 28 August 1915 |
| Rank on enlistment | Private |
| Unit name | 8th Light Horse Regiment, 18th Reinforcement |
| AWM Embarkation Roll number | 10/13/4 |
| Embarkation details | Unit embarked from Melbourne, Victoria, on board RMS Mongolia on 11 July 1916 |
| Rank from Nominal Roll | Private |
| Unit from Nominal Roll | 8th Australian Light Horse Regiment |
| Fate | Returned to Australia 3 July 1919 |
The death of Captain George Fay, KIA, El Burj, 1 December 1917.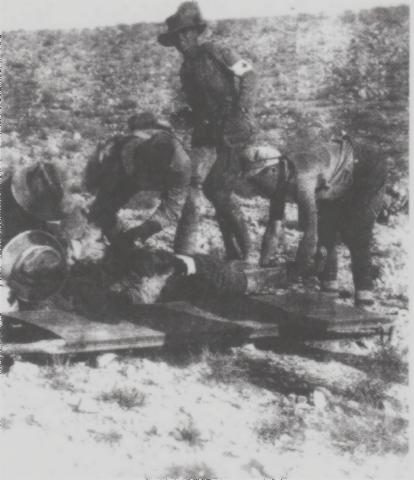 8th Light Horsemen prepare Captain George Fay's body for burial.

[This was Picture 2 referred to in Redding's letter to Mrs Fay.]
After the death of Captain George Fay at the battle of El Burj [See: 9th LHR AIF War Diary, 1 December for full details.] Trooper George Redding wrote a poignant letter to Mrs Elizabeth J Fay, the wife of the late Captain George Fay. The six children of George and Elizabeth Fay were: Reginald, Bernard George, Harold, Laura, Edward, and George.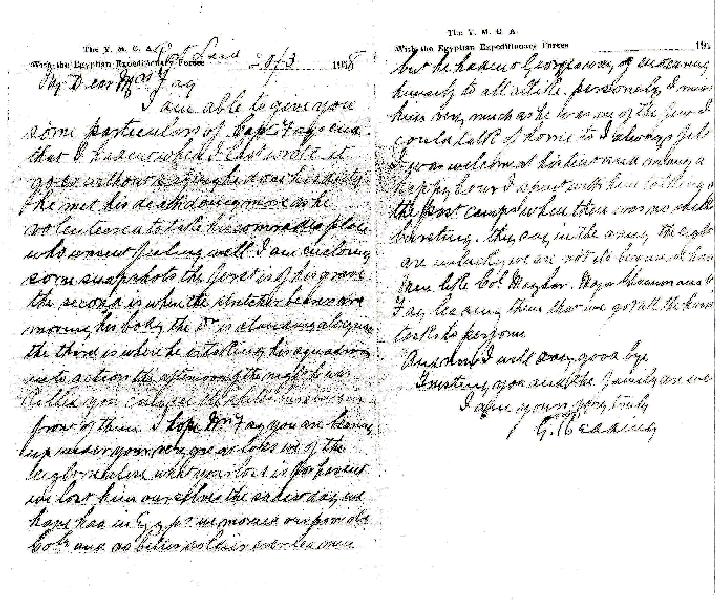 The letter sent by George Redding to Mrs Elizabeth J Fay about the death of Captain George Fay.
[Click on letter for larger version.]
Port Said, 20/3/1918

Dear Mrs Fay

I am able to give you some particulars of Capt Fay's end that I haven't when I last wrote - it goes without saying he done his duty he met his death doing more as he volunteered to take his comrade's place who wasn't feeling well. I am enclosing some snapshots. The first is of his grave; the second is when the stretcher bearers are moving his body, the Dr is standing alongside; the third is where he is taking his squadron into action the afternoon of the night he was killed. You can see the shells bursting in front of them. I hope Mrs Fay you are bearing up under your very great loss. We of the eighth realise what your loss is for however we lost him ourselves, the saddest day we have had in Egypt. We mourned our poor old Colonel and as better soldier ever led men but he haven't. George was of endearing himself to all alike. Personally I miss him very much as he was one of the few I could talk of home to. I always felt I was welcome at his tent and many a happy hour I spent with him talking of the past camps where there was no shell bursting. They say in the army the eighth are unlucky. We are not because we had men like Col. Maygar, Major Shannon and Capt Fay leaving them that we got all the horse tasks to perform.

And now I will say good bye.
Trusting that you and the family are well.

I am yours truly
G. Redding.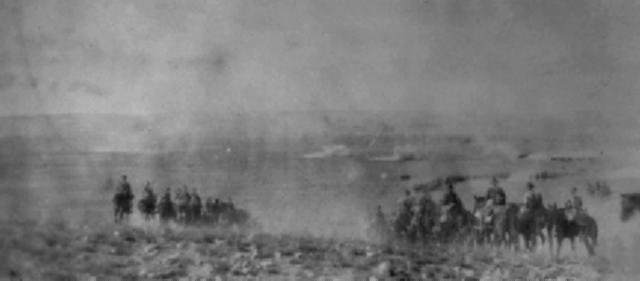 Captain Fay leading his squadron into action at El Burj, 1 December 1917.

[This was Picture 3 referred to in Redding's letter to Mrs Fay.]
George Redding's Death, 6 August 1935
Extract from ***Newspaper*** detailing the circumstances relating to the death of George Redding.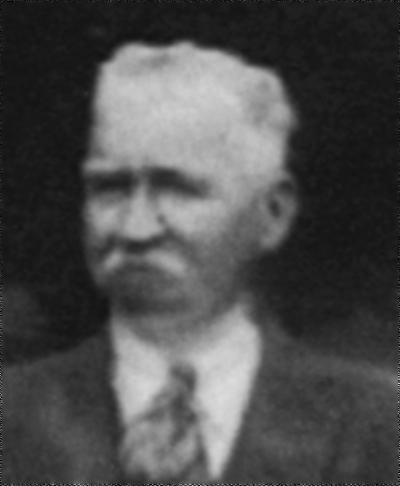 George Redding, respected elder of Beulah.
Mr G Redding dies suddenly. (Thursday 8th August)

Residents of the town were shocked on Tuesday night (6th August 1935), when news was circulated of the sudden death, after a collapse at the Catholic ball of Mr George Redding, at the Beulah Memorial Hall. The late Mr Redding had appeared to be in his usual good health during the day, and as was his practice for many years, attended the annual Catholic ball at night. In his usual jovial manner he joked with several friends when buying his ticket and when the waltz cotillions was announced during the early part of the programme he secured a partner and completed the dance.

On resuming his chair the fatal seizure took place and Mr R Birch, who was sitting with him at the time, noticing his condition, called for medical assistance. Mr Bedding was quickly removed from the main hall to the Soldiers' Lounge, by friends, but although Dr Rabl of Murton, who was present at the ball, attended him, and a few minutes later Dr Hendry, nothing could be done and he died without gaining consciousness. It was fitting that at the moment of his death, this fine old ex-soldier was surrounded by his ex-servicemen friends. Although the nature of his death was a great shock to his relatives and numerous friends, it was probably the type of demise he himself would have chosen.

The late Mr Redding came to Beulah over 14 years ago as an officer of the Closer Settlement Board, and in that capacity became loved and respected by the army soldier settlers of the district to whom he proved a true friend, and it was from the young returned men that he obtained the non-de-plume of "Dad" by which he was so affectionately know.

(section missing) ....

and aided by the great respect by which he was held by the whole district, he soon built up a prosperous connection. Deceased was an enthusiastic and faithful townsman and at some time or other had been connected with every public movement in the township, but he was probably best known as a digger and served in the War with the 8th Regiment of the Light Horse in Egypt and Palestine, having enlisted at the age of 60 years, and his acceptance was only made possible by the fact that this great old man had deducted 15 years from his age for the occasion, combined with his fine physique even at that age. At the time of his death he was considered the oldest survivor of the Great War in Victoria.

The late Mr Redding was also an ardent churchman, and for many years past had been a member of the vestry of St Peter's Church of England and only on Monday night of last week was re-elected to that position. Deceased was undoubtedly one of the most widely known and best loved residents of the township for many years and his demise will be widely mourned. The late Mr Redding was predeceased by his wife four years and the only child of the union died at an early age. Deceased, however is survived by two sisters, Mrs Burke (Tasmania), and Miss K Redding, who for some time past had been residing with him. The late Mr Redding had also residing with him at the time of his death and for some time past, two nieces, vis (Misses N Mules and Lillian Redding), and to them and Miss Redding is extended the heartfelt sympathy of the whole of the residents of the town and district.
And so departed a legend, "Dad" and "Pops".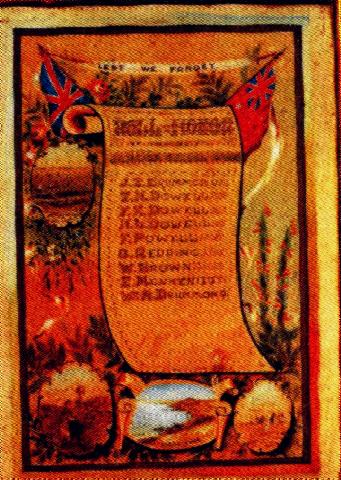 George Reddings name appears on the Samaria State School Honour Roll
Lest we forget.
Special thanks are given to Kathryn White who has generously provided much of the material including letters, articles and photographs and through her kind permission, these are published on this site. In addition are many thanks to Brother Philip Redding for his the primary research and work undertaken resulting in his presentation to the Benalla Family History Centre of the history about the Redding Family residing in the Samaria region of Benalla. Both have ensured the results of this page reflect as accurately as possible, their understanding of the George Redding history.
Further Reading:
8th Australian Light Horse Regiment
---
Citation:
2601 Trooper George Redding, 8th Australian Light Horse Regiment
Posted by Project Leader at 11:01 PM EAST
Updated: Friday, 6 March 2009 7:46 AM EAST