Query Club, 5 January 1916
Topic: Gen - Query Club
The Query Club
5 January 1916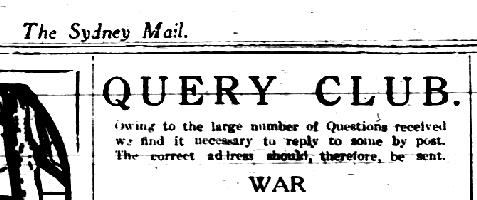 The large scale of the Great War often gave people a sense of alienation from the activities of the government and the army. To overcome this, newspapers of the day commenced columns called Query Club or similar names, where ordinary people could clarify their understanding of the complex processes. They also provide us, the historians, an insight into witnessing first hand, the responses of the various bodies to public concerns. The end product is a window into a society now almost out of living memory.
This is the Query Club from the Sydney Mail, 5 January 1916, p. 30.
ALL INFANTRY

"Glen Innes"

The Light Horse Battalions we have sent to the front are not cavalry regiments; they are mounted infantry. The troopers receive the same rate of pay as the other infantrymen.


THE KING'S VISIT

"WBE"

King George's visit to France was made in the last week of October. The exact dat has not been mentioned, but it was probably about the 25th that he inspected the Australian voluntary hospital at Wimereux.


INTERNED CIVILIANS

"St John's" writes to say that intered civilians in Germany may be communicated with through the Mount Pleasant Post Office, London, as well as through Cook's Agency, to which we referred in the last issue.
Unstamped postcards only are permitted to go through. They should be addressed after this style:

"A---- B----, Civil Prisoner of War, No. 4 Marrack, Englanderlaager, Ruhleben, Germany."

The card should be enclosed in a stamped envelope addressed:

"A---- B----, Civil Prisoner of War, Germany, c/- Mount Pleasant Post Office, London."
Further Reading:
---
Citation:
Query Club, 5 January 1916
Posted by Project Leader at 12:01 AM EAST
Updated: Sunday, 12 April 2009 9:16 AM EADT