Grobelaar Recht - Account - London Times 20 May 1901, p. 7.
Topic: BatzB - Grobelaar
Grobelaar Recht
Account - London Times 20 May 1901, p. 7.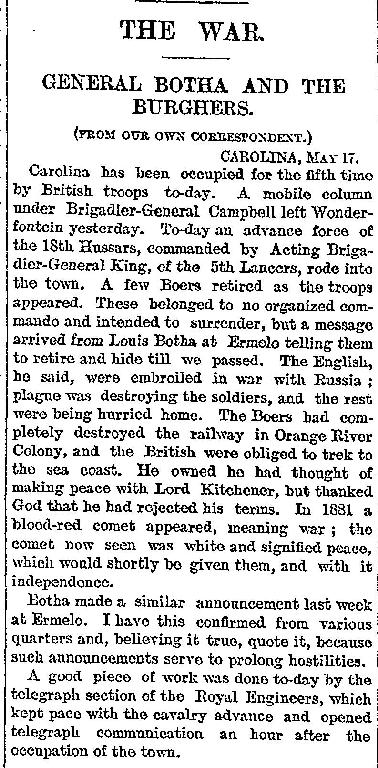 The text
GENERAL BOTHA AND THE BURGHERS.

(FROM OUR OWN CORRESPONDENT.)
Carolina, May 17.
Carolina has been occupied for the fifth time by British troops to-day. A mobile column under Brigadier-General Campbell left Wonder fontein yesterday. To-day an advance force of the 18th Hussars, commanded by Acting Brigadier-General dier-General King, of the 5th Lancers, rode into the town. A few Boers retired as the troops appeared. These belonged to no organized commando and intended to surrender, but a message arrived from Louis Botha at Ermelo telling them to retire and hide till we passed. The English, he said, were embroiled in war with Russia; plague was destroying the soldiers, and the rest were being harried home. The Boers bad completely destroyed the railway in Orange River Colony, and the British were obliged to trek to the sea coast. lie owned he had thought of making peace with Lord Kitchener, but thanked God that he bad rejected his terms. In 1881 a blood-red comet appeared, meaning war; the comet now seen was white and signified peace, which would shortly be given them, and with it independence.
Botha made a similar announcement lost week at Ermelo. I have this confirmed from various quarters and, believing it true, quote it, because such announcements serve to prolong hostilities.
A good piece of work was done to-day by the telegraph section of the Royal Engineers, which kept pace with the cavalry advance and opened telegraph communication an hour after the occupation of the town.
Further Reading:
The action at Brakpan - Max Chamberlain
Battles where Australians fought, 1899-1920
---
Citation:
Grobelaar Recht - Account - London Times 20 May 1901, p. 7.
Posted by Project Leader at 11:01 PM EADT
Updated: Sunday, 29 March 2009 8:50 PM EADT