3rd LHR, Roll of Honour, Herbert Alexander Ward
Topic: AIF - 1B - 3 LHR
3rd LHR, AIF
3rd Australian Light Horse Regiment
Roll of Honour
Herbert Alexander Ward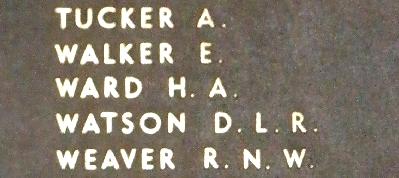 Herbert Alexander Ward's name on the Roll of Honour, Australian War Memorial
Herbert Alexander Ward
Service number: 1319
Rank: Trooper [Tpr]
Unit: 3rd Australian Light Horse
Service: Army
Conflict: 1914-1918
Date of death: 9 August 1916
Cause of death: Killed in action
Cemetery or memorial details: EGYPT 2 Kantara War Memorial Cemetery
War Grave Register notes: WARD, Tpr. Herbert Alexander, 1319. 3rd Australian Light Horse. Killed in action 9th Aug., 1916. Age 28. Son of William Herbert Ward and Margaret Elizabeth Ward, of Homestead, Derwent Park, Tasmania. Native of Hobart, Tasmania. B. 76.
Source: AWM145 Roll of Honour cards, 1914-1918 War, Army.
A brief military biography of Herbert Alexander Ward from The AIF Project:
Regimental number
1319
Place of birth
Hobart, Tasmania
School
Leslie House School, Hobart, Tasmania
Religion
Church of England
Occupation
Stockman
Address
Derwent Park, Tasmania
Marital status
Single
Age at embarkation
27
Next of kin
Father, W.H. Ward, Derwent Park, Tasmania
Enlistment date
11 August 1915
Rank on enlistment
Private
Unit name
3rd Light Horse Regiment, AIF, 9th Reinforcement
AWM Embarkation Roll number
10/8/2
Embarkation details
Unit embarked from Melbourne, Vic, on board SS Makarini on 15 September 1915
Rank from Nominal Roll
Private
Unit from Nominal Roll
3rd Light Horse Regiment, AIF
Other details from Roll of Honour Circular
Fine amateur athlete - Winner of 10 mile cross-country championship 1909.
Fate
Killed in Action 9 August 1916
Place of death or wounding
Bir-el-Abd
Age at death
28
Place of burial
Kantara War Memorial Cemetery (Row B, Grave 76), Egypt.
Panel number, Roll of Honour,
Australian War Memorial
4
Miscellaneous information from
cemetery records
Parents: William Herbert and Margaret Elizabeth WARD.
Lest we forget
Further Reading:
3rd Australian Light Horse Regiment, Roll of Honour
Battle of Romani, Sinai, August 4 to 5, 1916
Bir el Abd, Sinai, 9 August 1916
Battles where Australians fought, 1899-1920
---
Citation:
3rd LHR, Roll of Honour, Herbert Alexander Ward
Posted by Project Leader at 12:01 AM EADT
Updated: Wednesday, 9 September 2009 10:22 AM EADT