Battle of Romani, Sinai, August 4 to 5, 52nd (Lowland) Division, War Diary Account
Topic: AIF - DMC - British
Battle of Romani
Sinai, August 4 to 5, 1916
52nd (Lowland) Division, War Diary Account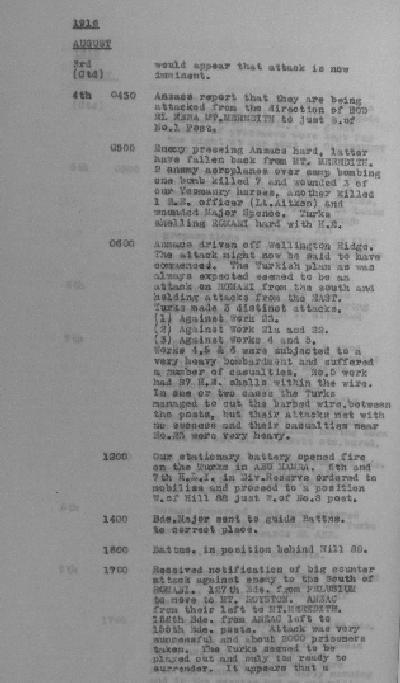 War Diary account of the 157th Infantry Brigade.
The transcription:
3 August

0600

Anzacs report 2,000 Turks advancing from Waset, they are entrenching old battlefield of Qatia. Turkish line near Katia was defined now as on the high ground north west of Er Rabah and east and south east of Katia. The enemy are entering the Hods of Katia. It would appear that attack is now imminent.


4 August

0430 - Anzacs report that they are being attacked from the direction of Hod el Enna - Mount Meredith to just south of No.1 Post.

0505 - Enemy pressing Anzacs hard, latter have fallen back from Mt Meredith. 2 enemy aeroplanes over camp bombing one bomb killed 7 and wounded 3 of our Yeomanry horses, another killed 1 royal Engineer Officer (Lieutenant Aitken) and wounded Major Spence. Turks shelling Romani hard with High Explosive shells.

0600 Anzacs driven off Wellington Ridge. The attack might now be said to have commenced. Turkish plan as was always expected seemed to be an attack on Romani from the south and holding attacks from the east. Turks made 3 distinct attacks,

(1) Against Work 23.

(2) Against Work 21a and 22.

(3) Against Works 4 and 5.

Works 4, 5 and 6 were subjected to a very heavy bombardment and suffered a number of casualties. No.5 work had 87 High Explosive shells within the wire. In one or two cases the Turks managed to cut the barbed wire between the posts, but their attacks met with no success and their casualties near No. 23 were very heavy.

1200 - Our stationary battery opened fire on the Turks in Abu Hamra. 5th and 7th Highland Light Infantry in Divisional Reserve ordered to mobilise and proceed to a position west of Hill 88 just west of No.8 Post.

1400 - Brigade Major sent to guide Battalions to correct place.

1600 - Battalions in position behind Hill 88.

1700 - Received notification of big counter attack against enemy to the south of Romani. 127th Brigade from Pelusium to move to Mount Royston. Anzac from their left to Mount Meredith. 156th Brigade from Anzac left to 156th Brigade Posts. Attack was very successful and about 2,000 prisoners taken. The Turks seemed to be played out and only too ready to surrender. It appears that a large force of Turks went towards Pelusium but met the 127th Brigade and suffered heavily. A great number of prisoners were kept for the night at our post at Canterbury Hill.

5 August

0300 - Received orders that we were to mobilise and hold ourselves in readiness to move at short notice, the posts in front were to be taken over by weak men not fit enough for the mobile column. All preparations were made and at 1115 Brigade moved off to the rendezvous in accordance with instructions received.

6 August

The full account of the action taken by the 157th Brigade during the advance to Katia is attached. See: Battle of Romani, Sinai, August 4 to 5, 157th Infantry Brigade War Diary Account.


Roll of Honour
Battle of Romani, Sinai, August 4 to 5, 1916, Roll of Honour, British Forces

Lest We Forget
Further Reading:
Battle of Romani, Sinai, August 4 to 5, 1916, Roll of Honour, British Forces
Battle of Romani, Sinai, August 4 to 5, 1916
Bir el Abd, Sinai, 9 August 1916
Battles where Australians fought, 1899-1920
---
Citation:
Battle of Romani, Sinai, August 4 to 5, 52nd (Lowland) Division, War Diary Account
Posted by Project Leader at 12:01 AM EADT
Updated: Saturday, 24 October 2009 5:29 PM EADT