Brigade Scouts, Scouting or Protective and Tactical Reconnaissance Part 8 Screen To Rear Guard
Topic: AIF - DMC - Scouts
Scouting or Protective and Tactical Reconnaissance, Part 8
Screen To Rear Guard
Frederick Allan Dove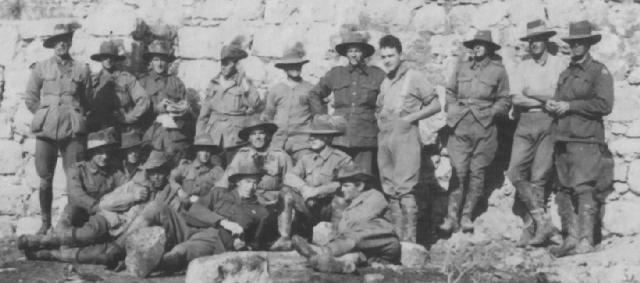 3rd Light Horse Brigade Scouts in the hills at Tripoli, December 1918
In 1910, Major Frederick Allan Dove, DSO, wrote a book on a subject he was very familiar with through practical experience called Scouting or Protective and Tactical Reconnaissance. This book set the intellectual framework for the formation of the Brigade Scouts during the Sinai and Palestine Campaigns as part of the Great War.
Dove, FA, Scouting or Protective and Tactical Reconnaissance, 1910.
(C) Screen To Rear Guard.

(To a Force Retiring.)


1. - Duties.

The duties of the Screen to a Rear Guard are to give early notice of the enemy's advance.

The Screen is not intended to fight except against Scouts or patrols, who must be checked when they attempt to spy on the Rear Guard.


2. - Formation.

This will be similar to that of an Advanced Screen with the patrols on the extreme flanks strengthened. "Fours" would be more suitable in the Screen than "twos," because fire action may be frequently required. A "directing four" must be named.


3. - Movements.

Movements should be from one position of cover to another already chosen to the rear, and made rapidly. If the pursuit is preceded by small patrols and Scouts, frequent attempts should be made to ambush them by concealing sufficient men and ostentatiously retiring the remainder.


4. - Halts.

Halts should only take place in well-covered observation points.


5. - Contact with the Enemy.

This is already mentioned in 3, above. If the contact is only with Scouts, the Rear Guard Screen should easily hold its own and a little more, and make the enemy pay dearly if they become aggressive.

But should a genuine attack be opened, the role of the Screen comes to an end, and they become merged in the fighting units of the Rear Guard.


6. - Keeping Touch.

It is absolutely essential that the several units of the Screen shall keep touch with the "directing unit." Therefore, in every "four" one man must devote himself to watching for signals from the next unit towards the directing point.


7. - Co-operation.

In no other phase of Scouting work is the co-operation of patrols more essential to success. Especially is this so when the enemy's Scouts try to break through. Should a "four" hang back rather long and be hard pressed it should extend rapidly fanwise and bolt for the next position affording cover, in the full confidence that the adjacent fours, with their fire, will make it very hot for the pursuers.


Previous: Part 7, The Flank Screen
Next: Part 9, Scouting For Information
Further Reading:
Obituary, Frederick Allan Dove
Australian Light Horse Militia
Battles where Australians fought, 1899-1920
---
Citation:
Brigade Scouts, Scouting or Protective and Tactical Reconnaissance Part 8 Screen To Rear Guard
Posted by Project Leader at 12:01 AM EADT
Updated: Saturday, 26 December 2009 4:24 PM EAST