The Battle of Anzac Cove, Gallipoli, 25 April 1915, 8th Infantry Battalion War Diary
Topic: BatzG - Anzac
The Battle of Anzac Cove
Gallipoli, 25 April 1915
8th Infantry Battalion War Diary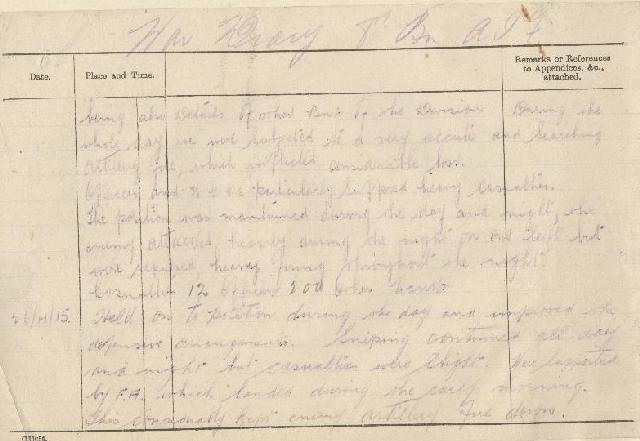 War Diary account of the 8th Infantry Battalion, AIF.
The following is a transcription of the War Diary of the 8th Infantry Battalion, AIF, of their role in the landings at Anzac on 25 April 1915.
25 April 1915

Commenced disembarkation at Kabatepe at 5.45 am. On landing was ordered by General Officer Commanding to ridge in 224 M. Battalion subsequently advanced to ridge until the whole Battalion was in the firing line but Companies were moved being also details of other Battalions of the Division. During the whole day we were subjected to a very accute and searching artillery fire which inflicted considerable loss.

Officers and NCO's particularly suffered heavy casualties.

The position was maintained during the day and night, the enemy attacked heavily during the night on the left but were repulsed, heavy firing throughout the night.

Casualties 12 Officers, 200 Other Ranks.


26 April 1915

Held on to position during the day and improved the defensive arrangements. Sniping continued all day and night but casualties were slight. Were supported by Field Artillery which landed during the early morning. This considerably kept enemy artillery fire down.
Further Reading:
The Battle of Anzac Cove, Gallipoli, 25 April 1915
The Battle of Anzac Cove, Gallipoli, 25 April 1915, 8th Infantry Battalion, Roll of Honour
The Battle of Anzac Cove, Gallipoli, 25 April 1915, 2nd Infantry Brigade, Roll of Honour
The Battle of Anzac Cove, Gallipoli, 25 April 1915, AIF, Roll of Honour
Battles where Australians fought, 1899-1920
---
Citation:
The Battle of Anzac Cove, Gallipoli, 25 April 1915, 8th Infantry Battalion War Diary
Posted by Project Leader at 12:01 AM EAST
Updated: Saturday, 10 April 2010 9:36 AM EADT