The Battle of Anzac Cove, Gallipoli, 25 April 1915, 7th Infantry Battalion War Diary
Topic: BatzG - Anzac
The Battle of Anzac Cove
Gallipoli, 25 April 1915
7th Infantry Battalion War Diary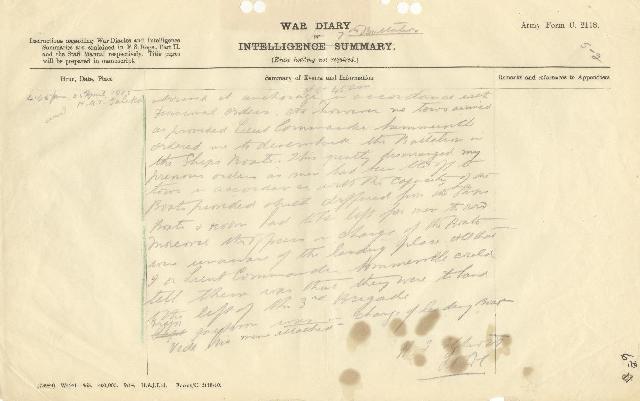 War Diary account of the 7th Infantry Battalion, AIF.
The following is a transcription of the War Diary of the 7th Infantry Battalion, AIF, of their role in the landings at Anzac on 25 April 1915.
25 April 1915

HMT Galeka

4.45 am - Arrived at anchorage at 4.45 am in accordance with Divisional Orders. As, however, no tows arrived as provided, Lieutenant Commander Hummerville ordered me to disembark the Battalion in the ship's boats. This greatly disarranged my previous orders as men had been told off to tows in accordance with their capacity of the boats provided which differed from the ships boats and room had to be left for men to row. Moreover, the Officers in charge of the boats were unaware of the landing place. All that I or Lieutenant Commander Hummerville could tell them was that they were to land to the left of the 3rd Infantry Brigade.

Major Glassford was in charge of leading boat vide no men attached.

At 5 am, about 120 men of "B" Company 7th Infantry Battalion which was already drawn up on the SS Galeka were embarked in four of the ships boats and proceeded to row ashore. The naval officer on board gave instructions that we were to land on the left of the 3rd Infantry Brigade and we accordingly made for the vicinity of Fisherman's hut (Square 237 L). We could see the 3rd Infantry Brigade Field Ambulance flag flying about Square 237 W7. When about 200 yards from shore the enemy, who were entrenched on knoll behind Fisherman's Hut and knoll about 500 yards south east opened fire on the boats with machine guns and rifles. We landed and took up a position behind sand heaps at edge of beach the fire being to heavy to advance over the flat leading to the huts. We poured in rapid fire and in about a quarter of an hour threatened to assault when the enemy immediately retired. We occupied their trenches in rear of Fisherman's Hut with the remains of the platoons, numbering about 40 men and held the positions to allow the Field Ambulance; who had sent up bearers, to remove the wounded, which was done as far as possible. Assistance was also received from a trawler which towed away two boats loaded with wounded. Messengers were sent to find Battalion Headquarters with messages stating where we were, what had happened, and our intentions which were to hold hill until wounded were removed and then join battalion unless otherwise ordered. At about 2 pm the enemy advanced on our left: we held on as long as possible and then retired along the beach to point in Square 224 G5, arriving there about 7 pm. The party then reported to Major Glassford who directed them to 3rd Infantry Brigade Headquarters.

Gallipoli Peninsular 4pm - Left HMT Galeka by the 5th boat and landed under shrapnel fire. Could not find the landing officer Major Glassford or Major Villiers Stewart who were to meet us according to Divisional Orders. I therefore reported to Colonel McLagen, Brigadier of the 3rd Infantry Brigade and asked for orders. He instructed me to assemble the Battalion behind the right hand point of the Cove in which we had landed and he would arrange for us to go into action on his right. Major Glassford then arrived and confirmed this. With difficulty owing to shrapnel fire, I assembled about half of "C" Company, the whole of "D" Company, one platoon of "B" Company and the whole of "A" company who landed from HMT Clan McGillivray at our place of assembly under instruction from Major Glassford.

About 9.30 pm was wounded below that ankle joint: remained on field a short time, gave directions for the supplying of ammunition and sent message to Brigadier and to Major Mason of my wound and returned to beach.

The Battalion was then moved over the first ridge and assembled at the foot of a small hillock. From here, under Major Glassford's instructions, two platoons now moved forward to support the 9th Infantry Battalion who were in a ???? ridge in front. At about 2 am Colonel McCay arrived and took over command. He at once ordered the Battalion to advance and on arrival at the spot where the second and third ridge merge into the Plateau 400, he visually ordered me to put the Battalion into the firing line along the front edge of that ridge stating that the 6th Battalion would support me and the 5th Battalion, thus 8 companies. These orders were carried out "D" Company went into action first followed by "A" company as it came up and finally by "C" company and the one platoon of "B" Company available. Major Blizard severely wounded while moving up ridge under front line.


26 April 1915

7th Battalion Headquarters established western slope of Happy Valley. Trying to collect men of the Seventh. Mustered approximately 70. Remainder mixed with other Battalions.

5.15 pm - An advance was ordered in direction of Baby 700. Units became mixed. A line advanced and took up a position which enabled a firing line to be established and then the covering party returned under cover of darkness were subjected to heavy shrapnel and machine gun fire.

The approximate casualties for 25 April 1915 was 400 killed, wounded and missing.

Further Reading:
The Battle of Anzac Cove, Gallipoli, 25 April 1915
The Battle of Anzac Cove, Gallipoli, 25 April 1915, 7th Infantry Battalion, Roll of Honour
The Battle of Anzac Cove, Gallipoli, 25 April 1915, 2nd Infantry Brigade, Roll of Honour
The Battle of Anzac Cove, Gallipoli, 25 April 1915, AIF, Roll of Honour
Battles where Australians fought, 1899-1920
---
Citation:
The Battle of Anzac Cove, Gallipoli, 25 April 1915, 7th Infantry Battalion War Diary
Posted by Project Leader at 12:01 AM EAST
Updated: Tuesday, 6 April 2010 9:19 PM EADT