Pip, Squeak and Wilfred - the Trio Medals
Topic: AIF - Misc Topics
Miscellaneous Topics

The Medal Trio
Pip, Squeak and Wilfred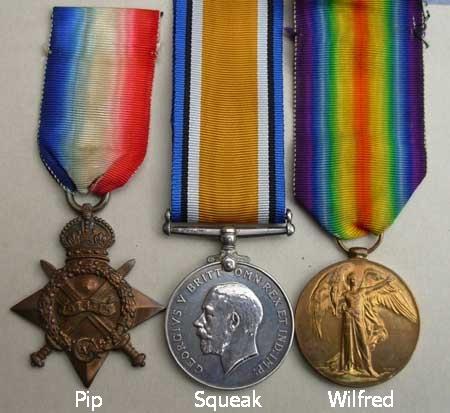 The Trio (from left to right) 1914-15 Star, the British War Medal and the Inter-Allied Victory Medal
"Pip", "Squeak" and "Wilfred" were the common sobriquets given by British and Dominion servicemen to what is known as "The Trio", the British campaign medals issued to those who served in the Great War. The medals began appearing simultaneously to a popular comic strip which first appeared in the Daily Mirror in 1919 of the same name.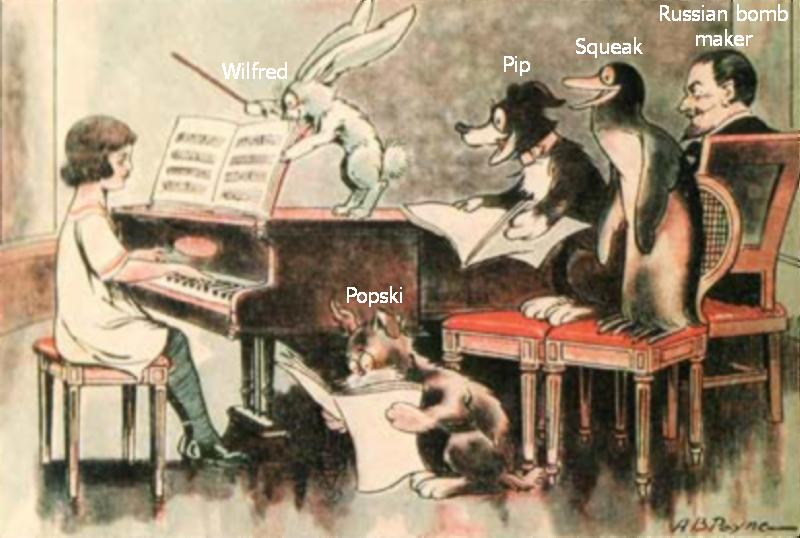 The comic stript "Pip, Squeak and Wilfred" as drawn by Payne

The comic stript "Pip, Squeak and Wilfred", was drawn by Cardiff-born Austin Bowen Payne who named his characters after Payne's wartime batman who was called Pip-Squeak. Through Payne's work, this was a term which entered the English language.
Pip and Squeak portrayed as Wilfred's parents.
The characters in the cartoon included Pip the male dog, Squeak a female penguin who was Pip's partner and later on making an appearance, Wilfred, who was a rabbit. Pip and Squeak were portrayed as Wilfred's parents. In addition, there were supporting characters, most prominently including a Russian bomb maker with his dog Popski. The comic strip ran until 1958.
As time went on, the 1914-15 Star became known as "Pip", the British War Medal was called "Squeak" and the Inter-Allied Victory Medal received the name "Wilfred".
Further Reading:
---
Citation:
Pip, Squeak and Wilfred - the Trio Medals
Posted by Project Leader at 8:45 AM EADT
Updated: Wednesday, 16 December 2009 5:13 PM EAST