XXII Corps Mounted Troops, Routine Orders, RO No. 685, 20 June 1918
Topic: AIF - Fr - 22 Corps
XXII Corps Mounted Troops
Routine Orders
RO No. 685, 20 June 1918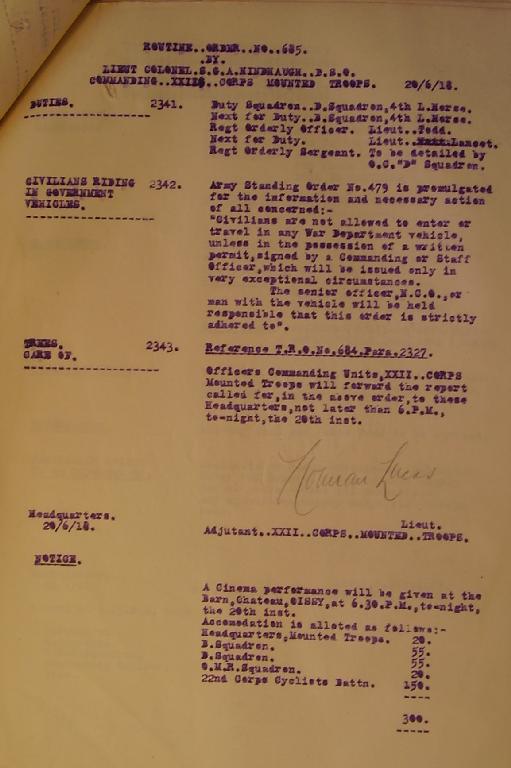 22nd Corps Routine Order 685, 20 June 1918
Routine Order No 685
Lieutenant Colonel SGA Hindhaugh, DSO
Commanding XXII Corps Mounted Troops, 20 June 1918
Duties
2341
Duty Squadron, "B" Squadron, 4th Light Horse.

Next for Duty, "D" Squadron, 4th Light Horse.

Regimental Orderly Officer, Lieutenant Todd.

Next for Duty, Lieutenant Lancet.

Regimental Orderly Sergeant, To be detailed by Officer Commanding "D" Squadron.

Civilian riding in Government Vehicles
2342

Army Standing Order No. 473 is promulgated for the information and necessary action of all concerned:-

Civilians are not allowed to enter or travel in any War Department vehicle, unless in the possession of a written permit, signed by a Commanding or Staff Officer, which will be issued only in very exceptional circumstances.

The senior officer, NCO, or man with the vehicle will be held responsible that this order is strictly adhered to.

Trees, care of
2343

Officers Commanding Units, XXII Corps Mounted Troops will forward the report called for, in the above order, to these Headquarters, not later than 6pm tonight, the 20th inst.

Headquarters, 20 June 1918
T Colman Lucas

Adjutant, XXII Corps Mounted Troops

Notice
A Cinema performance will be given at the Barn, Chateau Sissy, at 6.30 pm, tonight, the 20th inst.

Accommodation is alloted as follows:-

| | |
| --- | --- |
| Headquarters, Mounted Troops | 20 |
| "B" Squadron | 55 |
| "D" Squadron | 55 |
| OMR Squadron | 20 |
| 22nd Corps Cyclists Battalion | 150 |
| Total | 300 |
The 22nd Corps Cavalry was located in France. It was a composite regiment including men from "B" and "D" Squadrons from the 4th Light Horse Regiment and a Squadron from the Otago Mounted Rifles.
Interesting to note the allocation of seats to the cinema to the members of the Regiment. The previous evening the other half of the Regiment viewed the movie.
Men needed to be reminded that driving girls around in the cars was not considered to be lawful. It is noteworthy that the men needed to be reminded of this which tends to indicate that it was quite common, or common enough to prompt a reminder.
Further Reading:
XXII Corps Mounted Troops, Roll of Honour
Battles where Australians fought, 1899-1920
---
Citation:
XXII Corps Mounted Troops, Routine Orders, RO No. 685, 20 June 1918
Posted by Project Leader at 11:13 PM EADT
Updated: Tuesday, 24 August 2010 9:18 AM EADT