The Battle of Anzac Cove, Gallipoli, 25 April 1915, 2nd Field Company Engineers War Diary
Topic: BatzG - Anzac
The Battle of Anzac Cove
Gallipoli, 25 April 1915
2nd Field Company Engineers War Diary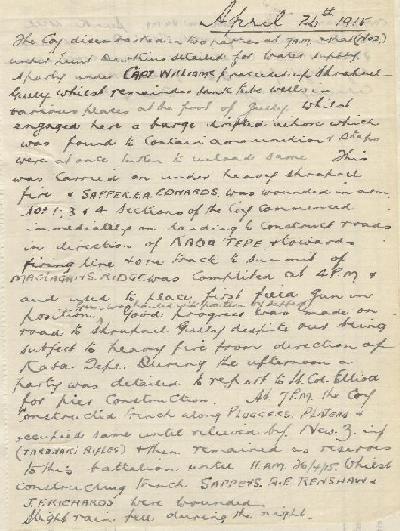 War Diary account of the 2nd Field Company Engineers, AIF.

The following is a transcription of the War Diary of the 2nd Field Company Engineers, AIF, of their role in the landings at Anzac on 25 April 1915.
25 April 1915

The Company disembarked in two parties at 7 am and that (No. 2) under Lieutenant Dawkins detailed for water supply. A party under Captain Williams proceeded up Shrapnel Gully. Whilst remainder sank tube wells in various places at the foot of the Gully. Whilst engaged here a barge drifted ashore which was found to contain ammunition and steps were at once taken to unload same. This was carried on under heavy shrapnel fire and Sapper EA Edwards was wounded in arm.

No.'s 1, 3 and 4 Sections of the Company commenced immediately on landing to construct roads in direction of Kaba Tepe and towards firing line and one track to summit of MacLagan's Ridge was completed at 4 pm and used to place first field gun in position. Gun was hauled into position by sappers. Good progress was made on road to Shrapnel Gully despite our being subject to heavy fire from direction of Kaba Tepe. During the afternoon a party was detailed to report to Lieutenant Colonel Elliott for pier construction. At 7 pm the Company constructed trench along Plugge's Plateau and occupied the same until relieve by New Zealand infantry (Taranaki Rifles) and then remained as reserves to this Battalion until 11 am 26 April 1915. Whilst constructing trench, Sappers RE Renshaw and JF Richards were wounded.

Slight rain fell during the night.

Captain Williams and 14 Other Ranks, Shrapnel Valley. Sunk well 5'6". dimensions of well 5' x 4', time 4 hours, 3 men and 1 NCO. Constructed dam across stream. Average height of dam 2'6", 9 men and 1 NCO. Capacity 5,000 gallons. Time 9 hours.


26 April 1915

Lieutenant Dawkin's party shifted camp to foot of gully now called Dawkins Point and sank 20 shallow wells supplying about 20,000 gallons of good soakage water. Two troughs were erected and immediately we were able to supply water for 500 animals and drinking water to all troops in the vicinity. Two water carts were used for storage and all water supplied to the men was first treated with chloride of lime.

The balance of the Company carried on the construction of road up Shrapnel Gully from Queensland Point but it was necessary to "hold off" several times on account of shrapnel and rifle fire. Whiles engaged on this work, Sapper O McCrae was seriously wounded.

All Engineers stores which had been landed at several places on beaches were assembled and we were able to issue entrenching tools etc to the various units.

No. 2 (a). Placed pump (lift pattern) on well and covered top. Deepened dam to 3' to get a bottom of clay.


Further Reading:
The Battle of Anzac Cove, Gallipoli, 25 April 1915
2nd Infantry Brigade, Roll of Honour
The Battle of Anzac Cove, Gallipoli, 25 April 1915, AIF, Roll of Honour
Battles where Australians fought, 1899-1920
---
Citation:
The Battle of Anzac Cove, Gallipoli, 25 April 1915, 2nd Field Company Engineers War Diary
Posted by Project Leader at 12:01 AM EAST
Updated: Wednesday, 7 April 2010 11:08 AM EADT