9th LHR AIF War Diary, August 5
Topic: AIF - 3B - 9 LHR
9th LHR, AIF
9th Light Horse Regiment
War Diary, 5 August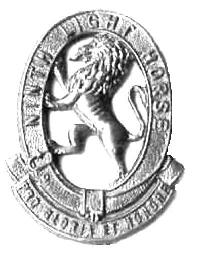 Pro Gloria et Honore - For Glory and Honour
Regimental March - Marching Through Georgia
The following entries are extracted and transcribed from the 9th Light Horse Regiment War Diary, the originals of which are held by the Australian War Memorial. There are 366 entries on this site. Each day has entries as they occurred from 1914 to 1919. In addition to the 9th Light Horse Regiment War Diary, when appropriate, entries from the 3rd Light Horse Brigade War Diary and other regiments with the Brigade will also appear. Entries from the unit history, Darley, TH,
With the Ninth Light Horse in the Great Wa
r, Adelaide, Hassell Press, 1924 will also appear from time to time. The aim is to give the broadest context to the story and allow the reader to follow the day to day activities of the regiment. If a relative happened to have served in the regiment during the Great War, then this provides a general framework in which the individual story may be told.
The Diary
1914
Wednesday, August 5, 1914

See 4th Military District, South Australia for militia activities.
1915
Thursday, August 5, 1915

9th Light Horse Regiment Location - Walkers Ridge

9th Light Horse Regiment War Diary - 0500. 153 Reinforcements and men returned from hospital arrived.

Carew Reynell Diary - No Entry.
1916
Saturday, August 5, 1916

9th Light Horse Regiment Location - Dueidar

9th Light Horse Regiment War Diary - 0400 Left Dueidar as advance guard to Brigade and proceeded to Bir el Nuss. The Regiment was to have moved out of Bir el Nuss and attacked Bir el Enna but news was received that the Turks had evacuated Bir el Enna.

0900 Marched onto Nagid where the advanced patrols captured two prisoners.

1205 Left Nagid and marched towards Hamisan. The screen of the advance guard, "A" Squadron, got in touch with enemy's rearguard about two miles north east of Nagid. The Regiment at once deployed for action. "A" Squadron in centre, two troops of "B" Squadron to the left and two troops to the right, and at 1250 "C" Squadron made a wide detour to the right to endeavour to threaten the enemy's left flank.

A message was sent to Brigade Headquarters to ask for one Squadron to support as the whole of the Regiment was engaged.

1330 "A" Squadron of the 10th Light Horse Regiment under major Holden arrived. By this time the enemy could be seen to be falling back as fast as possible, the main resistance being put up by the enemy's machine guns manned by German NCOs. Up to this about 308 prisoners had been taken by the Regiment including several Turkish Officers and German NCOs and these were sent back under Lieutenant Luxmoore.

1430 The balance of the 10th Light Horse Regiment came up and worked around on the right flank and in conjunction with Captain Hearn and the Brigade Scouts and some of the 9th Light Horse Regiment captured more prisoners and seven machine guns. Our left flank was now being heavily shelled and as we were apparently in front of the New Zealand Mounted Rifles Brigade who were advancing on our left.

At 1830 the Regiment withdrew to Nagid.

Lieutenant Palmer AD and two machine guns were working with the Regiment and did excellent work. Lieutenant Palmer was severely wounded and died the following morning.

Our casualties for the engagement were Lieutenant Palmer, mortally wounded, three Other Ranks killed and eleven Other Ranks wounded.

After dark the Brigade left Nagid and camped for the night about two miles north west of Nagid, the Regiment doing outpost duty.
1917
Sunday, August 5, 1917

9th Light Horse Regiment Location - Tel el Marakeb

9th Light Horse Regiment War Diary - Church Parade held at 0800.
Extract from AIF Orders - the following officers and Non Commissioned Officers have been mentioned in General Murray's dispatches dated 10th March 1917:
Darley, Major TH;

McKenzie, Major KA;

Cruddas, 697 Corporal GF;

Currie, 645 Trooper AH; and,

Godwin, 1105 Trooper EJ.
1918
Monday, August 5, 1918

9th Light Horse Regiment Location - Madhbeh

9th Light Horse Regiment War Diary - Masson, Lieutenant GG; and, two Other Ranks proceeded on short leave to Alexandria.
Fifteen Other Ranks marched in from Moascar.

1700 - 1800 Our artillery shelled enemy watering area. Enemy artillery quiet.
1919
Tuesday, August 5, 1919

9th Light Horse Regiment Location - SS Oxfordshire

9th Light Horse Regiment War Diary - 1200 Cast off moorings - experienced moderately rough weather on coming to open sea.

Absentees: four -

Cosgrove, 1369 Trooper LL;

Jennings, 1196 Trooper J;

Watson, 1004 Trooper WH; and,

O'Neil, 1504 Trooper SJ.
Previous: 9th LHR AIF War Diary, 4 August
Next: 9th LHR AIF War Diary, 6 August
Sources:
See: 9th Australian Light Horse Regiment, Contents
Australian Light Horse Studies Centre, AIF War Diaries of the Great War, Site Transcription Policy

Further Reading:
9th Australian Light Horse Regiment, Roll of Honour
Battles where Australians fought, 1899-1920
---
Citation:
9th LHR AIF War Diary, 5 August
Posted by Project Leader at 12:01 AM EADT
Updated: Wednesday, 15 September 2010 7:13 PM EADT