The Battle of Onverwacht, South Africa, 4 January 1902, Roll of Honour
Topic: BatzB - Onverwacht
South African (Second Boer) War
The Battle of Onverwacht, South Africa, 4 January 1902
Roll of Honour
Allied Forces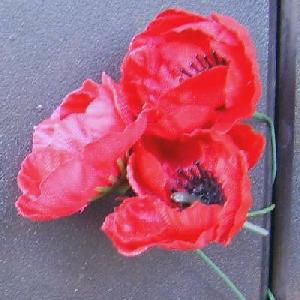 Poppies on the Roll of Honour, Australian War Memorial, Canberra
The Roll of Honour contains the names of all the Australian men from the Allied forces known to have served and lost their lives during the Battle of Onverwacht, 4 January 1902.
Roll of Honour
Somerset Light Infantry

Killed


Major J. M. Vallentin, killed.



19th Company Imperial Yeomanry

Died of Wounds


Lieutenant H. R. Johnstone, severely wounded, since dead;


Wounded


25881 Corporal G. Adams,


Private V. Brownlee,


25735 Private J. Cameron,


23893 Private A. Dott,


31001 Private T. E. Isaac,

Private R. Martin,


22559 Private A. Torbain,

24862 Private R. Wipper, severely wounded.



Royal Field Artillery

Wounded

Captain E. H. T. Parsons, severely wounded.



5th Queensland Bushmen

Killed in Action or Died of Wounds

Anders Gustav BELIN

Robert Edwin BERRY

Charles CHARDON

William George CLARKE

Alexander William EAGLETON

Frederick Thomas GOODALL

Robert Shaw KELLY

William LILLEY

Warwick MACARTNEY

John MACFARLANE

James Charles POWER

Edward Hugh SALT

James Patrick SHANNON


Wounded

8 Bugler W. Busbie,

23 Private D. D. Arnold,

840 Private W. Batchelor,

93 Corporal C. Byrne,

Captain H. R. Carter, severely wounded forearm,

510 Private H. Dobe

465 Corporal F. J. Fenwick,

Lieutenant J. R. Higginson, severely wounded thigh,

458 Private M. A. Murray,

175 Private E. Norman,

155 Private W. Palmer,

384 Private F. Sinclair, severely wounded;

16 Corporal B. Smith,

481 Private G. W. T. Waterton, slightly wounded.



Hampshire Mounted Infantry

Wounded

Captain E. Leigh, severely wounded neck;


3395 Colour Sergeant G. H. Weston,


1781 Lance Corporal. C. Butler,


5492 Private F. DanielIs, severely wounded.



Pom Poms, Royal Horse Artillery

Wounded

Bombardier F. Orris, severely wounded;


30357 Gunner. A. C. D. Robs, slightly wounded.



Royal Artillery Staff

Wounded

Sergeant T. Laycock, severely wounded.



21st Lancers

Wounded

3861 Private E. Stace, slightly wounded.
Lest We Forget
Further Reading:
The Battle of Onverwacht, South Africa, 4 January 1902
The Battle of Onverwacht, South Africa, 4 January 1902, Roll of Honour
South African (Second Boer) War
Battles where Australians fought, 1899-1920
---
Citation:
The Battle of Onverwacht, South Africa, 4 January 1902, Roll of Honour
Posted by Project Leader at 12:01 AM EAST
Updated: Wednesday, 5 January 2011 7:44 AM EAST