3rd LH Bde, AIF, Farewell to Colonel Hughes, Argus 27 January 1915
Topic: AIF - 3B - 3 LHB
3rd LH Bde, AIF
Farewell to Colonel Hughes
Argus, 27 January 1915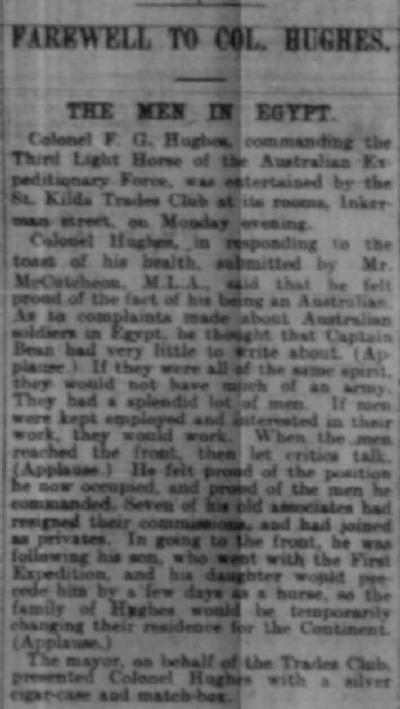 Argus, 27 January 1915, p. 9.
The newspaper article, appearing in the Melbourne Argus, 27 January 1915, p. 9 is transcribed below.
FAREWELL TO COL. HUGHES.

THE MEN IN EGYPT.
Colonel T G Hughes Commanding the Third Light Horse of the Australian Expeditionary Force was entertained by the St Kilda Trades Club at its rooms Inkerman Street on Monday evening.

Colonel Hughes in responding to the toast of his health submitted by Mr McCutcheon MLA said that he felt proud of the fact of his being an Australian. As to complaints made about Australian soldiers in Egypt he thought that Captain Bean had very little to write about. (Applause) If they were all of the same spirit they would not have much of an army. They had a splendid lot of men. If men were kept employed and interested m their work they would work. When the men reached the front then let critics talk. (Applause) He felt proud of the position he now occupied and proud of the men he commanded. Seven of his old associates had resigned their commissions and had joined as privates. In going to the front he was following his son who went with the First Expedition and his daughter would precede him by a few days as a nurse so the family of Hughes would be temporarily changing their residence for the Continent. (Applause)

The mayor on behalf of the Trades Club, presented Colonel Hughes with a silver cigar case and match box.
Further Reading:
Battles where Australians fought, 1899-1919
---
Citation:
3rd LH Bde, AIF, Farewell to Colonel Hughes, Argus 27 January 1915
Posted by Project Leader at 12:01 AM EAST
Updated: Monday, 26 October 2009 7:39 PM EADT