The Battle of Krithia, Gallipoli, 8 May 1915, Outline
Topic: BatzG - Krithia
The Battle of Krithia
Gallipoli, 8 May 1915
Outline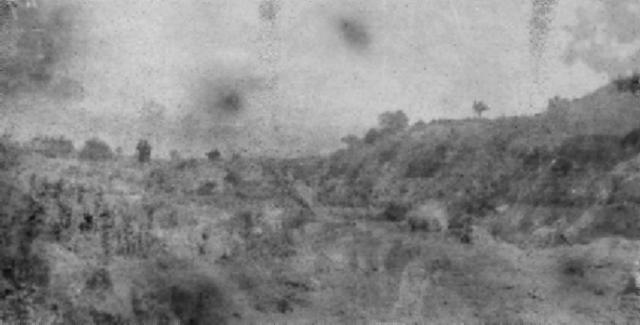 The attack on Krithia, 9 May 1915.
[From: CEW Bean Collection.]
Krithia, a Greek village situated seven kilometres from the toe of the Gallipoli Peninsula at Cape Helles and lying at the base of the peak named Achi Baba, was on 8 May 1915 the scene of an attack undertaken by the Australian 2nd Infantry Brigade under Colonel James M'Cay. To assist British forces attempting to advance against growing Turkish opposition to the beach-head established there on 25 April, two brigades - the Australian 2nd and the New Zealand-were transferred from Anzac and brought ashore on 6 May. Both this day and the next the Anzac troops watched French and British forces attempt to advance across the open ground leading to Achi Baba, before the New Zealanders were added to the struggle on the morning of 8 May.

When this latest attempt also gained little ground, yet another attack was ordered for 5.30 that same afternoon-this time with the Australians taking part in the centre. No advance warning of involvement was received in the brigade until shortly before 5 p.m. when the order arrived, at which time M'Cay was away visiting the New Zealanders and his men were preparing their evening meal. Despite this inadequate notice, the troops were in position to join in the assault, as required. After advancing over open ground under fire to reach the leading trenches occupied by British soldiers, within minutes the Australians were called out from this shelter by their brigadier to continue the advance. Pressing on under increasingly heavy fire from enemy small arms and artillery, the Australians covered another 500 metres before being forced to a standstill by their losses. The leading Turkish positions could be observed only some 400 metres ahead, but the village of Krithia was still some 2,000 metres away. The hour-long advance entailed by this attempt had cost 2nd Brigade 1,000 casualties, or one-third of its strength.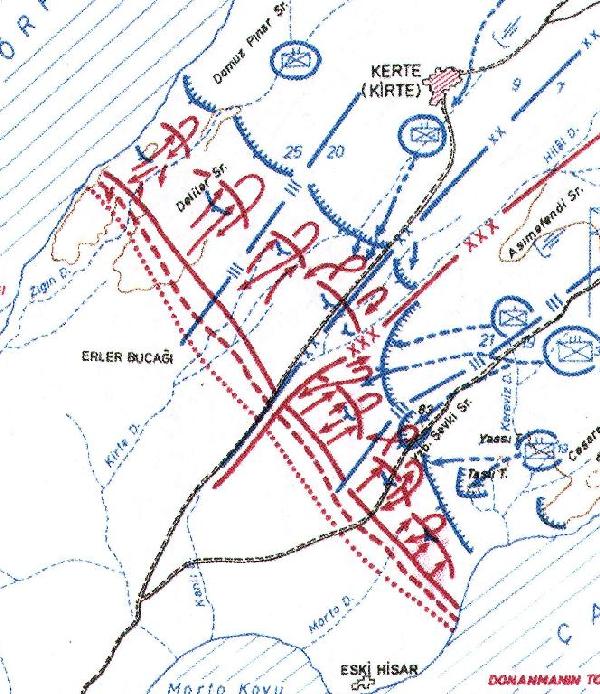 A map detailing the Turkish view of the attack on Krithia.

[From: The Turkish General Staff, A Brief History of the Canakkale Campaign in the First World War, Ankara, The Turkish General Staff Printing House, 2004, Plate 36.]
Extracted from the book produced by Chris Coulthard-Clark,
Where Australians Fought - The Encyclopaedia of Australia's Battles
, Allen and Unwin, Sydney, 1998, pp. 105-106.


Additional References cited by Chris Coulthard-Clark:

C.E.W. Bean, (1921), The Story of Anzac, Vol. 2, Sydney: Angus & Robertson.
Further Reading:
The Battle of Krithia, Gallipoli, 8 May 1915
The Battle of Krithia, Gallipoli, 8 May 1915, Roll of Honour
Battles where Australians fought, 1899-1920
---
Citation:
The Battle of Krithia, Gallipoli, 8 May 1915, Outline
Posted by Project Leader at 12:01 AM EADT
Updated: Saturday, 8 May 2010 10:50 AM EADT