The Battle for Hill 60, Gallipoli, 22 - 23, and 27 August 1915, 3rd LHB War Diary, 30 August 1915
Topic: BatzG - Hill 60
The Battle for Hill 60
Gallipoli, 22 - 23, and 27 August 1915
3rd LHB War Diary, 30 August 1915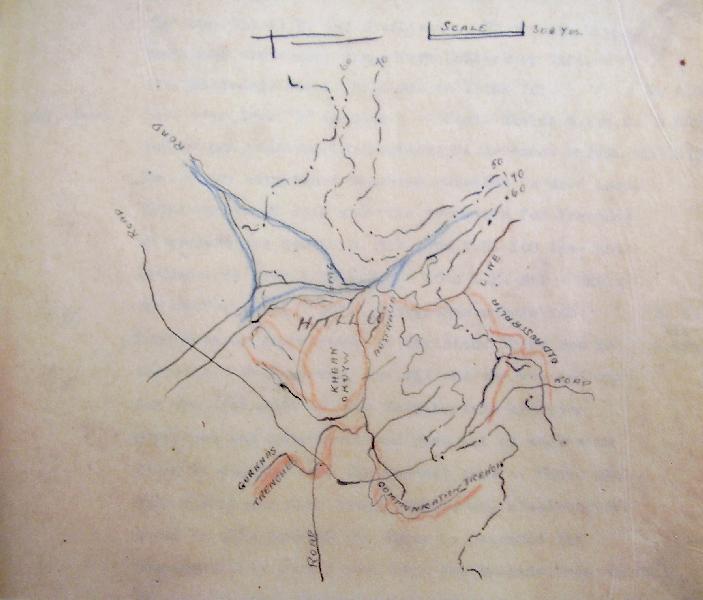 Map accomanying diary entry
The story of Hill 60 is continued through the 3rd Light Horse Brigade War Diary.

30th August 1915
These have been detached since we arrived in Gallipoli: Also reported Reg. H. Q. of 12th L. H. Regt. 5 A. L. H. Bde. 4 officers, Lt. Col. W. GRANT, Captn. P. J. BAILEY: (Adj.) Cap t. J. MacDONALD, A. A. M. C; 2nd Hon. Lt. & Q. M. LIVINGSTONE and 11 others: Took Lt. Col. ABBOTT and Lt. Col. GRANT over the positions to be occupied by the Brigade TABLE TOP and Rhododendron.
OPERATIONS -
Red British Trenches KAIAJIK DERE

Blue Turk " Scale 300 yd. Hill 60 - 92JA Map KURIGA DERE
1st September
Preparing new quarters in SAZLI BEIT DERE at S. Slope of TABLE TOP. Visited Trenches to be taken over with C.O.'s 9th and 10th L. H. and others.
Further Reading:
Hill 60, Gallipoli, 22 - 23, and 27 August 1915
The Battle for Hill 60, Gallipoli, 22 - 23, and 27 August 1915, Roll of Honour
Battles where Australians fought, 1899-1920
---
Citation: The Battle for Hill 60, Gallipoli, 22 - 23, and 27 August 1915, 3rd LHB War Diary, 30 August 1915
Posted by Project Leader at 12:01 AM EADT
Updated: Friday, 30 July 2010 8:57 AM EADT